Codenamed as the F139, these rough-looking Ferrari 612 Scaglietti 'mules' represent prototypes of the 575M Maranello replacement.

With their modified 612 body panels providing little clues to the new car's styling, the prototypes are being used solely as platform and engine test-beds.

The similarities between the 612 and these prototypes lie more than skin deep, as Ferrari's newcomer is based on a shortened version of the advanced 612 platform. This has resulted in a longer wheelbase than the current Maranello, providing a roomier 2-seater cabin and larger luggage compartment.

This will render the F139 as a more usable Gran Turismo than the outgoing car. Whilst the outer dimensions will be greater than on the 575M Maranello, the new car is expected to weigh less due its aluminium space frame construction borrowed in theory from the 612.

The engine, based on the 5,748 cc V12 612 Scaglietti unit, has been out-bored to 6.0 litres and will produce between 580 and 600bhp.

Although the new Pininfarina's body design remains sketchy, the front 'mid-engined' car will have a shorter bonnet proportion than the 612 Scaglietti.

Its bonnet will also incorporate twin air inlets, these replacing the central duct present on the 575M Maranello. It is expected that the exterior will differ from the 612 as much as the 456M GT differed with the 575M Maranello.

The general consensus implies that the replacement will be called the 600 Imola, but in true Ferrari fashion this probably won't be the case.

As history has it, the F139's most legendary predecessor, the 1968 365 GTB/4 'Daytona' name was dropped last-minute by Enzo Ferrari after it had been unofficially leaked to the press. As a result, the 'Daytona' name was never mentioned in Ferrari literature.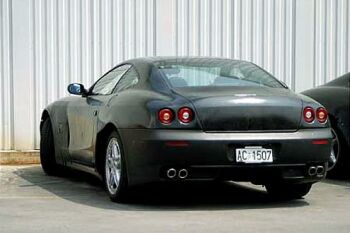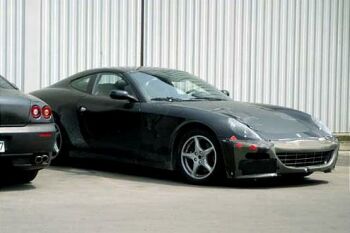 Codenamed as the F139, these rough-looking Ferrari 612 Scaglietti 'mules' represent prototypes of the 575M Maranello replacement