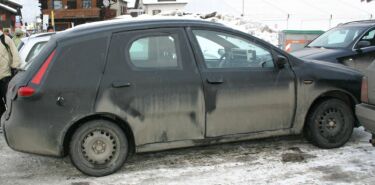 Fiat's long awaited Croma replacement is caught here heavily disguised and undergoing cold weather trials. Codenamed 'New Large' it will return Fiat to the large saloon sector after the Italian carmaket vacated it almost a decade ago when production of the Croma ceased.
One of Gianni Coda's first decisions on taking over as head of the Fiat-Lancia-LCV business unit the year before last was to can the then 'New Large' project. Coda is believed to have benn unhappy with almost all aspects of the cars design.

Slated by those who had seen it as being even uglier in the flesh than impressions have conveyed, sources said the interior fell "woefully short of what is expected from a large executive saloon".
Sent back to the drawing board, Italdesign were drafted in to redesign the car while lessons learnt from the Lancia Thesis have been incorporated. Technology has also been drawn from Lancia's large executive saloon. The new car, based on the GM 'Epsilon' platform, is expected around mid next year and will be offered in five door saloon and 'Multiwagon' formats.
A key part of Fiat's snowballing revival, and as it will be their first big car for almost twenty years, they are keen to get this model right. Inside opinions suggest that this will be a competitive segment player. Meanwhile much interest focuses around a longer term four wheel drive 'Crossover' version which is believed to enhance the cars stylish looks.