The striking Lamborghini Murcielago R-GT is at present preparing to race onto the biggest stage of all when it enters the 2005 edition of the legendary Le Mans 24 Hours.
Meanwhile Lamborghini are planning a limited production run of just twenty five Murcielago R-GT sportscars which will be sold to the public as a road-going version of this high-powered V12 flagship.

The current 6.2-Litre engine of the Murcielago will however be replaced by a 6.5-Litre unit which has been pushed beyond 740bhp during testing.

Production cars will though receive a slightly de-tuned version with a power output between 650 and 680bhp to increase reliability.

The road version of the R-GT will use rear wheel drive, instead of the Murcielago's usual all-wheel drive, to help shed weight, while race-derived ceramic brakes will be fitted.

The the first road-going R-GT prototypes are currently being tested at the factory. The principle objective here is to outperform the Murcielago's arch rival, the supercar benchmark: Ferrari's Enzo, and judging by the numbers it should. The 'public' Murcielago R-GT will achieve 0-100km/h in less than 3.5 seconds.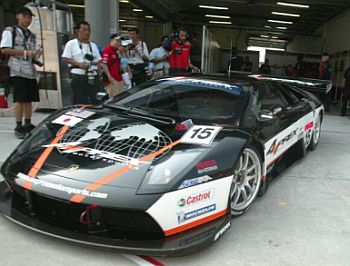 Malaysian-based Amprex Motorsports have been campaigning a Lamborghini Murcielago R-GT in selected rounds of the Japanese GT Championship this year as they prepare to enter the 2005 Le Mans 24 Hours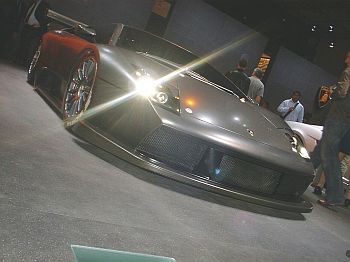 The GT-racing bound Lamborghini Murcielago R-GT received its 'World Premiere' at last year's Frankfurt IAA, marking the return of the marque to the international racing fold

This R-GT version will itself be paving the way for the next evolution of the Murcielago. Since the Gallardo, with its V10, 500bhp, engine is now so close to the Murcielago, this new 6.5-litre V12 engine will be mounted in a revised Murcielago that will be introduced soon after the twenty five R-GT badged models have been finished.
Next up will be an ultimate flagship model, which will push the power theme even further, drawing for inspiration on the string of successful limited edition versions that evolved from the Murcielago's predecessor, the fearsome Diablo. This new model will be badged as a GT or SV.

Meanwhile, buoyed by initial reaction to the chop-top Murcielago, the Gallardo Roadster will arrive next year. Soon after, a powerful SV edition of the mid-size coupe, boasting more than 550bhp will be unveiled to make sure the closed version doesn't suffer a sales drop once the Roadster is introduced to the market.

by Mark Smeyers,
LamboCars.com