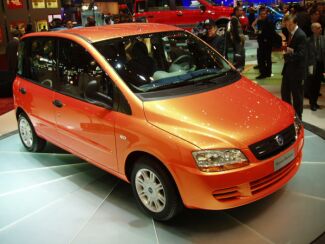 Fiatís highly controversially styled Multipla has jettisoned its 'wacky' looks as the six year old innovation MPV aims to broaden its appeal. In Geneva Fiat have presented the model with an up-to-date corporate face, very much in the style of the smaller Idea compact MPV.
Praised continually by the motoring press for its practicality, roominess and innovative interior features, the Multipla has never appealed to mainstream buyers put off particularly by its odd looking front end.

The sole model on display, finished in a warm and appealing bronze-orange colour scheme, sits on a revolving turntable opposite Fiat's other new show model, the little Trepiuno concept.
The Multiplaís original controversial styling, which first appeared as a concept at the 1998 Turin Motor Show, rather overshadowed the ingenious 6-seat interior. Fiat has high hopes for the new model, which still packages their innovative seating concept and can accommodate 6 adults in comfort. The boot capacity has increased from 390 litres to 430 litres, whilst the car has gained has stretched 9cm in length to 4.09m. This is due to the new nose (headlamps, grille, bonnet) and rear (light units, boot).