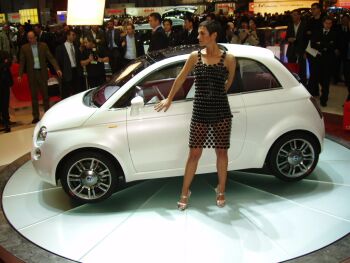 One of the smallest cars but the of the biggest stars of the 74th Geneva Motor Show is undoubtedly the Fiat Trepiuno which looks even smaller and more funky in the flesh than the first images suggested. Judging by the stream of admirers it is attracting, this is a car Fiat 'must' build.

The attractive concept exudes a nostalgic feel which is cleverly balanced with modern overtones. Its immediately evokes the famous original 500 the instant it is seen, and this heritage can be traced in almost every line and curve of a concept that at the same time looks both contemporary and forward looking. As befits this tiny city-style car, the Trepiuno is surrounded by a minimum of fuss, sitting cutely, on its own small, slowly revolving turntable.
The 'face', with its round lights and clamshell bonnet is perhaps the most obvious retro area. The side, however, shows a slightly more futuristic approach. The window line, for example, is highlighted by a sliver of chrome trim on the concept. The rear of the Trepiuno shows a definite similarity with the Stilo, although the added bulbousness, straight from the original 500, gives it a cheeky quality.
The interior, which is a totally modern affair, is also the source of the Trepiuno name. Due to the compact size of the car, and its rounded egg-like shape, space in the rear is limited. With the front passenger seat pushed forwards, the car can accommodate 3 adults in relative comfort. The space directly behind the driver has limited legroom, so journeys of any considerable length would be intolerable. This fourth space, however, can be used by a child for over a short period of time, hence Trepiuno, or 3+1.
The Trepiuno will most likely go into production in 2006 with engine choices are expected to include a 1.2 80 bhp unit, a 1.4, 95 bhp and a 1.6 with 120 bhp. A range-topping Abarth version is also on the cards, with a 1.6 Turbo engine pumping out a whopping 180 bhp. A line-up of 1.3 Multijet diesels will also be available with 70, 90 and 115bhp respectively.