Alfa Romeo enthusiasts' across the globe are tearing their hearts out over the Alfa Romeo 8C Competizione, as to whether or not the beautiful coupé will remain as a concept car or enter limited series production.

Amongst the widespread and contradicting rumours, various well reputed automotive magazines have further confused this sensitive matter by claiming that formal decisions have already been taken, and that the project will not evolve further into the production phase.

Behind this cloud of opacity, however, Alfa Romeo have still been collecting deposits from prospective buyers, in an attempt to gauge whether or not the interest is high enough to justify a limited series production run.

Various potential customers have also made trips to Alfa Romeo in Italy to inspect the production ready car in all its full beauty, as photographs, no matter how impressive, simply do not do this stunning car, a star at virtually all the world's most important motor shows over the last year, proper justice.

To date however, the amount of interest, while building steadily, has not reached the desired level, although a final decision is still a couple of months off. However, the feeling is there that this car might just actually happen, with new Alfa Romeo boss Karl-Heinz Kalbfell reportedly impressed by this evocative project.

Tentatively, a very limited production run will be scheduled to commence in the spring of 2006. With these signs prevalent, there is thus still a small hope for the beautiful 8C, a car unique in its class when it comes to styling and sheer passion.

The Alfa Romeo 8C Competizione is a true tribute to the brand's long standing involvement in motor sports, and is named after the 8 cylinder road and race cars from the 1930's and 40's, and the 6C 2500 Competizione, as driven by racing legends Fangio and Zanardi in the 1950 Mille Miglia.

The brilliant stylists at Centro Stile have succeeded in revisiting the brand's stylistic cues with a modern touch, using classical references, whilst creating a modern and timeless design.

Careful detailing, inspired from the historic road going Alfa Romeo Tipo 33, and Giulia TZ models can easily be traced back, complemented with design touches that have a evolutionary significance, such as the 'whiskers' and shield, which as on the original Alfa Romeo racing cars, are aligned at the very much the same level.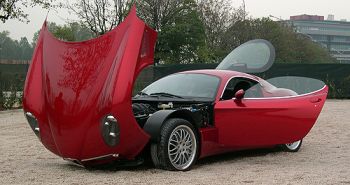 Stylists at Centro Stile have succeeded in revisiting the brand's stylistic cues with a modern touch, using classical references, whilst creating a modern and timeless design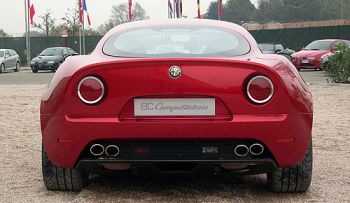 Alfa Romeo enthusiasts across the globe are tearing their hearts out over the Alfa Romeo 8C Competizione, as to whether or not the beautiful coupé will remain as a concept car or enter limited series production


The technology is no less stunning as is its engineering beauty and hereditary connotation, with a Maserati sourced 4.2 litre V8 under the sweeping bonnet, fed by a volumetric compressor. With an impressive 400bhp reached at 7,000 rpm, the 8C Competizione is capable of blasting to 300 km/h, and accelerating from 0-100 km/h in just 4.5 seconds. Regular and progressive torque is ensured at all times by the volumetric compressor, rendering the 8C Competizione a pleasure to drive on regular roads just as much as on a demanding race track.

Supreme road holding is catered for by double wishbone suspension at the front and rear, while a rear transaxle balances the weight distribution favorably.

With a carbon fibre structure and body panels, the car is extremely lightweight and agile, aided by immense grip from the wide tyres (245/40 R20 front, and 275/30 R20 rear), which also visually accentuate the strength and individuality of the design. Rear-wheel drive further enhances the driving pleasure delivered by this model, providing an accurate and involving experience.

The interior of the 8C, with its pure 'sportscar' cockpit, has been carefully designed with the same logic as the exterior, with certain forms having been designed to create a consonance in harmony between the two areas. An example are the rear wings, which emphasize the large wheels by creating a muscular contraction in the bodywork, while, internally, a corrugation in the smooth surface of the facia around the two round instruments produces an eye-catching effect."

by Paddy Granger