Just ten days before the brand-new Alfa Romeo 159 makes it's hugely anticipated international debut at the 75th Geneva International Motor Show, we provide the closest look yet as to how the Giugiaro-designed sports sedan will appear with this photoshop enhanced spyshot.

Bearing the Alfa 159 name, one of the most famous and successful designations in Alfa Romeo's long and glorious history, are prototypes now running around Balocco proudly displaying the evocative three digits on their chrome bootlid badges. This is the car that will carry Alfa Romeo into a bright new dawn, technologically innovative, class leading and steeping in tradition.

Without doubt, the Alfa 159 is set to be an exceptionally important model for Alfa Romeo. Only this week it was announced that the marque will be heading into a new and potentially exciting partnership with that famous and evocative name, Maserati.
Last week saw Fiat finally cast off the shackles of its restrictive arrangement with GM, a partnership that stifled all the exuberance and style that the Italian carmaker is rightly famous for. Now free to return to what they do best, and with an experienced management team focused on success, Alfa Romeo will be expected to spearhead the Fiat relaunch, with the Alfa 159 leading that charge, ably backed up by the new and equally exciting Brera and Spider.

Without doubt, the new Alfa 159 is set to be an exceptionally important model for Alfa Romeo as a new dawn arrives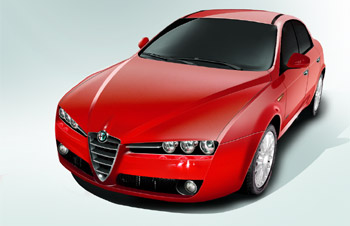 The Alfa 159 is going to be a genuine world beater, with the car fully engineered for export to North America. Its US ambitions are visually given away by its increased dimensions, larger door mirrors and raised roof height, all requirements of the demanding American market. The Stateside debut will most likely occur in 2007, when the automatic gearbox versions of the Alfa Spider will also be introduced.

A fundamental strategy target of the entire US relaunch will be stunningly powerful, range topping, GTA-badged versions of the Alfa 159, as well as of the Brera and Spider, all fitted with Twin Turbo V6 UNIAIR engines pumping out 405bhp and achieving 680Nm of torque. These awesome cars will form a crucial part of the entire US marketing plan: reviving the high performance Alfa sports car name.

Alfa Romeo insiders enthuse about this new car, describing it as 'stunning' and and a worthy successor to the much loved and multiple award-winning Alfa 156. Finally Alfa Romeo have a car to take on the German prestige brands and beat them at their own game, and it arrives on 1st March.