When Autodelta's 'European Tour 2005' rolls out of London at 0500CET tomorrow morning, pride of place will go to the new 400bhp Autodelta Alfa 147 GTA AM Super, a car that ably sums up the company's philosophy.
The Autodelta 147 GTA AM 3.7 snatched the mantle as the 'world's hottest hatch' when it made its public debut at the MPH03 Motor Show, boasting no less than 328bhp on tap. Its stunning bags of power, all delivered through the front wheels, were given the ultimate seal of approval when the 'red rocket' made an appearance on BBC TV's Top Gear programme, winning over the hard-to-impress presenters with its qualities, and against the clock around their tricky test track, dispensing with its highly-rated rivals such as the ubiquitous BMW M3.

So having pushed the performance envelope far in excess of anyone else's efforts, why supercharge the legendary Alfa V6 engine? Ever enthusiastic company boss Jano Djelalian explains: "There are several reasons, but I think most notably it is our tribute to a fantastic engine that has just finished production."
"In the early days of Autodelta we made our name increasing the capacity of this engine. Firstly taking the Alfetta GTV 6 2.5 up to 3.0 litres and then on to 3.3 litres. Right throughout the 20-year life of Autodelta this engine has dominated our daily life, and as our engineers increasingly switch their attention to the new breed of Alfa V6 engines, and in particular prepare to create the Autodelta 159 GTA AM, we could not think of anything more fitting than achieving one last performance step.
"Our successful supercharging exploits in the last few years with the 'monster' SZ and, in most recently months, the GT Super, along with the way ease which have been able to re-engineer the 147 GTA to cope with 328bhp, led us to think that it was realistic and practical to put a supercharged 3.7-litre V6 in the 147 GTA and make it work. The cutting-edge Rotrex C38 supercharger offered us exactly what we required."

Supercharging: An Alfa Romeo Tradition
Supercharging has a particularly special place in Alfa Romeo's rich and fabulous sporting history, a tradition which has recently been thrust back centre stage by Autodelta, with their latest supercharged creation, the GT Super, and their 'Evo 2' supercharger conversion for the SZ.

The first supercharged Alfa Romeo was introduced in 1924, after Giuseppe Merosiís Gran Premio Romeo project was handed over to a young and gifted engineer called Vittorio Jano.

Jano had attracted the attention of Alfa Romeoís directors through the recommendation of Enzo Ferrari, who was at that time a factory racing driver and had become familiar with Janoís successful Fiat 805.
Racing success came with the legendary 'P2', for which Jano chose an eight-cylinder in-line engine made from four two-cylinder blocks; a design which increased the engineís reliability. The crankshaft was fabricated from two pieces, coupled together in the middle, and supported by ten roller bearings along the same principle as Merosiís previous design. The compressor was a Roots-type, and was more compact than those of the competition.
As a result of the carís brilliant engineering, the P2 delivered 140bhp at 5,500 rpm, which together with great reliability, resulted in tremendous racing success. In 1925 the P2 won Alfa Romeo their first World Championship, helped by the fantastic efforts of gentleman-racer Count Brilli-Peri. From that period forward, Alfa Romeo enshrouded their logo with a silver laurel wreath.
Autodelta revive Alfa Romeo supercharging
This is the stuff of legends, and Autodelta themselves are only too aware of Alfa Romeo's fabulous place in history. Jano Djelalian, who founded the modern-day Autodelta in 1987, has immersed his young company in these proud traditions, so it is unsurprising that they have embraced the potential of supercharging, understanding its historically important place.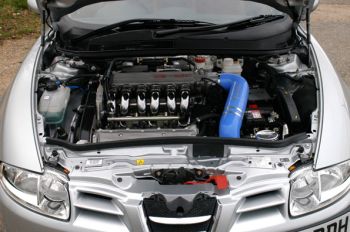 Last November Autodelta launched their 'bespoke' GT Super 3.2, which incorporated a Rotrex supercharger on the Alfa V6
Autodelta 147 GTA AM 3.7 Super: their engineering tribute to the classic Alfa Romeo V6 which has just ended production

The modern story of Autodelta's supercharging begins around three years ago when customer demand to transform the underperforming characteristics of the 2.0-litre Alfa 166, saw the benefits of this forced induction technology applied. A string of 166 conversions led to an even more popular use of their supercharging techniques, transforming the much smaller 1.6-litre Alfa 147 cost-effectively into a 'pocket rocket'.

These were two models, with their widely differing characteristics, were both enhanced by the addition of supercharging. Next to come was the SZ.
This modern day icon, considered as the last of the 'true' rear wheel drive Alfa Romeos, is synonymous with the London firm, and the power junkies at Autodelta, after boring-out no less than nine SZ's to 3.5-litres, first introduced a supercharged conversion in 2002.. Two year's on, Autodelta revised the whole package and introduced a definitive supercharger upgrade. The Rotrex centrifugal supercharger conversion (which is fully reversible) boosted the engine via a chargecooler to produce 250bhp (against 207bhp for the 'standard' SZ).

The Danish firm, whose superchargers are used on well-received aftermarket Mini and Nissan 350Z conversions, developed a unit to Autodelta's exacting requirements. Then the 3.2-litre Autodelta GT Super also made full use of the technology when it was launched last November at the MPH04 Motor Show, and now a Rotrex C38 supercharger makes its way into the Alfa 147 GTA AM, moulded to its 3.7-litre engine.

Rotrex are the global leaders in the manufacturing of superchargers. Their advanced technology, and ability to withstand the toughest of demands, make them a natural fit for Autodelta. In fact, proof if it was needed, came on February the 28th 2005, when the Koenigsegg CCR broke the production road car speed record, achieving a new official top speed of 387.87km/h at Italyís Nardo Prototipo proving ground. The Koenigsegg CCR uses two Rotrex C38 type superchargers on its V8 engine.
A modern day legend: 400bhp Autodelta 147 GTA AM Super
"Offering the Alfa 147 GTA with a supercharged 3.7-litre engine, we hope will pay tribute to this fabulous engine which will be sorely missed by Alfa drivers, in the way we think know best: through our engineering abilities. Further demonstrating that our cars are practical, everyday transport, as was the theme to the original Autodelta name, we will drive it to Rimini, across Europe and over the most demanding Alpine roads available, recording its progress as we go."

"On top of this," Jano concludes, returning to the Rimini Tour theme, "it means an awful lot for us to show our cars in Italy this week, the home of the Alfa marque, and to prove our commitment to our many Italian customers and the Alfa enthusiasts who follow our exploits, so we really wanted to present a new package.
To cope with the extra demands now being made on the Alfa 147 GTA AM by the additional horsepower, Autodelta have revised the 'world's hottest hatch'. A new suspension has been incorporated, while the frontal aerodynamics have been revised to cope with the increased airflow required to the intercooler.

Today the last preparations are underway at Autodelta's HQ, with the cars undergoing final checks, and the 'Tour' decals being applied. First thing tomorrow morning the 400bhp Autodelta 147 GTA AM will literally scream into life and proudly lead the cavalcade out on its long, demanding test across Europe.