Recent visitors to Ferrari's Fiorano test track have been quick to spot an unusual prototype in-between the usual hive of high speed activity.

With rumours of a Super Enzo having been in circulation for many months, and continuous disagreement amongst enthusiasts regarding the confusion of the Enzo and F60 name, these hot encounters have certainly sparked great excitement.
Although no official comment has yet been released by Ferrari regarding the project, certain details have come to light. As can be derived from the photographs, all modifications are focused on performance enhancement. A new exhaust system is featured, replacing the original quad outlet system with large single pipes per cylinder bank. The original three-way catalytic converter has clearly been eliminated altogether, with the unburnt fuel mixing with exhaust gases on overrun not being converted into Carbon Monoxide and water, but turning into a brutal pyrotechnics display instead. Whether this exhaust modification is related to a forced induction system is unknown as of yet.
At the front, engineers have added a recessed NACA duct to draw in increased volumes of cool air efficiently, a similar modification as to that made to the Ferrari F40 LM, by Michelotto. A subtle aerodynamic modification has also been made under the raised central nose, with the area now featuring a blanking plate with dual flow ducts. In order for the extra power to be fully exploited, a large rear spoiler has also been added to increase traction for the driven wheels.

In similar fashion to the Ferrari F50 GT, and F40 LM, this prototype has clearly been engineered with raw track use in mind. A reliable source has stated that this particular car belongs to an individual operating a race team in Europe, who intends to use the car in a racing programme. Padua based Michelotto are the favoured company for carrying out such conversions for Ferrari, although they claim not to be involved in this project, declaring that they have only ever seen the car in Italian car magazines.

NEW PRODUCTION RUN
Although this particular car appears to be a one-off, it has been made known that Ferrari are going to resume a very short production run of cars for select clients who did not have the possibility to acquire an Enzo in the first run. A selection of twenty clients have already been contacted by Ferrari and received a 'preview', whilst a batch of 25 new chassis will be built in total.

There is widespread talk that the cars will be sold for a price of $1.5 million, covering several upgrades specifically designed for track day use. The standard Enzo based engine will remain normally aspirated, but will feature heavily modified internals resulting in a power output of 850 bhp. To cope with the extra power, a new gearbox and brake system will also be part of the package.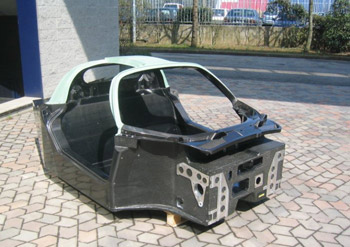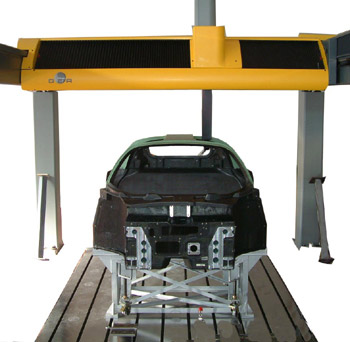 Top: Production of the Ferrari Enzo chassis, bodywork and interior is carried out by Italian specialists ATR. Bottom: Sectional view of the Ferrari four-wheel-drive transmission.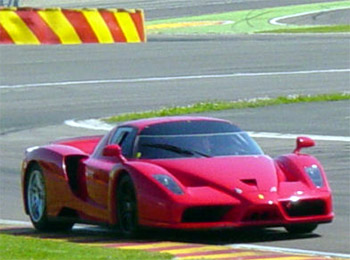 A group of Ferrari enthusiats dropping by at Maranello recently, came across this modified Ferrari Enzo, reporting that 'seeing and hearing the car driving was amazing'. Photos: Waldo Aikema/forzarossa.com

AFTERMARKET TRADING IN FERRARI SUPERCARS

The news of an extra production run is likely to be related to the large aftermarket business in Ferrari supercars, particularly in the USA. With the legendary Ferrari F40, the demand was so high that cars were selling for twice the manufacturers' suggested selling price. Clients were making large profits by purchasing new F40's from dealers, and selling them on for up to twice the original purchase price. Story goes that Enzo Ferrari had finally had enough of the trend after Nigel Mansell sold on his F40 for a large profit, reacting in fury by increasing the production volume in order to suppress the aftermarket trading with simple economic theory.

A new solution to the 'problem' was introduced with the F50 model, with Ferrari deciding not to sell the cars directly to the client, but to lease the cars instead. Although the aftermarket problem was improved, it was not solved completely. For US bound Enzo's, an agreement was set in place with clients having to sell the car back to the dealer they purchased it from, for the same price, if they decided to sell the car within a period of 12 months. To date, however, no fully successful strategy has emerged to curtail short-term trading in Ferrari supercars.

NEW DRIVELINE TECHNOLOGY BEING DEVELOPED FOR FUTURE FERRARI SUPERCARS
One form of technology that will be seen on future Ferrari supercars is the Uniair variable valve system, developed by Centro Ricerche Fiat. Not only beneficial for everyday cars, where fuel economy and emissions are improved, the Uniair system also delivers higher power output per unit volume. Applying the Uniair system to the standard 6.0 litre V12 Enzo engine alone would boost power output to approximately 800bhp. Due to the latest developments in the sector, with the arrival of the Mauro Forghieri developed MF1 supercar on the horizon, and the Bugatti Veyron recording a new top-speed record, a 6.8 litre V12 engine is now also on the cards.

With all of this extra power, Ferrari understand that their current rear-wheel-drive system will not suffice. "As is known, in some conditions, high-performance cars have great difficulty discharging the power from the engine to the road. In recent years, therefore, a number of major car manufacturers have begun marketing high- performance car models with four-wheel drives.

"Besides effectively solving the problem of discharging the power from the engine to the road, such a solution also provides for greatly improving control, road-holding in poor-grip conditions, and therefore intrinsic safety of the vehicle," say Ferrari. "Unfortunately, currently marketed four-wheel-drive car transmissions have the major drawback of being extremely heavy and bulky, thus creating serious design problems in terms of location within the vehicle and weight distribution over the two vehicle axles. The structure of currently marketed transmissions, in fact, is derived directly from that normally employed in off- road vehicles, in which the weight and bulk of the transmission are considered secondary to strength and simplifying construction."
With this approach in mind, Ferrari have developed and patented a four-wheel-drive vehicle transmission, which is more compact and lightweight than those currently used, and which is suitable for use in high-performance cars such as the Enzo replacement. With this technology available, Ferrari will be prepared to take part in what is becoming a new supercar challenge.
By Paddy Granger