Fiat will shortly be unveiling its all-new Grande Punto, which goes on sale in September.

Following in the wheeltracks of the original hugely successful Punto hatchback, which has accounted for over six million sales since its launch in 1993, the new Grande Punto's objective is to regain leadership of the highly competitive and crucially important European compact hatchback market.

In order to accomplish this aim, Grande Punto has been designed from the outset to be a larger vehicle than is typical for the class, so as to offer the highest possible safety standards, class leading quality credentials, and the best range of diesel engines available in this category today, all at a very competitive price.

Boasting a persuasive combination of stylish, unmistakably Italian good looks, and backed up by in-built quality and durability, the new Grande Punto becomes available in three and five door body styles and four distinct versions at launch.

Designed by Italdesign-Giugiaro, in partnership with Centro Stile Fiat, the style of the Grande Punto is distinguished by the beauty of its exterior line. As with the exterior, the interior represents the epitome of Italian style, thanks both to the quality of materials used, and the care with which detailing has been considered. The result is a cabin environment notable for its bright, friendly feel, as well as its obvious functionality.

Grande Punto is thus designed to quicken the pulses, while offering a level of security, solidity and construction quality of a vehicle from a higher segment.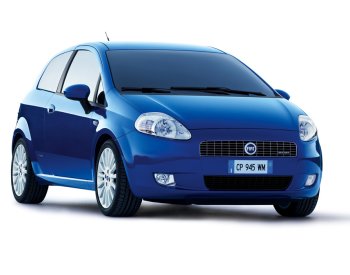 Underpinned by attention to detail unusual in this market segment, Grande Punto is also an exceptionally comfortable vehicle - a factor indicated by its generous external dimensions that put it at the top of the class. Grande Punto measures 403cms in length, 168cms in width and 149cms in height; and with a wheelbase of 251cms, an extraordinary amount of internal space is guaranteed.

Grande Punto has also been meticulously engineered to be both agile and responsive to drive. This lively new car is powered by a potent range of environmentally-friendly petrol and diesel engines, all of which conform to Euro 4 emissions standards, and all of which blend top performance with low fuel consumption. At launch there will be two petrol engine options: 1.2 8v (65bhp) and a new 1.4 8v with 77bhp; and four turbodiesels: 1.3 16v MultiJet (75bhp), or 1.3 MultiJet with a variable geometry turbine (90bhp); and 1.9 MultiJet with either 120 bhp or 130 bhp.

The arrival of the all-new Grande Punto will not signal the end of the current Punto, which continues in production, powered by petrol, diesel and methane engines, offering significantly good value for money in certain key sectors.