Fiat Powertrain Technologies will almost double production capacity of their highly acclaimed 1.3-litre Multijet 16v engine, once an expansion of the factory in Poland where it is built is completed in 2008. The plant, located at Bielsko Biala in Poland, will be able to produce around 800,000 units of the 1.3-litre Multijet diesel per year once the work is completed in around 18 months time. General Motors continued to co-own the intellectual rights to the engine once the five year partnership with Fiat was dissolved last spring, and also use the factory to satisfy their production requirements.

The 1.3-litre Multijet 16v - which first arrived on the market in early 2003 - is used in a number of GM and Fiat vehicles, including the locally-assembled Panda, the Idea, and the new 'compact' Grande Punto. The engine will be used in the new Fiat 500 and Ford Ka models which will be built at Tychy in Poland, and is also used in several European-specification cars. Sukuki's Indian arm, Maruti Udyog, is gearing up to build the engine under licence at their factory new New Delhi.
Fiat 1.3 Multijet 16v
The 1.3 Multijet 16v is a 1248 cc 4 cylinder in line power unit with a bore of just 69.6 mm and a 'long' 82 mm stroke. The four valves per cylinder are driven directly by a twin overhead camshaft. Maximum power output is 51 kW at 4000 rpm (70 bhp) and the torque delivered is 145 Nm (14.8 kgm) at just 1500 rpm. All in all, the 1.3 16v Multijet is a true masterpiece of miniaturised technology: when clad with all its accessories, it weighs in at just 130 kg.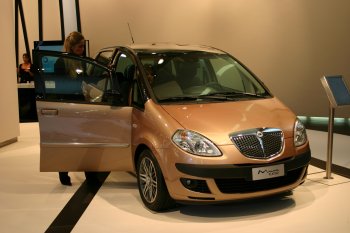 The innovative 1.3-litre 16v Mulijet engine is now used in a variety of Fiat Auto models including the Fiat Panda Cross, Fiat Idea and Lancia Musa (all seen here during the 30th Bologna Motor Show earlier this month)
The 'common rail' technology 1.3-litre 16v 4-cyl Multijet is a true masterpiece of miniaturised technology: when clad with all its accessories, it weighs in at just 130 kg

Its size is small at less than 50 centimetres in length and 65 in height. The component layout has been designed to ensure it takes up the smallest possible space. Yet it guarantees the same advantages as bigger engines because it has not been reduced but miniaturised.

The power unit has thus been built to ensure the greatest rationalism, efficiency and reliability and is the smallest Common Rail four-cylinder diesel on the market. The only power unit that can pack no fewer than six normal-sized components into a cylinder with a diameter of less than 70 mm. In other words, four valves, an injector and a glow plug. The engine also adds another record to this major feat of miniaturisation: it is the most powerful. Despite a truly miniscule cylinder capacity of 1248 cc, the pocket Multijet comes out on top when compared with all the small diesels with fixed geometry turbines currently present on the market. Even the most vaunted. Suffice it to say that it offers the best specific performance of any diesel engine with 800 to 1500 cc of cylinder capacity. Power output of 41 kW/l and torque of 116 Nm/l.

This compact, technologically sophisticated engine also offers outstanding efficiency and is practically guaranteed for life. The 1.3 16v Multijet is designed to last for 250,000 km instead of the usual 150,000. During this long lifetime, it does not require any maintenance to mechanical parts (even the normally essential fan belt change at 80,000 km is not required). The oil change intervals have also been increased from 20 to 30,000 km. The oil is naturally low viscosity (i.e. designed for fuel economy) and environmentally friendly.

The 1.3 Multijet 16v is environmentally friendly because it already meets Euro 4 emission limits not due to come into force until 2006. It is also one of the very few cars in the world that has been able to achieve this result without the need for a sophisticated exhaust post-treatment device such as a particulate trap. All in all, an intrinsically clean car: the particulate emission level (responsible for dust and fine dust) - for example - is even lower than that established by the forthcoming Euro 4 standard.

Fiat have recently upgraded the tiny engine, introducing a 75bhp version of the 1.3-litre Multijet at the Frankfurt IAA in September, while the 'family' capability has also been enhanced by the arrival of a 90bhp version that makes use of a compact, variable nozzle, turbocharger.