Fiat Automóveis this week has launched the Palio 1.8R, a sporty, cost-effective new model that seeks out a youthful and adventurous car buyer. The Palio 1.8R is immediately recognisable due to its visually impacting deep, colour-coded front and rear bumpers, a jutting tailgate spoiler, and 'Abarth' style 14-inch alloy wheels which are shod with 185/60 tyres. The enveloping front bumper features high-powered round foglamps as standard, while the rear bumper incorporates a lower slatted section with reflectors mounted in cut-outs to either side that match the front styling layout.

Four body colour finishes are available: visually-grabbing bright yellow or red options contrast neatly with a more understated black or grey metallic finish. The individual nature of the Palio 1.8R paint finish continues with a glossy black finished B-pillar and door mirrors, while thick double stripes - which are emblazoned with the '1.8R' designation - run across the lower flanks of the doors and also high across the tailgate. External changes are completed by the large headlamps which now have a dark finished rear reflector, a black grille which is surrounded by a chrome trim, and a rear high level brake light tucked in underneath the prominent rear spoiler.
Under the bonnet is Fiat Automóveis' brand new 1.8-litre 'Flex' engine. 'FlexFuel' engines - which offer owners the ability to use petrol, alchohol or a mixture of both - are the latest South American phenomomen, and currently taking the Brazilian new car market by storm.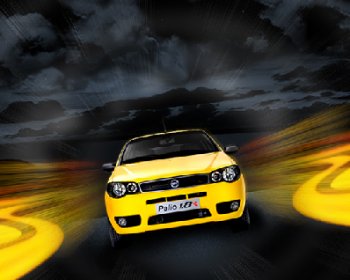 Fiat are the acknowledged technological market leaders in Brazil, and the 4-cyl transverely-mounted 1.8-litre Flex engine - as used in the Palio 1.8R - offers 113bhp at 5,500rpm when running on petrol, and slightly more at the same revs - 115bhp - for alcohol. Maximum torque comes in at 17.8Kgfm at 2,800rpm on petrol, and 18.0Kgfm at similar revs when using alcohol fuel. The 3.827m long Palio 1.8R which features mildly revised, sporty suspension settings, weights in at 1,025Kg, and powers from 0-100km/h in 9.2 seconds.

Open the front doors and the racy '1.8R' designation is prominentally splayed along special new sill protection plates. Inside, the Palio gets a sporty-looking instrument console with a digital panel for the trip computer and a bluetooth connector mounted on the dashboard. The seat belts are visually striking as they are colour-coded to the car's finish, as is the stitching in the sports seats, and the leather gearlever gaiter.
The Palio 1.8R has a strong options list and personaliation programme, which includes ABS and EBD braking assistance, one-touch front and rear electric windows, driver and passenger front airbags, side airbags, a 5-disc CD interchanger, and radio with MP3 player.