Ford have confirmed the rumours that spread yesterday are correct, and that the are set to develop a new small car jointly with Fiat.

The new models, targeted at the 'sub' B-segment, will replace Ford's existing Ka model, while Fiat's version will revive the famous '500' name and fulfill the Italian firm's desire to get back to their roots with a new 'city' car. Both cars will be built at Fiat's factory at Tychy in Poland, currently the home of Panda and Seicento production, with unconfirmed reports saying that the new cars will be built using the floorpan and mechanicals of the current Panda model. Fiat's version is expected to arrive on the market in late 2007, or early 2008.
Ford today responded to the reports that broke yesterday morning in a German newspaper linking Fiat and Ford, and which were then confirmed by a Reuters' news agency source. In a brief statement issued this morning the giant American carmaker said, "The two new vehicles that would be involved, with highly differentiated designs, would be a new Fiat 500 and a replacement for the current Ford Ka." It is an arrangement which is expected to be similar to the project between Peugeot-Citroen (PSA) and Toyota, which is building a new small car, also in Eastern Europe.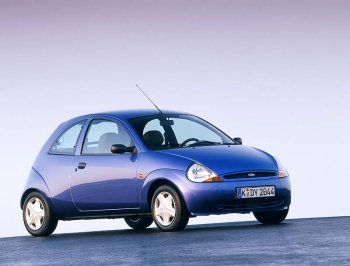 Ford introduced the individually styled existing Ka model during 1996, it is built at the firm's factory in Valencia, Spain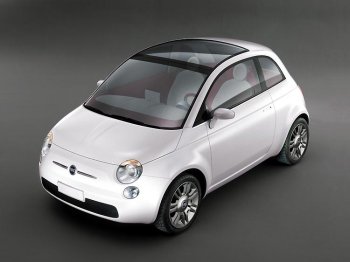 Fiat recently presented their view of a future city car - the Trepiuno, which built on the appearance of the iconic Fiat 500

Ford added that "By working together on this project, both companies would envisage reduced development and material costs, while providing highly competitive products to the marketplace." Ford - the world's second largest carmaker - introduced the very individually styled existing Ka model during 1996. It is built at the firm's factory at Valencia, in Spain. It has since spawned a series of 'lifestyle' niche versions, including a convertible and a higher performance model.
Fiat's CEO, Sergio Marchionne, told reporters during the launch of the brand new Fiat Grande Punto in Turin on Tuesday that he would announce the first strategic partnership "before the end of the year", while the next day Fiat Chairman Luca di Montezemolo said - in a radio interview - that the news would come "very, very soon." The original Fiat 500 became a symbol of Italy's post-war recovery (along with the Vespa scooter), and helped to 'motorise' the nation.