After the recent management reshuffle at Fiat Auto, we provide a profile of Lanciaís new boss, Olivier Francois. Antonio Baravalle, former head of ĎLancia Brand and Commercialí, has been promoted to a similar position at Alfa Romeo, taking over from Karl-Heinz Kalbfell, who retains his position as head of Maserati.
Baravalleís position at Lancia is taken by a new recruit from PSA Peugeot-CitroŽn, Olivier Francois. Francois arrives at Lancia after working his way through the ranks at CitroŽn to become CEO and COO of CitroŽn Italia. In just two years as CitroŽnís boss in Italy, Francois doubled the companyís market share from 3% to 6% through aggressive promotion of its style-focused C2 and C3 models, achieving a regular spot in the Top 10 sellers list for the C3 in the process.
Baravalle, who has a strong career marketing background, took over the top job at Lancia when the then-incumbent Luca De Meo was promoted to running Fiat ĎBrand and Commercialí. Having earlier spent a stint at Alfa Romeo, Baravalle is regarded as having undertaken an excellent job over the last year in pushing Lancia firmly back into the limelight, with sales continuing to increase. Though unassuming, he is firm-mannered, and he has sought to create for Lancia a distinct identity of its own, pulling it away from Fiat. To this effect, he has started to overhaul the entire operation, from the supply and distribution chains, to the sales and dealer networks.
Presently, outside Italy and France, Lancia shares local management with Fiat, and also, sometimes, with Alfa Romeo. Over the medium-term, the plan is to implement a reorganisation in each major market where Lancias are sold, in particular by separating its sales operations from Fiat. The operation has so far only been implemented in France (albeit to superb effect with a 60% increase year-on-year in sales so far in 2005), but similar overhauls are planned for Germany, Spain, Belgium and Greece. According to Baravalle in a recent interview, ďMoney is short, so our priority is to head to the markets where the (Lancia) brand has potential to grow immediately.Ē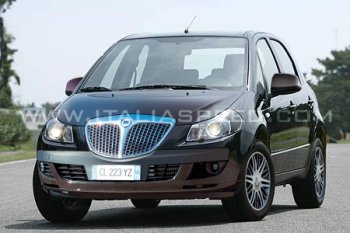 Lancia will re-engineer the imminent Fiat-Suzuki 'crossover' 4x4, to create a distinct brand vehicle, building on the success of the Musa, which itself is based on the Fiat Idea
Francois arrives at Lancia after working his way up through the ranks at CitroŽn to become CEO and COO of CitroŽn Italia

Interestingly, the possibility of a right-hand drive version of the new Delta was also mentioned during this interview, the first official hints in over a decade, allowing the brand to profit from fond memories of old Lancias in Japan, the UK and Oceania.

To give an indication of the growth plans it is hoped that this restructure will enable, Lanciaís long-term target is to sell 18,000 cars annually in France, up from this yearís estimated figure of 4,500. Long-term, the expectation is that it will help to reduce Lanciaís massive dependence on its home market, which currently stands at an overwhelming 79% of its estimated production total of 122,000 cars this year. Lanciaís stated aim is to reduce this figure to 65% by 2010, and they should be helped in this aim by the three new models planned to be introduced over the next two years, which by some reports could add as many as 75,000 sales annually and boost Lanciaís production total past the 200,000 per year mark.

Further details have emerged regarding the first of these new arrivals, a Lancia-badged version of the forthcoming Giugiaro-styled Fiat Sedici crossover four-wheel drive. As per a contract signed between Suzuki and Fiat Auto in 2003, Suzuki is responsible for the majority of the engineering as well as production, while Fiat was left to concentrate on supplying its Multijet diesel engines and supplying a majority of the financial backing. The contract runs through to 2015 and also provides for the development of a second-generation vehicle. It has been reported that Suzuki will build a total of 90,000 units a year in its plant in Hungary, located at Esztergom, near Budapest. Of those, 60,000 units will be branded Suzuki, 20,000 Fiat and the remaining 10,000 Lancia.
by Shant Fabricatorian