Autodelta chose the annual Spettacolo Sportivo at Zandvoort last weekend to unleash their potent new 400bhp Autodelta 156 GTA AM Super in public for the first time. Following the highly successful launch of the 'extreme' 400bhp 3.7-litre Autodelta 147 GTA AM Super during the spring of 2005, London Design and Tuning House Autodelta swiftly decided to make this performance 'upgrade' available to their bespoke Autodelta 156 GTA AM model.

Autodelta dedicate themselves to taking Alfa Romeo's stylish range of sporty models to the very performance and dynamic edge, creating in the process individually, hand-crafted cars that offer sheer driving exhilaration, with unrivalled characteristics. The supercharged Autodelta 147 GTA AM 'Super' 3.7 was devised as a flagship for the inaugural 'European Tour' in March 2005, and at the same time as a fitting tribute to Alfa Romeo's classic, all-alloy V6 engine, by squeezing the very last drop of horsepower out of this legendary powerplant.

Positive feedback after the introduction of this new car – along with strong customer pressure - led Autodelta's engineers this summer to focus on building the first Autodelta 156 GTA AM Super. The original Autodelta 156 GTA AM 3.7 was officially launched just over a year ago, and it has proved to be a popular member of Autodelta's range of stylish, bespoke sportscars. Now the whole process has been taken a stage further, with Autodelta once more shifting the goalposts of Alfa Romeo tuning. In goes the firm's 3.7-litre engine upgrade with its revised camshafts, Ferrari-inspired throttle body, and its superior torque characteristics, which have made it not just ultra-quick, but also a real drivers' car. Now Autodelta's engineers have added a Rotrex C38 supercharger – the largest and latest unit in Danish company's range - which runs on 0.45 bar boost through a high flow intercooler, while larger fuel injectors have been fitted.

The result is a stunning 400bhp from this ultimate Alfa conversion. Autodelta's team freely admits that the Alfa 156's chassis has now been taken to its dynamic limit by this engine upgrade. So new coil over dampers, with rebound and bound adjustments with separate reservoirs, along with new coil springs, have been especially developed for this chassis.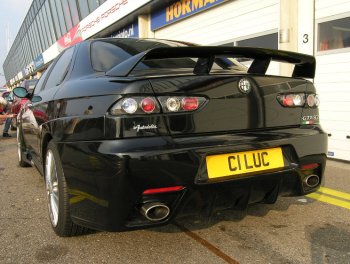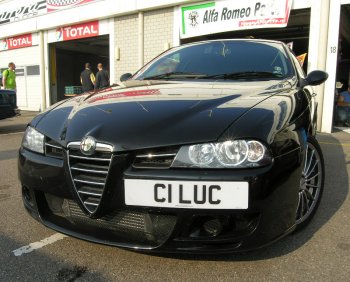 "With the new Alfa 159 just round the corner – in fact our engineers are already at work developing packages for it - we wanted to create a final, more extreme version of the 156 GTA AM, a raw, edgy car that would be the last stage of our work with this very successful model," says Autodelta boss, Jano Djelalian, "We wanted to create the ultimate performance Alfa 156, upgraded a stage even further than the 156 GTA AM specification.

Spettacolo Sportivo was chosen by Autodelta as the ideal venue at which to launch the new Autodelta 156 GTA AM, as it represented the first stop in what will be a hectic promotional campaign this coming autumn. Spettacolo Sportivo – which is organized by the Alfa Club (NL) – took place once again this year at the famous former Dutch Grand Prix circuit, Zandvoort. Highly significant historic Alfa Romeos rub shoulders with current production Alfa Romeo models, the cars and owners having travelled right across Europe for this two day extravaganza. With the famous race circuit available for driving experiences, it allows Autodelta to demonstrate the abilities of their cars in the public eye, something they regard as a must.
A second rapid-fire public appearance for the new Autodelta 156 GTA AM Super beckoned yesterday, when the first example took centre stage in Autodelta's impressive line-up at the Auto Italia Autumn Italian Car Day, which was held for the first time at the Heritage Motor Centre in Warwickshire.

"Interest in the 'Super' option has been pleasing," adds Jano, "and as usual, a number of our clients with the 3.7-litre upgrade are booking their cars in for this final performance step."
Autodelta 156 GTA AM Super Technical Specifications: Max Power: 400bhp @ 7000rpm; Max Torque: 425 Nm @ 4700rpm; Acceleration: 0-100 km/h – 4.8 secs; Max Speed: 287km/h