The most powerful cars, the wickedest music and the grooviest people: these are the ingredients of what has become by tradition the most important feast of automotive engineering in Italy, the Bologna Motor Show. Alfa Romeo has created a stand with linear geometric lines for this extraordinary event. Flat planes and areas overlap to create a feeling of movement with upright partitions defining offices, the Alfa Café and the lounge areas. The end result is one of stylistic sophistication that sets off to perfection the sinuous aerodynamic shapes of the numerous cars present: from the new generation of Alfa Romeo models arising out of the Alfa 159 project to the other current production models (Alfa GT, Crosswagon Q4, the Alfa 166 flagship and the compact Alfa 147) all equipped with Euro 4 engines.

This truly extensive, diverse range effectively expresses the Alfa Romeo take on sportiness and elegance, the outcome of cutting-edge technology and a heritage unique in the world scenario. Naturally, the spotlights will be fixed on the Alfa Brera - an attractive car that takes a conventional coupé and turns it into an out-and-out sports model - as it makes its first appearance before the general public. By its side will be the Alfa 159, a prestigious car that pays homage to the great history of Alfa Romeo saloons while also representing the start of a new generation of Alfas.
The Alfa Brera and Alfa 159 are the absolute stars of this stand, exemplified by the two specimens occupying two raised platforms in the middle of an inclined ramp: this architectural arrangement simply emphasises the attributes of sportiness and style of both models still further. Sophisticated LED screens on the red wall of the Alfa building describe the world of the Alfa Brera while for the first time an innovative hi-tech solution has been adopted for an interactive presentation featuring the 159 and Brera: images flicker over space-age glass panels suspended in the air, allowing visitors to have fun finding out all about the outstanding features of these models interactively, in a manner entirely in tune with the innovative spirit of Alfa Romeo.
Yet again, Alfa Romeo graces the Bologna Motor Show with a stand boasting a wealth of new models and special versions as it forcefully emphasises its unique position in the world automotive scenario with cars, designers, races and engines that have represented milestones in the technological process and sporting events of the Twentieth century. Alfa's heritage is all this, coupled with the work and professional pride of the thousands of people – engineers, workers and managers – who have succeeded one another in the factories and offices and on the racetracks. Here we see the roots of the inimitable personality that makes a car bearing the Alfa Romeo shield stand out from all others on the roads. For this reason, the Alfa Romeo has set up two outside areas where visitors can test the Q4 engineering of the Alfa Crosswagon on a 4x4 track and also appreciate the dynamic qualities of the extraordinary Alfa Brera. Alfa Brera: the indisputable queen of the stand awaits the general public The new coupé, designed by Giorgetto Giugiaro in conjunction with the Alfa Romeo style centre, is born of the tradition that breathed life into the good-looking, thoroughbred cars that, now as then, strike a magical balance between sense and sensibility, between technical culture and creative design. The Bologna show offers two top-of-the-range versions, both equipped with a panoramic glass roof with an electric blind (an exclusive optional feature). The first is a Q4 version equipped with a 24 valve 3.2 V6 JTS power unit, a veritable jewel of automotive engineering that delivers a power of 191 kW (260 bhp) at 6200 rpm with a maximum torque of 322 Nm (32.8 kgm) at 4500 rpm. The second Alfa Brera also offers outstanding performance with a 2.2 JTS engine developing peak power of 136 kW (185 bhp) at 6500 rpm and torque of 230 Nm (23.4 kgm) at 4500 rpm.

Both vehicles are well endowed with equipment, including a host of features specifically devoted to safety: 7 airbags (including driver side knee bag), VDC, ABS with EBD, ventilated front and rear brake discs, MSR, Hill Holder, ASR and foglight. The long list of devices used to ensure maximum on-board comfort includes: automatic dual zone climate control, radio with CD player and CD changer, parking sensor, Visibility Pack (rain sensor, dusk sensor and demisting sensor) map radio and navigation system with phone and voice control, Bose Hi-Fi system with digital amplifier and cargo box under the load platform. These two versions are complemented by natural leather interiors and 18" alloy wheels.

Alfa 159: a new breed of Alfa

The other queen of the stand is the 159 saloon, three examples of which may be admired at Bologna: the first is a Q4 version (with four wheel drive), equipped with the new and powerful 191 kW (260 bhp) 3.2 V6 JTS 24v engine distinguished by a Ruby Red body-colour that effectively expresses the Alfa Romeo take on classic sportiness.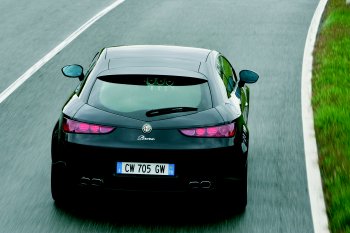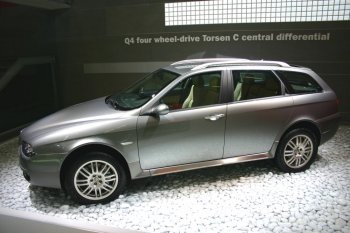 The stars of the Alfa Romeo stand in Bologna, the Alfa 159 and Brera, will be joined by the Alfa 166 and Crosswagon Q4
One feature of the Alfa Romeo stand will be the brand new Alfa 147 'Black Line' with a 120 bhp 1.9 JTDm engine, which weds sportiness and elegance in an exclusive youthful and dynamic specification distinguished by a two-tone livery that combines Navone Grey with a sophisticated black central pillar, rear spoiler and caps for the mirror and for the roof

The second saloon – clad in the silver livery that distinguishes the new generation of Alfa Romeo cars – is also equipped with one of the three JTS engines available in the range: this 2.2 JTS develops a maximum power of 136 bhp (185 kW) at 6,500 rpm and a maximum torque of 230 Nm (23.4 kgm) at 4,500 rpm. The last Alfa 159 is equipped with a searing 147 kW (200 bhp) 2.4 JTDm engine that develops a torque of 4 Nm (40.8 kgm).All the Alfa 159 cars on show are packed with creature comforts. Examples include a Luxury Pack with dashboard, seat and door panels trimmed in black grosgrain Frau® leather (grey and beige shades are also available). And more: three-zone climate control system, aluminium panels, electric seats, cruise control, 7 airbags, VDC stability control with hill holder, map radio navigation system with telephone and voice controls, xenon headlights and 18" alloy wheels with a classic sports design (holes or spokes, according to the version).

Alfa 147: now also in a Black Line version

Another example of the Alfa Romeo world of style and technology is the 147 model that is exhibited in two versions at the Bologna show. One feature of the stand is the brand new Alfa 147 'Black Line' with a 120 bhp 1.9 JTDm engine, which weds sportiness and elegance in an exclusive youthful and dynamic specification distinguished by a two-tone livery that combines Navone Grey with a sophisticated glossy Black, central pillar, rear spoiler and caps for the mirror and for the roof. Inside, visitors can admire a new sporty two-tone cloth (black and red): exclusive to the Black Line version. The sporty impression is also accentuated by the car's low ride, a chrome exhaust tail pipe and 17" alloys with diamond-shaped holes and 215/45 tyres. The new Alfa 147 Black Line also offers as standard equipment VDC with ASR, ABS with EBD, 6 airbags, radio with CD player, leather steering wheel and gear knob, manual climate control system and foglight. The original specification, available from 2006, may be ordered for all engines in the range and with a 3 or 5 door body. Space has also been found at Bologna for a 150 bhp Alfa 147 1.9 JTDm in the Exclusive specification that offers the most sophisticated devices in the safety field as standard: including VDC, ASR, ABS with EBD and six airbags.The equipment list is completed by a map navigation system with built-in handsfree phone, radio and phone controls on the steering wheel, automatic dual zone climate control system, 17" alloys, radio with CD, Cruise Control and foglight. The vehicle on show is also equipped with exclusive beige two-tone seats (a feature that will be available as an option after the launch).

Alfa GT: two new spirits for an original coupé

The spotlights at the Bologna show will also be on two special versions of the Alfa GT that emphasise the model's unique spirit still further. The Alfa GT was created in conjunction with Bertone for original styling coupled with exhilarating performance. It is a revolutionary new concept of sportiness geared for comfort and elegance. The 150 bhp 1.9 JTDm 'Collezione' version is also on show for more sophisticated customers. In addition to the usual standard equipment, it offers certain exclusive features and content: including 17" alloy wheels (pattern of holes with chrome treatment) and front headlights with a black frame; body-coloured front bumper grille and two-tone leather seats with the seating area perforated and an Alfa Romeo logo, beige/black facia and gearlever and parking brake gaiters in Sahara leather. The carpet, mats, central console and side partitions are also in beige. This sophisticated Alfa GT also offers a map radio navigation system with telephone and voice control complete with subscription to infotelematic services.

The second Alfa GT on view at the Motor Show is designed for younger, dynamic customers and is equipped with the lively 165 bhp 2.0 JTS Selespeed. It offers an out-and-out sporting specification (called Black Line), as demonstrated by the steering wheel and seats trimmed in black leather with perforations and red top-stitching, black mats, sporting pedal unit and screen-printed sill plate. The specific features on this version include front headlights with a black frame, a satinised central grille, smoked glass repeater on the front bumpers, mirror cap in satinised chrome and aluminium-coloured 17" alloy wheels with holes.

Crosswagon Q4: four wheel drive, Alfa Romeo style

Alfa Romeo is also exhibiting other major new products at the Motor Show, again in the 'cuore sportivo' spirit combined with the most sophisticated technology. Examples include the Alfa Crosswagon Q4, a new model that marks Alfa Romeo's return to the world of four wheel drive vehicles. The car's transmission features 4 permanently engaged drive wheels, three differentials and torque distribution preferentially to the rear. Torque distribution between the front and rear axles is modulated continuously according to the grip of the Q4 system. This feature is very suited to a sporty drive and increases active safety. The Alfa Crosswagon Q4 exhibited on the stand is equipped with a sizzling 150 bhp (110 kW) 1.9 JTDm engine in a Luxury specification and includes a host of features including safety features (ABS with EBD, VDC, ASR, 6 airbags and xenon headlights) and on-board comfort (dual zone climate control system, Cruise control, rain sensors, Bose® Hi-Fi system, CD changer, satellite radio navigation system, radio controls on the steering wheels and electrochrome mirror with compass). The vehicle also features sophisticated beige grosgrain leather interiors, 17" alloy wheels and stylish roof bars.

Alfa 166: the debut of an even more exclusive Special Series

Visitors to the show will also be able to admire the Alfa Romeo flagship on the stand, oozing harmony of form and creature comforts, plus all the sophistication of a large prestige saloon. The Alfa 166 complements these successful features on the inside and outside with aesthetic motifs of great visual impact and leather/colour matches of great appeal. The car on show is a special series, the 'Black Line', equipped with the powerful 240 bhp 3.2 V6 24 valve engine (Euro 4) that offers numerous major devices as standard: VDC, 6 airbags (front, side and front window), automatic climate control system, black leather upholstery with beige top-stitching, bi-xenon headlights, satellite navigation, leather dashboard and rear parking sensors. The specification package of this Rialto grey Alfa 166 includes 18" alloy wheels, steering wheel with radio controls, electric front seats (heated with memory function) foglights, built-in radio and electric heated fold-down door mirrors.