Heir to a winning model (more than 300.000 units have been sold since 2001), the New DoblÚ Cargo now offers revised styling, new Multijet diesel engines and brand new Long Wheelbase versions. The winning attributes that made the previous model a veritable sales success naturally remain unchanged: great load space, unusual accessibility, excellent payload and maximum driving satisfaction.

The New DoblÚ Cargo is the ideal vehicle for those who use their means of transport mainly for work: small businessmen, tradesmen, maintenance staff, travelling salesmen, representatives, service companies, express couriers. Such customers are particularly demanding and spend many hours of the day on board their vehicles: in town traffic with frequent stops and starts to load and unload goods and also fast intercity trips. They are the ideal customers of the New DoblÚ Cargo, a vehicle that stands out in its category for its load capacity, high productivity and world class payload. The model also ensures outstanding cab comfort, an excellent level of internal economics plus low fuel consumption and low running costs due above all to its Multijet engines. Last but not least, the New DoblÚ Cargo inherits all the attributes of the previous model: ease of driving, road-holding and safety (preventive, active and passive).

Style

The New DoblÚ Cargo offers fresh design in line with the most up-to-date aesthetic canons. Its style is spare but able to convey sensations of sturdiness and protective solidity. A design that emphasises function without ever losing sight of a distinctive line that weds elegance and marked personality, as is borne out by an imposing front end that acts as the perfect foil to the vehicle's overall mass. Distinctive features are apparent: large up-to-date headlamps (dual barrel) and a large central "V" motif that starts from the bonnet, runs down to the bumpers and wraps around the entire front end: the overall effect is that of a stylish car. The side view emphasises the perfect integration between wing and front bumper that accentuates the compact nature of the front end and the new broad and protective side strips. Evident at the rear is a new rear bumper and brand-new tail-lights with clear two-tone glass. Inside, the vehicle's style is also linear and elegant, always understated and functional, designed to emphasise still further the sensation of roominess that you feel as soon as you climb on board. The vehicles offer new colours, fabrics and designs for the seats, dashboard and door panels depending on the specification. The gear lever, exclusive for its segment, is located on the dashboard for a safer, more comfortable drive.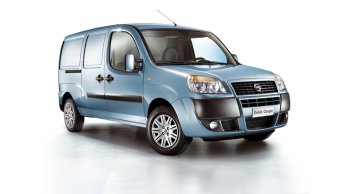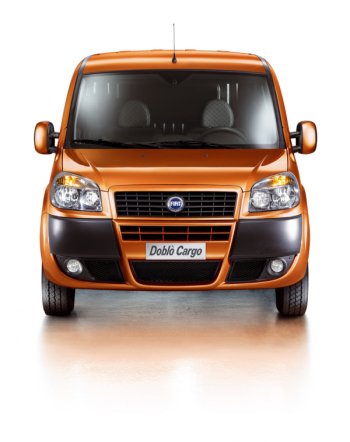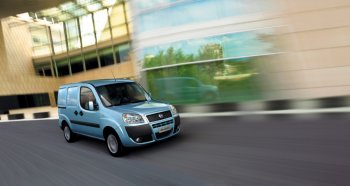 Multijet diesel engines

Those who use the New DoblÚ Cargo as a working tool are accustomed to covering more than 30 thousand kilometres per year on average. Such customers value reliability, good fuel economy and low running costs and driving flexibility above all. To meet such diverse requirements, the new model offers four engines that have been developed with particular attention to fuel consumption, performance and comfort, not to mention environmental protection (they are all Euro 4). The range includes two turbodiesels: the lively 105 bhp 1.9 Multijet and the 75 bhp 1.3 16v Multijet, the smallest and most advanced of the second-generation Common Rail direct injection diesel engines. These innovative power units are complemented on the New DoblÚ Cargo by a brand new petrol engine (the 77 bhp 1.4 Fire 8 valve equipped with a new high swirl combustion chamber associated with continuous variable valve timing controlled by the control unit); and confirms the 1.6 Natural Power version (dual fuel petrol and methane) with cylinders located outside under the floor, a solution that does not detract from the load compartment. After the launch, these versions will be joined by another two new Multijet engines with variable geometry turbocharger: the 85 bhp 1.3 16v Multijet and the 120 bhp 1.9 8v Multijet. With this turbocharged version, the 1.3 16v Multijet delivers no less than 85 bhp (66 kW at 4000 rpm) of maximum power and a torque of 20.4 kgm (200 Nm at 1750 rpm); the 1.9 8v Multijet develops a power output of 120 bhp (88 kW) at 4000 rpm and a torque of 20.4 kgm (200 Nm) at 2000 rpm. Both power units are equipped with a particulate trap (DPF), the lifelong system that removes fine powder and does not require the use of additives for regeneration.

Maxi, new long wheelbase versions

The third innovation for the New DoblÚ Cargo is its Long Wheelbase Van versions, known commercially as "MAXI". This is the best demonstration of the model's versatility and its extraordinary flexibility for conversion by external bodyshops and conversion firms. Compared to the Short Wheelbase van, the new Maxi version offers 38 cm more total length and internal load compartment length. It should be emphasised that the MAXI versions have been obtained by lengthening the vehicle wheelbase and not by simply extending the rear overhang. This solution is certainly more demanding from an engineering viewpoint but offers major benefits to the customer: it ensures outstanding load distribution over the axles, greater stability and thus improved dynamic performance in addition to a more balanced external style. Available with 75 bhp 1.3 Multijet, 105 bhp 1.9 Multijet and 77 bhp 1.4 power units, the new versions allow the model to gain a place at the top of its category for load compartment lengths (2060 mm), volume (4.0 m3) and payload (850 kg with the driver).
The range

To meet all requirements and allow everyone to express their personality to the full, the New DoblÚ Cargo offers a very diverse range consisting of: Short Wheelbase Van, High Top Short Wheelbase Van, Long Wheelbase Van and 5-seater Combi. Each of these categories can come in various body solutions divided into four specification levels (Cargo Base, Cargo SX, Combi Base and Combi Elegant); 3 engines (75 bhp 1.3 Multijet, 105 bhp 1.9 Multijet and 77 bhp 1.4 16v), complemented by the 1.6 Natural Power version; 12 external colours (4 non-metallic and 8 metallic) and a broad range of options and accessories, including non-standard shades for special conversions and fleets, a Bluetooth handsfree system and satellite antitheft system. This range of alternatives is extended by versions converted by external bodyshops. The new model is ideal for various types of conversion. For example, vehicles can be produced with their load compartment lined and equipped with racks and shelves, mobile workshops and insulated versions with cooling systems for the transport of perishable goods.