On the occasion of next month's Frankfurt IAA, Fenomenon Holistic Design will unveil an exciting new concept design - the Stratos Roadster. Their design team have chopped the lid of the Stratos concept car, and from it initial two impressions they have revealed - this course of action has worked rather well.
It was during the 75th Geneva Salon - back in March - that the Fenomenon automotive design studio launched what would turned out to be one of the most exciting concept cars presented at the Swiss motor show - a modern, feasible, reinterpretation of the Stratos - Lancia's sportscar icon from the 1970s. Fenomenon Holistic Design is led by Viennese-born Christian Hrabalek, who happens to be the world's foremost collector, and authority on, the Lancia Stratos, and he brooked no compromises in his quest to create a 'new' version, but which at the same time would be one that captured the very essence of the much-lauded original.

The public and press alike responded very well to the new Stratos concept. Building on from an acknowledged masterpiece is always a difficult - and often thankless - task. "I think it is a great design, it looks like a Stratos and is very modern," commented in Geneva the man possibly best placed of all to offer any form of judgement - the legendary 1970s Lancia Stratos HF rally star: Sandro Munari. "I also think it will be possible to translate the handling character of the old Stratos with the new car. But most importantly of all, I think it is an amazing achievement that Christian has made on his own. To say that he is only 27 it is remarkable, and I think it's a great example that he has set for other young designers and entrepreneurs," concluded Munari - who claimed countless famous triumphs at the wheel of the Stratos HF, including overall victory of the Monte Carlo Rally in 1975 and 1977.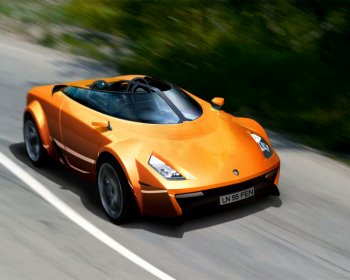 The two artist's impressions of the new Stratos Roadster revealed - exclusively to Italiaspeed - by Fenomenon, offer a very first glimpse of the next stage of this ambitious project: the Geneva-presented Coupé concept, but with the fixed roof now removed. The 'wedge-shape' of Fenomenon's Stratos concept would appear to superbly lends itself to this approach, and the impression is of a distinctive, slightly-aggressive sportscar, that still perfectly retains - but also enhances - its original, well-regarded shape, while at the same time keeping firmly fused into the project the 'original' Stratos' DNA, a design influence that has always been a 'must' for Christian Hrabalek and his team.
The new Fenomenon Stratos Roadster will be presented to the public for the first time during the Frankfurt IAA next month, and - just like at the Geneva Salon - expect Christian Hrabalek to display it alongside on of his collection of original Stratos cars.

by Edd Ellison