Undoubtedly one of the stars at the Frankfurt IAA already is the all-new Fiat Grande Punto, which has drawn a lot of attention today, the first day it has been available for close up examination by members of the media. Four Grande Punto models - in both 3 and 5 door specification - have been presented by Fiat on a spacious, airy stand, the new cars strutting their stuff in front of a large, bright backdrop which includes giant-screen TV's that show the new car in dynamic action.

It is the Fiat Grande Punto which represents, alongside the recently unveiled Croma, Fiat's new direction in producing high quality, stylish and affordable family cars. The new Grande Punto characterises a hatchback that fits in-between the B and C segment, and is therefore large in size compared to its predecessor which will continue to be built as a cheaper alternative. Designed to become a new benchmark, the Grande Punto is the masterpiece of Italdesign Giugiaro and the Fiat Style Centre and is unmistakably Italian in its flair. From its heritage-inspired grille, to its sporty yet functional rear end, the newcomer is quite simply a cracker. Its functional duo-tone interior is functional, comfortable and also highly individual depending on whether the customer opts for a more sporty or classical trim. The car is offered with both 3- and 5-door configurations.
Not only does the new Grande Punto score heavily in the looks department, but the hatchback was recently awarded with a 5 star EuroNCAP crash test rating. Fitted with the best range of diesel engines in its class, the new Grande Punto also represents exceptional value for money, costing only a fraction more than its predecessor.
The Grande Punto is simply the best 2-box hatchback Fiat have ever produced, embodying passion, styling and quality that is to be expected from a century-old brand like Fiat.

Four Grande Punto models - in both 3 and 5 dr specification -are being presented by Fiat on their spacious and airy stand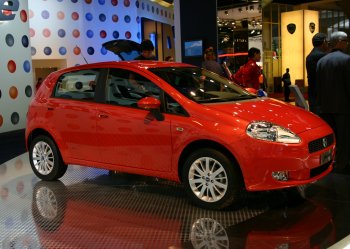 Undoubtedly one of the stars at the 2005 Frankfurt IAA is the all-new Fiat Grande Punto, which is drawing a lot of attention


Italiaspeed are certain that this remarkable newcomer will become a key player in Western Europe's core automotive segment – the compact class. It was for this reason why Fiat had to produce the best car, and as a result they maintained a level often associated with larger family cars throughout the Grande Punto's conception and development process. It truly represents a step forward for Fiat, very much in the same light as when the Uno replaced the 127, and then when the original Punto replaced the Uno in 1993. Only this time, Fiat has done a better job then ever. The reason for keeping its predecessor's name was due to its success, with over 6 million Punto's previously finding owners from different nationalities, ages and social backdrops.
With a wheelbase of 2.51 metres, a length of 403 cm, a width of 168 cm and a height of 149 cm, the Grande Punto is at the peak of its category in terms of size and comfort. Initial engines that are available include two petrol engines, a 1.2 8v (65 bhp) and the new 1.4 8v (77 bhp). Meanwhile, four turbo diesels are offered in the form of the 120 bhp and 130 bhp 1.9 Multijet, the 75 bhp 1.3 Multijet 16v and the all new 90 bhp 1.3 Multijet 16v with variable turbo geometry. In total 19 different Grande Punto models are available, by combining two body types (3- and 5-doors), 4 package levels, 6 engines, 13 body colours and 12 types of interior trim. The new Grande Punto is, without a doubt, a car that will appeal to the car buying public - here in Frankfurt today it has certainly made its appeal felt. It will be available in European showrooms later on in the month.

by Edd Ellison in Frankfurt