Italian newspaper La Repubblica has claimed today that Kimi Raikkonen and Valentino Rossi have both signed to drive for Scuderia Ferrari in 2007.

The all-new line-up the respected newspaper reports - without identifying sources - will replace Michael Schumacher (whose existing Ferrari contract runs out at the end of 2006), and Brazilian stop-gap driver Felipe Massa (who was handed a one-year contract earlier this month when Rubens Barrichello unexpectedly announced he was switching to the BAR-Honda team at the end of this F1 season).
Ferrari's top management have reputedly long been admirers of Kimi Raikkonen's speed, talent and car ability. Over the last fortnight much speculation has surrounded the possibility of the rapid Finn leaving the McLaren-Mercedes team to drive for Ferrari in 2007, with Schumacher reportedly going the other way. However, in light of Ferrari's recent dip in fortunes and the McLaren-Mercedes being the in-form car, it does seems an odd prospect at present. Raikkonen is currently in second place in the drivers' championship, 24 points behind Fernando Alonso, with just five races remaining. Only a lack of mechanical reliability from his McLaren-Mercedes has stopped him from comfortably topping the F1 points table.
However, with most of Ferrari's problems this year centering around their tyre supplier Bridgestone's inability to provide a tyre compound that can compete with Michelin's 2005 offerings, their period of poor results is very unlikely to last, and in fact the Scuderia is hard at work already on next years car and engine package, with their new V8 unit - designed for 2006's revised regulations - recently making its track debut in testing.

Italian newspaper La Repubblica has reported today that Kimi Raikkonen will switch from McLaren to Ferrari for 2007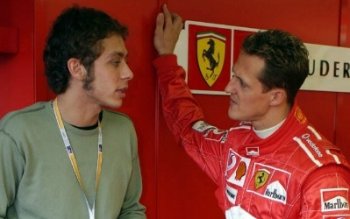 Valentino Rossi in discussion with Michael Schumacher during an F1 test drive the MotoGP star undertook at Fiorano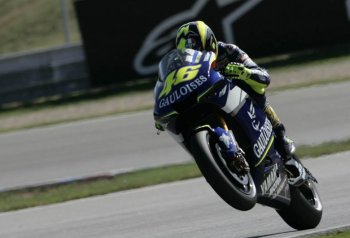 Valentino Rossi on his way to victory in the Czech Grand Prix held at Brno yesterday (top), and celebrating on the podium (above) - a result which virtually assures him of the '05 title

Meanwhile, Valentino Rossi inched his way even closer to yet another MotoGP crown yesterday, as he raced to an impressive victory in the Gauloises Ceske Republiky Grand Prix. Having now boosted his points tally to 261, the Italian will hope to clinch the MotoGP title during the next round, the Japanese Grand Prix at Motegi, which will be held in seventeen days' time.

La Repubblica reports that Rossi - who has already tested an F1 car several times for Ferrari - will sign an 80 million euro, three year contract with the Scuderia, to run from 2007-09. Rossi - nicknamed 'The Doctor' - is one of sports most flamboyant characters and a marketing dream ticket, and has attracted legions of new fans to MotoGP dazzled by his antics and personlity. Ferrari's major sponsors' are believed to be very anxious to get him on-board, with Marlboro (if they continue retain a presence after tobacco advertising is abolished) and mobile phone giant Vodafone, both expected to stump up towards his wages. The 26-year old Italian - who recently signed a one year extension to his MotoGP Yamaha contract to take him up to the end of the 2006 season - would have to terminate the existing mobile phone deal he currently holds with Telecom Italia in order to join Ferrari.
La Repubblica also claimed this morning that Marlboro - which is part of the US Altria Group - is negotiating with Rossi end the present sponsorship contract he holds with the French Gauloise cigarette brand, which is owned by Altria's rivals, Altadis SA.