Alfa Romeo have revealed their latest in a long line of competition machines - this one destined for the rally tracks though - the GpA homologated Alfa 147.

Designed and built by Fiat's competition's department, N.Technology, this brand new rally contender - which was two months ago homologated to conform to FIA Group A regulations - is aimed squarely at rally customers who are looking for a potent, and at the same time, cost-effective, car to use on the stages.
Fitted with the 1970cc TwinSpark engine - pumping out 210bhp - the Alfa 147 GpA has been adapted for rally use and includes an all-new rally suspension set-up (with adjustable anti-roll bar), 18-in OZ rally wheels, and sequential gearbox. Big 355mm vented brake discs and four-pot calipers at the front help improve its stopping capabilities, while use of lightweight materials, and a special N.Technology-designed roll protection cage help to keep the car's weight down to 1075kg.
NEW ALFA 147 RALLY CAR BASED ON THE HIGHLY SUCCESSFULLY GTA CUP RACER
The Group A Alfa 147 rally machine is based closely on is track sister, the Alfa 147 GTA Cup racer, which despite the name tag uses the 2.0-litre TwinSpark engine. This racing machine has been hugely successful on many tracks across the globe since it was first introduced in 2002, and it currently plays a major role in N.Technology's customer car building programme. The Italian Alfa 147 GTA Cup was complimented when the Dutch-based Pearle Alfa Challenge switched from using the Alfa 156 to the 147 GTA Cup car in 2003. These two hotly-fought national series' last year spawned a Europe-wide championship - the European Alfa Challenge - which has seen non-stop excitement and action, and which is guaranteed prestige as its six rounds support the 'LG Super Racing Weekend' programme, which includes the FIA GT Championship and the FIA World Touring Car Championship.

In fact the Alfa 147 GTA Cup racer is now used in a number of national touring car championships worldwide, including Italy, South Africa - where it has won a number of the races overall and only narrowly missed out on last year's title - and New Zealand. Using this car as a base - a number of components have also been drawn from Fiat's highly successful front wheel drive Punto rally car, which is also built by N.Technology.

Italian pilot Maurizio Campani - at the wheel of an Alfa 147 GTA Cup racer - on his way to victory during the Monza rounds of the European Alfa Challenge earlier this year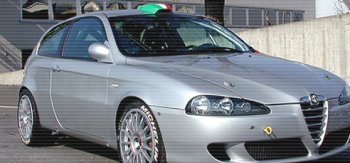 Fiat have a lot of experience in rallying, and this year they are supporting teams running in this year's FIA Junior World Rally Championship, European Rally Championship and Italian Rally Championship. At the same time N.Technology is developing a contender for the proposed 'Super 2000' category - based on the next-generation Fiat Punto - a prototype of which was run on Alfa Romeo's Balocco test track only last week.

N.TECHNOLOGY - FIAT'S COMPETITIONS DEPARTMENT

N.Technology Spa was established on 1st July 2001, and combined the structures, resources, technological assets and sporting activities of Nordauto Team in Cremona, Fiat's Abarth facility in Turin (which was appointed head-office of the new company) and Alfa Corse in Milan. President and Managing Director of the new structure, was Mauro Sipsz (a former Italian rally champion who created Nordauto in 1991), while the Vice-President's role was filled by Andrea de Adamich (a former Alfa Romeo and Ferrari Formula One driver, who is also responsible for the Centro Internazionale di Guida Sicura in Varano Melegari, Parma).
"N.Technology, with its avant-garde technical and production structures, can with good reason be counted among the most important companies in the international sporting motorsport panorama, able to produce and manage – completely and autonomously - both Race and Rally cars," says the company's mission statement, adding that, "N.Technology emerges from the past aiming for continuity – as to its precious assets represented by a tradition of triumphs and by technical and highly qualified human resources – and at the same time for ameliorative detachment – in continuous research into structural and technological innovation."
As well as the Fiat Punto rally programme, N.Technology builds and runs the factory Alfa 156s that run in the FIA World Touring Car Championship. With self-sufficiency being the keyword at N.Technology, developing cars for customer programmes are a priority. These include the Super 1600 Class Fiat Puntos, the Alfa 147 GTA Cup racer and the Ferrari 575 GTC sportscar, as well as supporting programmes such as the inaugural Fiat Panda Rally Trofeo, the Trofeo Fiat Abarth and the Stilo Cup.

ALFA ROMEO 147 GP.A RALLY CAR - TECHNICAL SPECIFICATION