As Fiat's marketing boss Lapo Elkann stirs the Valentino Rossi rumour pot again, the MotorGP superstar is believed to be set to test the new Fiat Punto 'Super 2000' rally prototype, as early as next week.

Last week Lapo Elkann - grandson of the late Fiat Chairman, Gianni Agnelli - discussed his on-going ambition, to get Rossi to sign up with the budding Fiat 'Super 2000' rally programme, with the highly respected Italian sports newspaper Gazzetta dello Sport. 'I don't think he'll move to F1,' said Elkann, before adding, 'not in the short term at least. I would like for him to compete with the Punto. He will decide after the test."
Elkann's latests words build on utterances reportedly made by the two wheel star at last December's Bologna Motor Show when he is believed to have said "I would like to drive rallies for Fiat after my bike career," and also reflect on comments Fiat's competitions boss Matilde Tomagnini made to reporters recently. Valentino Rossi - currently cruising to yet another comfortable MotoGP world title - this year has openly mused about his future. Although earlier this month he signed a one year extension to his existing Yamaha contract, which now takes him up to the end of 2006, the Italian sportsman has reiterated that his long-term future lies on four wheels.

Earlier this month he undertook an extensive two day test session with Ferrari, at the wheel of last year's F2004 chassis.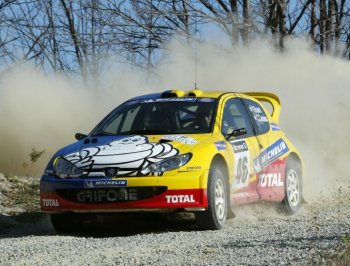 Valentino Rossi gained his first World Rally Championship experience when he drove a Peugeot 206 WRC on the 2002 Rally GB, although it was a short lived debut. Photos: Grifone.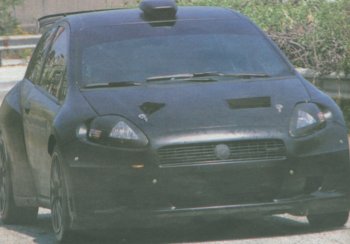 Valentino Rossi will test the new Fiat Punto 'Super 2000' prototype as early as this coming week. Photo: SAM Rally.

The Ferrari exercise - which took place at their private Fiorano circuit - was watched over by the team's big guns: Luca di Montezemolo, Jean Todt and Ross Brawn, all in attendance. This was the second such test he has conducted for the Scuderia and it is believed Ferrari are keen to offer Rossi a testing deal. However with Michael Scumacher's existing contract due to run out at the end of next year, and new driver Felipe Massa recently signed up for just one year, a major driver upheaval may not be the environment in which to take a chance on Rossi's ability to adapt to F1. Rossi has himself raised the question of successfully switching to F1 - and thus attempting to emulating the feat of John Surtees - while Renault F1 boss Flavio Briatore has also recently commented that he reckoned that it was unlikely that Rossi could make the transition with ease.

With Elkann pushing Rossi towards the Fiat rallying option, a test drive in the 'Super 2000' prototype is now on the cards. The agressive-looking new Punto rally car has recently been seen for the first time - in the hands of Paolo Andreucci - at Fiat Auto's Balocco proving ground, and this heavily-guarded facility will be the location chosen for Rossi's private test session.

Originally the test was scheduled for September, however, it could now happen as early as next week. The MotoGP circus is currently on a short summer break, before it heads to the Brno circuit for the Czech Grand Prix on 28th August. Another brief break follows that race, after which the teams head to Motegi for the Japanese Grand Prix on 18th September, heralding the start of an intensive six-race schedule, which ends when the season comes to a close in Valencia, on 6th November. Rossi's test will therefore have to take place in the 'window' either side of the visit to Brno, although insiders believe this coming week will see Rossi finally getting behind the wheel of the Punto.