It's now official, Chief Executive Officer Antonio Baravalle has announced that Alfa Romeo will be withdrawing from the FIA World Touring Car Championship after the two Macau races, which round out this year's series, take place later this month. Baravalle - who was appointed as Alfa Romeo Brand & Commercial boss just over a month ago - told respected the Italian sporting daily newspaper La Gazzetta dello Sport in an interview during the week that Alfa Romeo would not be taking part in the 2006 FIA-sanctioned World Touring Car Championship.
With just the final round of the inaugural WTCC series remaining - to be held at Macau on 20th November - Alfa Romeo's Fabrizio Giovanardi is locked into a fight for the drivers' title with two BMW pilots', Dirk Muller and Andy Prilaux. With a maximum of 20 points on offer from the double-header, Giovanardi (on 81 pts) is just 5 adrift of the championship leader Muller (86pts) and four behind second placed Prilaux (85pts), so all remains to play for. The Alfa Romeo Racing Team will be running no less than five factory-entered Alfa 156 racers on the famous street circuit which winds around the former Portuguese colony, with local star Andre Couto being drafted in to join the regular works quartet: Giovanardi, Gabriele Tarquini, Augusto Farfus and James Thompson.

However, this will be the last top-level race for the Alfa Romeo 156, which itself ceased production earlier this year, replaced by the highly-acclaimed new Alfa 159 sedan. Alfa Romeo's previous CEO Karl-Heinz Kalbfell was not keen on 'brand positioning' the new Alfa 159 as a touring car racer, and instead investigated racing the smaller Alfa 47 instead. Baravalle, who replaced him during the autumn, quickly swept these plans aside and investigated getting the Alfa 159 onto the tracks, leading to optimistic noises emanating from Fiat Auto's competitions department, N.Technology, that this car would form the focus of a scaled down two0car WTCC challenge in 2006.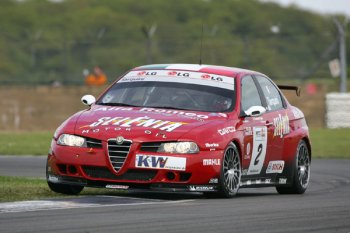 Gabriele Tarquini and James Thompson (above) will now join their Alfa Romeo team mates Fabrizio Giovanardi and James Thompson in looking for alternatives seats next year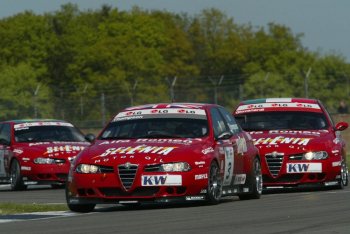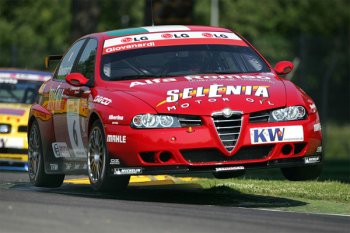 It's now official, new Alfa Romeo Chief Executive Antonio Baravalle has announced that Alfa Romeo will not participate again in the FIA World Touring Car Championship next year

However, with development of the Alfa 159 racer having not yet commenced it would have meant that any new car would miss the early part of the 2006 season, while issues also remain to be resolved over the dimensions, size and weight of an Alfa 159 racer, as well as the preferred choice of drive (the 'premium' platform is engineered for two- or four-wheel-drive).

Baravalle stressed the importance of being involved motor racing to the Alfa Romeo brand in his interview with La Gazzetta dello Sport, and he regards 2006 as being a 'sabbatical' year with a return to the WTCC likely to be sanctioned for 2007. However the choice of race car will probably be the forthcoming Alfa 149 (which will replace the Alfa 147) rather than the Alfa 159, and while positive soundings that Alfa Romeo have recently been making that this new C-segment contender could make its first public appearance as early as the end of next year, now seem to have given way to talk that it could arrive in 2008.

In the meantime, the FIA World Touring Car Championship organisers are reportedly very keen to maintain the presence of the prestigious Alfa Romeo name in the series next year, and so a privateer team could be given factory assistance to run cars, although due to the lack of marketing relevance now of the Alfa 156, it is unclear whether Alfa Romeo would have any interest in this approach. N.Technology are expected to re-assign personnel and engineers (as well as budget) from the touring car team to Fiat's forthcoming 'Super2000' rally project which is expected to kick off on next January's Monte Carlo Rally.