Visitors to www.alfaromeo.it can see the recent addition of an animated Flash button linking to information and a virtual video of the 8C Competizione, positioned just above similar buttons to the Alfa 159 and Alfa Brera microsites. Why this concept from 2003 is suddenly being re-promoted is simple: it is set to be built. Making its production première at the Paris Motor Show in September, the 8C Competizione will represent the first in a line of brand new Alfa Romeo 'High End' models sharing Maserati technology, and will be produced in 2007.
Alfa Romeo CEO, Antonio Baravalle, was recently quoted by the 4Car website as saying, "We have cut the budget for our advertising campaign and will do the 8C instead, because it is a perfect way to promote the Alfa brand. Sergio Marchionne says if the figures add up, do it."
The production Alfa Romeo 8C will be even more remarkable than the concept, which resulted in over 3,000 potential buyers coming forward upon its Frankfurt launch in 2003. Using the concept's gorgeous carbon-fibre bodywork, the production 8C will introduce a new 4.7-litre engine developed by Ferrari and Maserati.

The old 400 bhp 4.2 unit, used on the concept with volumetric supercharger to produce 450 bhp, will instead be replaced by the brand new 4.7-litre unit which will power the new Maserati folding hardtop and the Quattroporte update. Not only will this new engine offer more power, but it will be more reliable, cheaper to maintain and will also cost less to build. The sound will therefore also be different to that of the concept car: the new engine tuned specifically for the 8C will be more high-pitched and Ferrari-like than the subdued Maserati burble.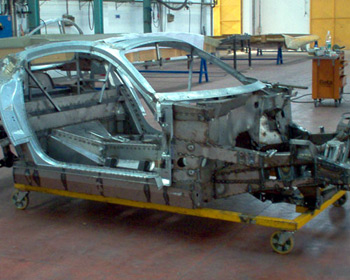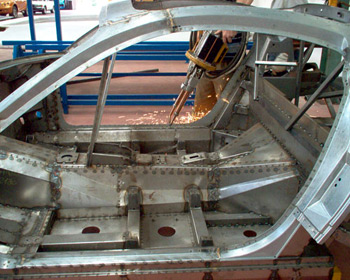 The Alfa Romeo 8C Competizione prototype chassis undergoing construction. The bodywork panels, including roof, are constructed out of light weight carbon-fibre composite.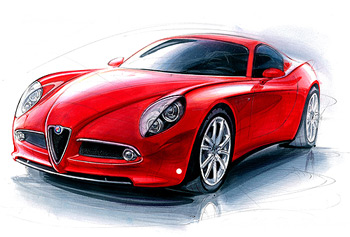 Admire the captivating, original lines of this carbon fibre 2-seater, in a detailed gallery of this original Alfa Romeo Centro Stile sportscar project which is set to be one of the most exciting new cars for many years.


The exhaust pipe terminals are also allegedly different to the concept, with the production car featuring single pipes on either side. Power is expected to lie between 460 and 500 bhp, with an anticipated weight of 1,350-1,500 kg.

Reservations that the 8C Competizione will cannibalize Maserati's own range have been taken care of, since the Alfa Romeo will pack more punch and will be offered at higher price tag between 130-150,000 euros. The cost of this Alfa Romeo exotic will therefore be equal, or slightly higher, to that of the Ferrari F430 Coupé, with 500 units scheduled for initial delivery.
The 8C Competizione will not only earmark Alfa Romeo's return to producing some of the world's greatest high performance machinery, but it will also symbolise Alfa Romeo's return to offering rear-wheel drive on a production model. With a top speed of around 310 km/h and a 0-100 km/h sprint time of approximately 4.5 seconds, the production 8C Competizione is set to write its own chapter in Alfa Romeo's long and legendary history. If the 8C Competizione is a success, Alfa Romeo wish to start a subsequent production run based on the Spider concept. Antonio Baravalle's second sporting intention is to return Alfa Romeo to the legendary Le Mans 24 Hours, and the 8C is the perfect weapon to use.

by Paddy Granger