Ambitious plans drawn up by former BAT owner Gary Kaberle to construct a brand new member of the famous Alfa Romeo-badged, Bertone-created BAT series, to be christened as BAT11dk, are now well underway. Kaberle is well know as a former owner of BAT9 from 1963 to 1991, the third of the trio, and which legend has it he purchased as a 16-year-old having saved money from running a popcorn stand and borrowing some extra cash from his grandparents.

More than half a century after the Bertone BAT (Berlina Aerodynamica Technica) series first stunned the motoring world with their futuristic design, last autumn, on the prestigious occasion of the Pebble Beach Concours d'Elegance, Kaberle outlined his new project in detail and presented the styling proposals.

"This is 50 years to the time BAT9 was produced," said Kaberle, giving a rundown of the background to the new project. "There was originally a five, seven and a nine, so I'm doing an eleven - I'm trying to be Italian. BAT11 is the newest BAT, and I have basically been in charge of designing it. I sold my car (BAT9) because my wife had breast cancer and I needed some money to pay for the treatment. Scaglione also had cancer and died a few weeks after my wife, so we're doing some things to dedicate the car to my wife and the Scaglione family, so the 'dk' is my wife's initials." Kaberle didn't elaborate much on the technical aspects of BAT11dk, apart from saying: "We're producing this car, which is basically going from a front engined to a mid engine car, lights in the back fins, gullwing doors, and it probably won't have a steering wheel, it probably will have a joystick - so the BATs are coming of age. 50 years from the date my BAT was built we're introducing this."

After many years spent apart and in the wilderness BAT5, BAT7 and BAT9 were reunited at Pebble Beach in 1989, in what was to be a truly special occasion. Nuccio Bertone also travelled over from Italy to attend the event. Last year, sixteen years after that evocative Pebble Beach appearance, BAT5, BAT7 and BAT9 were back at the world-famous Californian Concours d'Elegance, the trio now under new ownership and having been restored to their full original glory. They formed a stunning backdrop to Gary Kaberle's brand new project.

"We acquired the vehicles about eight years ago and some of them were in quite a distressed state," said Jonathon Kaiser of London-based Cars International Ltd, the BATs current owners. "We have painstakingly rebuilt them over a period of time to exactly the colour specification that they were first shown in the '50s. They were last shown in public here sixteen years ago in a different state and a bit tired, but now I think they look fantastic." He also confirmed that the three BAT models were for sale: "We're inviting interest at circa eight million dollars," he said. Subsequently Cars International have sold the BATs to a private collector.

The chequered history of the three BAT concept cars, from their original arrival in California where they were quickly split up, and their much-documented eventual reunion in the late eighties, is a story that has truly entered the automobile history books.

The Bertone-built BAT5, BAT7 and BAT9 were first presented to the public at the Turin Motor Shows in 1953, 1954 and 1955 respectively, to widespread acclaim. Today, the three cars have been fully restored to their original condition and are all together once more.
16-year-old Gary Kaberle with BAT9 which he bought after raising money running a popcorn stand and borrowing of extra cash off his grandparents.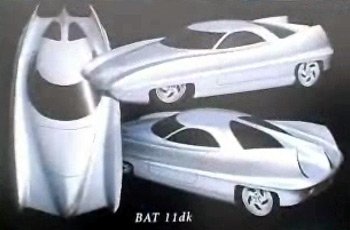 These drawing for a brand new member of the famous BAT series - to be christened BAT11dk - were presented by Gary Kaberle at the Pebble Beach Concours d'Elegance last autumn.
BAT9 has been fully restored to its original specification in recent years, and today remains part of a collection with BAT5 and BAT7.

In the June 1994 edition, Classic and Sportscar Magazine recounted the story of the BATs and their subsequent travails: "The 1900 series was a turning point in Alfa Romeo history, being the first truly mass produced car from the illustrious Milan company, and the first with unitary body construction. Alfa actively encouraged experimental bodies on the 1900 series – the Disco Volante competition cars were the product of close liaison with Touring for example – but even these bold designs were upstaged by Bertone's amazing BAT cars. Developed to explore the potential of aerodynamics on performance, it took five designs before one became reality. Nowhere have I discovered images of the mysterious missing projects.

"The cars are generally credited to Franco Scaglione who joined Bertone in 1951. Before the war this gifted Florentine had studied aeronautical engineering at university which clearly influenced his early work at Bertone. His first project was a one-off Fiat Abarth 1500 produced in 1952 which shows all the hallmarks of the BAT series with pontoon front, split rear window and curling fins. But the final effect was ugly and unbalanced – Scaglione had crammed too many ideas into one body. Then came the BAT cars which were presented at the Turin shows successively from 1953 to 1955. Bat 5 produced tremendous publicity but by 1955 BAT 9 was almost ignored by the press and upstaged by the new Giulietta Sprint.

"Their fate after motor show glory was particularly inglorious and like many Italian exotics of the '50s they ended up in California. The trio was originally bought by 'Wacky' Arnolt who had connections with Bertone. He cruised '5' around LA for several years, running up 7000km before selling it in 1985 to one Joe Pryzak of South Bend, Indiana. It remained little used before Pryzak dismantled it for restoration. The car was later brought to its present glory for new owner Said Marouf by Californian restorer Rob Shanahan.

"Bat 7's history is more chequered. It was used on the road in California in the late '50s and was even raced at Palm Springs minus rear spats before its long-term owner lopped off the wonderful fins. It was saved in the '80s by Mexican collector Lorenzo Zambrano who had Steve Tillack restore its original features. With no drawings available, the shape was developed from photographs and scale models.

"Bat 9 ended up as a crowd-puller outside a Dodge/Plymouth dealer in Evart, Michigan where a 16-year old Gary Kaberle became entranced by its "eerie-looks". He saved money running a popcorn stand outside his parents' gift shop and borrowed extra cash from his grandma and mum. The latter only agreed to loan on the condition that he would park the Alfa outside their business to attract custom. Kaberle then pestered the Dodge dealer until he agreed to sell and the car, save for a respray, has remained original," concluded Classic and Sportscar magazine.