Discussions about a new car for the Alfa Romeo brand, sized and priced to fit below the upcoming 147 replacement, have been formally rekindled recently with a final decision whether to implement the project expected to be taken as early as September of this year. According to informed individuals, design proposals for such a car have been around for quite some time already.
If approved, the car will offer young individuals a stylish, fun and affordable sports car with nimble performance, at a very competitive price. At the moment, no firm information about design or specifications is available, although certain details are being rumoured. Such a car could be based on modified Fiat Grande Punto mechanicals and fitted with Alfa Romeo suspension components. The front-wheel drive Alfa Romeo Alfasud and Alfasud Sprint, with their low centre of gravity and high-revving boxer engines, were superb examples of cheap and fun motoring in their time, and represented entry-level cars which saw many Alfisti hooked by the charms of the special brand. It is felt by management at Alfa Romeo that a similar car could assist the brand today by attracting a younger audience.
This is the second time in recent history that Alfa Romeo has considered introducing a baby Alfa model to the market. The Alfa Romeo '137' project, based on the second series Fiat Punto, was devised to be offered alongside the 147 hatchback, but was cancelled prematurely. This project offered a cross between a berlina and a coupé, with a 2+2 seating layout. A similar Sprint-like layout will probably be used again, although there are also suggestions that the car could this time be a pure hatchback.
Engineers at Alfa Romeo, Centro Ricerche Fiat, and Elasis have all recently stressed that weight is at the top of their agendas when it comes to future brand models. The Alfa Romeo Diva is an example of how much effort is being placed to gain experience of innovative ideas to further weight-saving. The future baby Alfa will also be a lightweight car, and enthusiasts have shown their desire for a new model which has a limited number of heavy extra fittings. A good driving balance, rev-happy power units, and direct steering with good feedback have been identified as requirements.
The exciting new range of turbocharged petrol engines which have been developed by Fiat Auto, and which will first be seen fitted to the 2007 MY Fiat Bravo, would fit the bill perfectly for the baby Alfa, especially when tuned for extra emotion by Alfa Romeo engineers. Similarly, the new 120bhp 1.6-litre Multijet turbodiesel engine would also be a worthy application in this instance.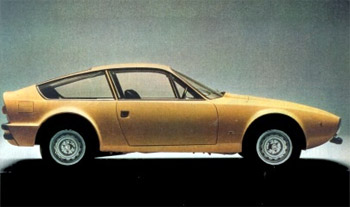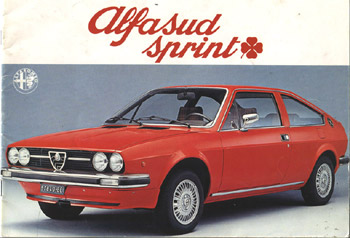 Alfa Romeo have a magnificent history when it comes to small Coupés, with the Alfasud Sprint particularly well remembered for its punchy, free-revving 4-cylinder boxer engine, pin-sharp handling, and overall no-nonsense simplicity.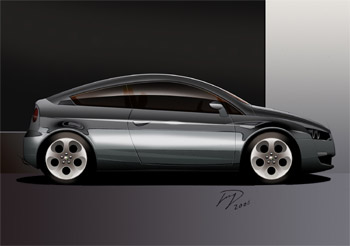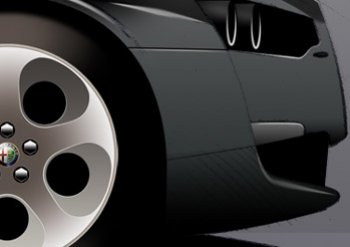 The Alfa Romeo Trofeo proposal combines features from the Brera and upcoming 147 replacement, whilst retaining details from Alfa Romeo's glorious heritage. Quad front lights have been taken over from the Alfa Romeo Alfasud Sprint, whilst the side profile shares many traits with the Junior Zagato model.

This impression of a project, which has already been affectionately dubbed the 'Alfa Romeo Trofeo', identifies how a B-segment Alfa Romeo model could look, taking its form from the iconic Sprint model. Based on the Fiat Grande Punto platform, with identical front and rear overhangs, the proposal could be developed both at a reduced cost, and in little time, by use of virtual technology. The design will exploit component sharing, with the front windscreen and pedal box, for example, shared with the Grande Punto. Large parts of the packaging of the proposal, including the front subframe, have also been directly taken from the Grande Punto.
From a design perspective, the proposal ideally represents a car for early 2008. Details from the upcoming Alfa Romeo 147 replacement have been combined with the Alfa Romeo Brera to provide a family identity. The car is also heavily inspired by the Alfa Romeo Junior Zagato and Alfa Romeo Alfasud Sprint, although the overall line has been kept clean and modern. Small touches such as dump valves on the turbocharged engines, and interior flick switches such as those found on the Alfa Romeo 8C Competizione, will appeal to the younger audience and add to the driving experience.
Meanwhile, the opposite side of the Alfa Romeo range is also witnessing change. Design house Zagato is reportedly developing a coachbuilt model, possibly a large luxury coupé. The future of coachbuilt Italian cars is looking very bright indeed at the moment: this year has already seen the Pininfarina-designed Ferrari 612 Kappa, and Zagato 575 GTZ. The Alfa Romeo Sportiva Evoluta chassis was similarly developed to assist the fitment of multiple bodywork styles, with the design brief introducing the possibility of lightweight synthetic bodywork. With the new generation mid-range now nearing completion, and new lower and upper models appearing on the launch timetable, the Alfa Romeo marque is once again set to represent an attractive alternative to a wide range of clientèle.
by Paddy Granger