Utah Highway Patrol troopers had blocked off part of a remote Millard County highway Wednesday so owners of exotic sports cars could slam on the gas pedal and leave those 65 mph speed limit signs in the dust - report Mark Havnes and Lisa Rosetta in today's Salt Lake Tribune. Mercedes, Jaguars, Vipers, Porches and more were zipping along State Route 257 - all for charity - when the four-day Utah Fast Pass Road Rally took a dangerous turn. Provo resident Richard Losee lost control of his US$1.3 million Ferrari - which had been screaming along at close to 100 mph - and crashed 28 miles north of Milford in south-western Utah. Lt. Doug McCleve, a UHP spokesman, said Losee was flown to Utah Valley Regional Medical Center in Provo, where he was admitted with fractured bones.

The road rally, organized by Larry Miller's Miller Motorsports Park for the Honoring Heroes Foundation, raises money to help families of UHP troopers killed or injured in the line of duty. UHP clocks the drivers' speeds and gives them "speeding tickets," the "fines" from which go to charity. Drivers also fork over US$5,000 to participate.

Losee's 2003 Enzo Ferrari was torn to pieces in the crash. After veering off SR 257, it lost its transmission and V-12 engine and came to rest off the other side of the road. McCleve noted the Italian sports car - for safety reasons - is supposed to disintegrate in a high-speed crash. "The car did exactly what it was designed to do," McCleve said. "Just the chassis and passenger compartment remained." UHP Lt. Douglas Rawlinson estimated the red Ferrari's worth at US$1.3 million.

McCleve said troopers shut down a twenty mile long strip of SR 257 for 20-minute intervals Wednesday between Delta and Milford to allow the drivers to have the road to themselves. Losee's Ferrari was the fourth or fifth car to drive that stretch. When it crashed, the rest of the cars were allowed to continue at the posted speed limit, Rawlinson said.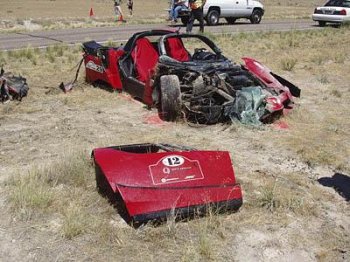 Crashed Ferrari on State Road 257, near Delta. The Utah Highway Patrol closed a 15 mile section of the highway as part of the four-day Utah Fast Pass charity event so those participating in the event could "open up" their cars. (Utah Highway Patrol).
A crew collects the wreckage of a $1.3 million 2003 Ferrari Enzo that crashed during the Utah Fast Pass Road Rally . Driver Richard Losee suffered fractured bones. (Mark Havnes/The Salt Lake Tribune).

McCleve noted this was the rally's first year and said he did not know if it will become an annual event. "Based on the events [Wednesday], we'll have to look at it and see if there will be a number two." McCleve said UHP was prepared - with an ambulance, medical personnel and a helicopter on hand - in case of an accident. Utah Fast Pass worked with the Utah Department of Transportation and UHP to obtain permits for the rally, which began Sunday at Miller's Motorsports Park in Tooele County. The 30 cars, with a UHP escort, then drove to Park City, Duchesne and Price before heading south through Torrey, Escalante and St. George. On Wednesday, the drivers headed north to Salt Lake City, where the cars went on display at the Gallivan Center.

McCleve explained the money raised from the rally and an auction will go to the Honoring Heroes Foundation, which will then give it to families of 14 troopers killed on the job. Families of injured troopers also will get funds. In addition, the rally assists rural communities and students. The towns of Duchesne, Torrey, Escalante, Price and Delta, along with Tooele County, each received US$5,000 for student scholarships and money for civic-improvement projects.

Elliott Pritch, came from Fort Lauderdale, Fla., to show off his red 1995 Ferrari F-50. "This is a wonderful event and you couldn't ask for greater people than those in Utah," he said. But Doug Pristine, who brought his midnight-blue Ferrari from California for the rally, noted that clocking high speeds on a highway - with its bumps and dips, dubbed whoop-dee-dos - offers more challenges than a racetrack such as Miller's. "You have to drive in a safe manner and watch the whoop-dee-dos or at excessive speeds you can nose-dive."

Report courtesy of The Salt Lake Tribune