To celebrate the occasion of the FIFA World Cup, which takes place during this month in Germany, Fiat Deutschland have unveiled the limited-edition Fiat Panda Mondiale which pays tribute to the Azzurri, who will be seeking their fourth title at the tournament.

This new special edition Fiat Panda model - which has been designated as the "Mondiale" - is available in a choice of two body colours, either in the Italian football team's official blue colours, or in black. Front fog lamps feature as standard as does a chrome-finished exhaust tailpipe. The model also boasts a set of exclusive new alloy wheels, not available on any other models in the Fiat range, as is the large Azzurri logo emblazoned across the bonnet and smaller decal depictions of the famous shield on the front wings. A further touch is the option of a having player's team number mounted on the doors, including the fabled number '20' which was worn by Italian striker Paolo Rossi when he scored six goals - and collected the golden boot - on the way to Italy winning their last World Cup title in Spain in 1982.

Inside, the Panda Mondiale's standard features include climate control, a radio with CD player, electric front windows and central door locking. The only engine option will be the robust 60bhp 1.1-litre petrol engine, while the car is now available throughout the German dealer network for 11,290.00 euros.

Azzurri plotting fourth FIFA world cup crown
With three FIFA World Cups to their name, Italy are rightly held up as one of the great football nations. Their first triumph was way back in 1934 at the second ever global showcase, which was held on Italian soil. Four years later in France, they became the first national team to successfully defend their crown, and their third title was secured in 1982 in Spain.
Germany 2006 will mark Italy's 16th appearance at a FIFA World Cup finals, making the 1958 World Cup in Sweden the only finals they did not grace with their presence. Following their successes in 1934 and 1938, Italy lifted the FIFA World Cup for the third time at Spain 1982 thanks largely to an outstanding performance by striker Paolo Rossi. After a subdued start to the tournament, Rossi burst into life in the knockout stages, scoring a hat-trick against Brazil to put his side through to the semi-final, where he struck twice more against Poland. Brimming with confidence, the Italians then went on to beat West Germany 3-1 in the final, with Rossi scoring a sixth tournament goal to clinch the Golden Shoe as top scorer.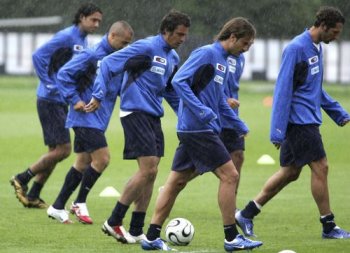 Italy's national soccer team players (left to right) Alessandro Nesta, Fabio Cannavaro, Massimo Oddo, Alberto Gilardino and Marco Materazzi run in the rain at the team's training camp in Coverciano near Florence on Tuesday. Photo: FIFA.
To celebrate the occasion of the FIFA World Cup which takes place this month in Germany, Fiat Deutschland have unveiled the limited-edition Fiat Panda Mondiale which pays tribute to the Azzurri who will be seeking their fourth title.

Italy's strong national league, boasting world-famous sides such as AC Milan, Juventus and Inter Milan, has traditionally provided the platform for a competitive Italy team. Over the years, Serie A has produced true legends of the game such as Roberto Baggio, Paolo Maldini, Franco Baresi, Gianni Rivera and the unforgettable Dino Zoff who played in the victorious 1982 side at the age of 40. However, life has not always been a bed of roses for the Italians, who have suffered their fair share of disappointments, including an abrupt exit from the 2002 FIFA World Cup Korea/Japan. After battling their way through to the Round of 16, the Azzurri succumbed to hosts Korea Republic. Italy led for most of the match but conceded a late equaliser and the South Koreans secured victory with an extra-time golden goal.
In the wake of this crushing blow, Giovanni Trapattoni replaced Dino Zoff and led Italy through qualifying for UEFA EURO 2004. One defeat and just four goals conceded in eight matches marked a return to the traditional Italian virtue of resolute defending but more disappointment awaited the Azzuri in the finals in Portugal where they failed to progress beyond the group stage despite not losing a match. Having drawn against Denmark (0-0) and Sweden (1-1) in their opening two games, a 2-1 victory over Bulgaria saw them finish only third in the group behind the two Scandinavian sides.
Trapattoni then made way for former Juventus coach Marcello Lippi who immediately adopted the mantra "No-one is guaranteed a place" – something Alessandro Del Piero and Christian Vieri soon found to their cost. A new generation emerged, all eager to seize their opportunity. Between summer 2004 and autumn 2005, Lippi gave debuts to nine players - Cristian Zaccardo, Andrea Barzagli, Giorgio Chiellini, Daniele De Rossi, Manuele Blasi, Mauro Esposito, Luca Toni, Alberto Gilardino and Vincenzo Iaquinta – and together they accounted for eight of the 15 goals scored by Italy on the road to Germany. These youngsters now form the spine of the new-look Azzurri with Zaccardo operating in defence, De Rossi playing as a holding midfielder, and Toni and Gilardino forming a potent partnership in attack and netting six goals between them in qualifying. Apart from a setback in Slovenia where they lost 1-0 on 9 October 2004, Italy comfortably secured their berth for Germany with seven wins, two draws and that solitary defeat to finish top of a group including Norway, Slovenia and Scotland.