The new C-segment sedan, codenamed Project D200, to be manufactured for Fiat by Tofas for 2007 will be given a easy to pronounce Turkish name, reports Turkish daily newspaper Zaman. Project D200 will see one third of the 60,000 new cars to be manufactured in Turkey annually being exported to Europe with Fiat branding. Tofas Chief Executive Officer Alfredo Altavilla told Zaman they are thinking of calling the automobile with an easy to pronounce and easy to remember Turkish name; he reiterated that the new model will be manufactured in Turkey as well as in Fiat's factories in Brazil and China.
Altavilla stressed Tofas was given the role of leadership in this project with the decision being taken during a Fiat board meeting, and said "The project is going so well that we will push the start date for manufacturing two months in advance. We estimate the sales of the D200 will be high in Turkey. Therefore, we worked a lot on the Turkish name. The same Turkish name will be used in Europe and Latin America as well. A name appropriate for Chinese will be more suitable for China. Turkey will supply parts to Brazil and China in this model." According to Altavilla, Tofas displays a very high performance level in both the engineering and manufacturing of D200, and said it is not only undertaking the leadership of this project for Fiat, it also displaying a performance level nobody anticipated. A total of investment of 170 million euros will be made in the Tofas factory for the D200 project, which was officially announced last July.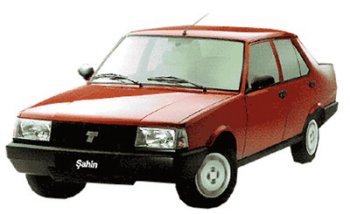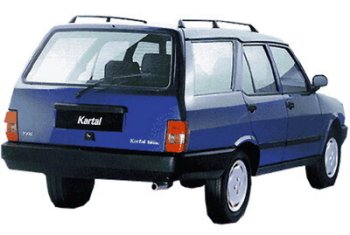 Tofas has built some of the best selling models on the Turkish market in recent years, including the Serce, Sahin (top), Dogan and Kartal (above), a series of cars that have firmly set the nation's leading manufacturer on its way upwards.
Tofas build the Fiat Doblo range, which has recently undergone a major facelift, at their Turkish facility for export to Europe.

The "bird" series models which Tofas has manufactured under Turkish names for many years, are now exported to North African countries such as Egypt, still carrying the same names. The 'bird' series has seen some of the best selling models of Turkey, which under the names of Serce (Sparrow), Sahin (Falcon), Dogan (Hawk) and Kartal (Eagle), and which have been a cornerstone in Tofas' achieving this new high point.
Tofas will implement this year the investment decisions made during 2005, and the year promises to be the biggest investment year in its history. An investment of more than 300 million euros will be made in their plant for the projects of D200 and also the new 'Minicargo'. Tofas gained the lion's share in Fiat's new investments, and said they will manufacture more than 300,000 vehicles a year in Turkey starting from 2008. The Minicargo project, a light commercial vehicle to be manufactured in a cooperation agreement between Fiat, Peugeot-Citroen and Tofas, has been already expanded due to the perceived demands from the joint venture partners. Altavilla announced the yearly Minicargo manufacturing capacity will be raised from 135,000 to 165,000 units, and an additional investment of 30 million euros will be made to take account of this.
Fiat joined the art of design, together with functionality, Altavilla said, and part of the development and design process of the Minicargo will be made together with the suppliers. Minicargo, is planned to be innovative, smart and user-friendly, and will be manufactured in three distinct, different versions, including cargo and combi options.

Report courtesy of Zaman