Lamborghini is known the world over for manufacturing some of the most expensive and powerful road-going vehicles available. In addition to their high profiles and high performance, these cars are also considered to be among the most dazzling and striking in terms of appearance. Ask any car enthusiast for his list of dream cars and it's a safe bet that somewhere near the top of his list you'll find a Lamborghini.

Now Test Drive Unlimited allows the gamer to experience firsthand the power and style that is Lamborghini. Let's take a look at some of the models being featured in Atari's Massively Open Online Racing (M.O.O.R.) title.

Test Drive Unlimited is the only game that immerses the player into the car and bike enthusiast lifestyle, with total freedom to race however and wherever you want within a huge, online-persistent environment. Visit the most sophisticated car and bike dealers to purchase new vehicles or simply take them for a spin. Collect and trade rare performance parts and customize each vehicle to make it one-of-a-kind. Test Drive Unlimited challenges players online to experience the most exotic and fastest vehicles on more than 1000 miles of diverse Hawaiian roads. Gamers win races, challenges, missions and tournaments to earn credits and purchase new cars, bikes, rare performance parts, clothes, apparel, homes and garages.

Test Drive Unlimited is redefining the racing genre online. The seamless online connection offers unlimited new challenges, opponents and competitions as well as monthly additions of vehicles, aftermarket parts, clothes and apparel. There are now more than 125 licensed vehicles from exclusive manufacturers including Lamborghini, Ducati, Aston Martin, Mercedes, Saleen, Shelby, and Jaguar. Realistic cars and bikes: Amazing render quality and unrivalled interior details including full car functions such as radio, electric windows, horn, wipers and more.

The last and most famous of the Miuras, the P400SV features an improved engine that produced 385 hp. The car has a top speed of 179 mph and can go from 0 to 60 mph in 5.5 seconds. 150 of these legendary supercars were produced.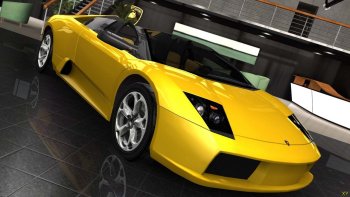 The Gallardo Roadster is a drop-top sibling of the Gallardo Coupe. The Gallardo Roadster features an engine that produces 520 hp, has a top speed of 195 mph and goes from 0 to 60 in 4.3 seconds.
Released in 2005, the Gallardo SE (for Special Edition) improves upon the design and performance of the original Gallardo. The Gallardo SE has a faster top speed of 196 mph and can go from 0 to 60 mph in 4 seconds. Lamborghini plans to produce only 250 units of this special edition car.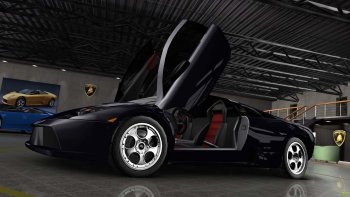 The Murciélago is a GT and supercar that was created as a successor to the Diablo. It features a V-12 engine that produces 580 hp, has a top speed of 205 mph and can go from 0 to 60 mph in 3.8 seconds.

Gamers can create their own challenges or races on 1000 miles of open Hawaiian roads from more than 50 game rules and settings and then upload the created challenges online to become part of the player community. Personalization: Upgrade each car or bike with options from the actual manufacturers' catalogue.

Players create characters, buy new homes and garages, and tune and upgrade vehicles with aftermarket parts. A gathering of communities: Players can create or join a club to talk, chat, trade, race or organize club-based competitions and tournaments. Simplified match making and division based rankings make this game the most comprehensive and accessible online racing experience. Extracurricular activities such as expanding the player's garage, getting clothes and fashion accessories for their avatar, helping hitchhikers catch planes, picking up girls, chasing car thieves, and escaping from a psychopath all feature.
There are six Lamborghini models to choose from, starting with the Gallardo Coupé which began production in 2004 and which Lamborghini has so far manufactured 3,000 in the two years since, making the Gallardo the company's most-produced model to date. The Gallardo features a V-10 engine that produces 500bhp, has a top speed of 192 mph and can go from 0 to 60 in 4.2 seconds. The Coupé is joined in Test Drive Unlimited by the Gallardo Spyder and SE, as will as the Miura P400SV and finally the Murciélago Coupé and Roadster.