At 0924 this morning, in bitterly cold conditions, Ferrari's new V8-engined Grand Prix car roared out onto the track at Fiorano for the very first time, in the hands of the German seven-times Formula 1 World Champion Michael Schumacher.

This is the car (which is expected to be named the F2006 when it is officially launched next Tuesday morning at Mugello) that Scuderia Ferrari hope will take them back to the winners' circle and banish the memories of last year when their unprecedented, crushingly dominant championship-winning run came to an abrupt end and they only managed to claim a single race win, which came during the six-car United States Grand Prix at Indianapolis. Designed to the new F1 rules the new machine is fitted with a new 2.4-litre V8 engine. Under the new regulations, designed to cut costs as well as car speeds, the 3.0-litre V10 units that have held sway in recent years are being replaced for 2006, and as such, this morning was the first time that the scream of Ferrari's new V8 had echoed around the race tracks.

Last Thursday during the 'Wroom 2005' skiing event at Madonna di Campiglio, Jean Todt had announced the schedule for the new car: "We started the car today for the first time and at the beginning of next week we are going to start private testing at Fiorano," Todt told the media, "not with a black car but with a red car with no writing on it, so something different in comparison to what we have done in the past.

"There is a possibility that we will run this Monday and then we will do some tests for a few days with Michael in Fiorano," added Todt, who went on to say: After that, we are going to do some tests in our workshops and then on Tuesday the 24th, we are going to present the car in Mugello during some testing and we are going to present it with our partners and the press."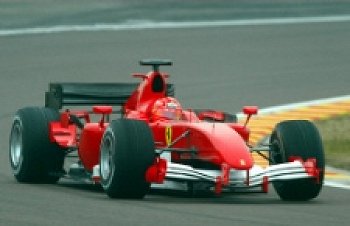 At 0924 this morning, in bitterly cold conditions, Ferrari's new V8-engined Formula 1 car roared out onto the track at Fiorano for the first time, in the hands of Michael Schumacher

And so at 0924 this morning Michael Schumacher (who had arrived minutes earlier by helicopter) edged the new car onto Ferrari's private test track, as small flurries of sleet drifted down. In the freezing conditions, journalists, TV crews, photographers and 'tifosi' waving 'Prancing Horse' flags, had gather to witness the arrival of the new F1 machine, which was unadorned save for the Ferrari shield, painted in traditional red, with white front wings and bargeboards, and a sporting an all-black rear wing. Having given the machine a brief shakedown, at 0950 Schumacher began the first of three test runs, at one point leaving the track.