Five-times Indian National Rally Champion VR Naren Kumar has been offered an N.technology Fiat Grande Punto Super2000 factory drive in the 2006 FIA European Rally Championship, suggests reports emanating from India. The offer also includes a step-up to the FIA World Rally Championship in 2007 but the drive is subject to India's leading rally driver bringing his own sponsorship to the N.technology team.
Kumar is India's leading rally driver, and as well as his five national rally titles, the 31-year-old has claimed 28 rally wins, and three international titles in the Asia Zone Rally Championship, a series which spans India, Thailand and Indonesia. His offer comes as Fiat continue strengthen their ties with India's biggest carmaker Tata Motors, who have recently begun distributing Fiat Auto cars through their dealer network. Next week the Tata Group Chairman Ratan Tata will in fact be nominated onto the Fiat Group board.

Kumar said of the European series: "The event has a global audience of 88 million. I will receive adequate exposure in India and any sponsor supporting me will gain significant mileage here. I am hoping the support comes in soon." He could be expected to attract sponsorship from Fiat India and Tata Motors, the latter who are now involved in a major global brand awareness drive which has also seen them supporting the budding career of Indian F1-hopeful Narain Karthikeyan while the Tata name and logo are being carried this year on the Williams-Cosworth F1 cars. Kumar's agent also says he will be looking to tap up European companies which have interests in India.

"If all goes well I will be driving the Fiat Grand Punto Super 2000 in the European championship," Kumar told The Hindu. "It's a winning car! It has already won the first round of the Italian national championship ahead of Subaru and Mitsubishi. As a driver, I have beaten world champions before. So, I don't see any reason why I will not be a force to reckon with in the WRC series."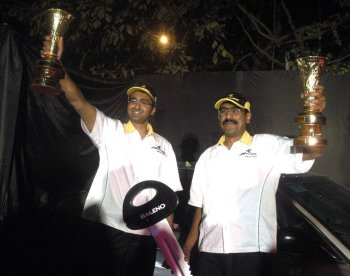 VR Naren Kumar (left) and D Ram Kumar of Team J K Tyre, the overall National champions of the Indian National Rally Championship, pose with their trophies in the backdrop of the Maruti Baleno that they also won for their efforts at the MAI Prize Distribution function held in Mumbai on Saturday, January 28, 2006. Photo: Motosports Association of India.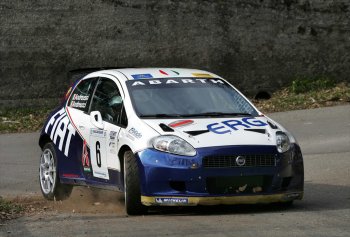 Paolo Andreucci and Anna Andreussi have driven the new 'Super2000' Fiat Grande Punto Rally to two victories out of the three rallies it has contested so far since it was homologated earlier this year. Photo: Fiat Auto.

The 2006 FIA European Rally Championship got underway last weekend with the Rally 1000 Miglia, which was comfortably won by N.technology Fiat factory driver Paolo Andreucci. As the rally also counted for the Italian rally Championship N.technology had three of the Super2000 category Grande Punto Rally machines out on the event, although Andreucci's team mates Andrea Navarra and Giandomenico Basso both dropped out of the overall running early on. While Andreucci and Navarra are this year concentrating on the Italian series, Basso was beginning his challenge for the European title. With just one car being entered in the European series this year N.technology have the capacity in place to run a second Grande Punto Rally for Kumar.

The 2006 FIA European Rally Championship takes place over nine rounds this year, with eight now remaining to be contested. Kumar is targeting taking part in the next event, the Fiat-sponsored Rally of Turkey which runs from 12-14 May. "I am keeping my fingers crossed for the Turkey leg, but I am quite confident of taking part in the third round in Poland," says Kumar.

The remaining rounds will be the Platinum 63 Rally Poland (26-28 May,) his next target if he missed making his debut in Turkey, the Ypres Westhoek Rally (23-25 June,) Bulgaria Rally (7-9 July,) Rally Vinho Da Maderia (3-5 August,) Barum Rally Zlin (25-27 August,) Rally Eko Elpa (15-17 September) and finally the Rally Antibes (20-22 October.) In the meantime he is kicking off his challenge for he 2006 Indian National Rally Championship campaign in Pune next weekend. "My commitment to the INRC stays the same. None of the European rounds clash so driving in both won't be a problem."