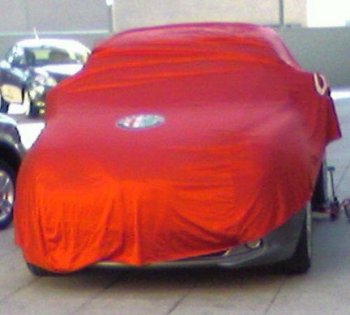 Although the car is shrouded by a cover in the two images which have circulated the internet today, some of the Alfa 'Junior' styling details can be clearly seen.
Images of an Alfa 'Junior' prototype have broken cover on the internet today, offering a first tantalising glimpse of this important new project which is expected to debut at the Geneva Motor Show next March.
Although the car is shrouded by a cover in the two images, some of its styling details can be clearly seen. The main styling influences on Project 955 have been the 8C Competizione and, to a lesser extent, the Alfa Romeo Diva concept car.

The front of the baby Alfa will be characterised by two large oval headlights perched high up on either wing. This styling treatment is in fact an Alfa Romeo styling hallmark, shared on classic models such as the Giulietta SZ, Giulia TZ series as well as the 1966 Duetto.

The scudetto grille will be relatively sharp in form and thrusting, giving an impression of a low bonnet and a powerful stance. Small air intakes will feature on the lower half of the front bumper, flanked by mistlights. Surrounding the mistlights will be aerodynamic spoilers similar to the Diva. The wheelarches on the baby Alfa will be a main focal point on the side of the car. Both the front and rear arches will be relatively muscular.

The rear of the car will have large round taillights, as on the 8C Competizione, and a kamm-style tail. The rear bumper will have a large unpainted section providing a diffuser impression and certain models will have an intriguing stainless exhaust tip, with two oval pipes merging together. This exhaust detail is in fact similar in style to those fitted on certain models of the Porsche 996 Turbo.