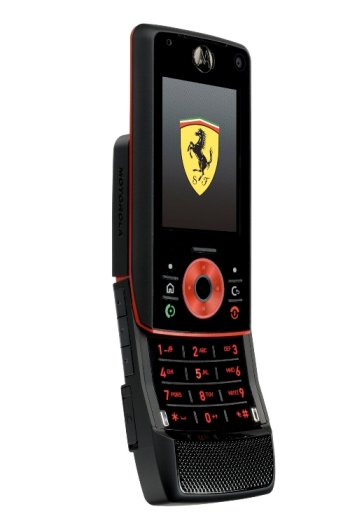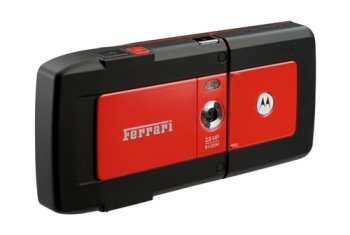 Ferrari is teaming up with Motorola for another branded mobile phone, this time based on the MOTO Z8 slider phone, which comes with all the usual features expected of a phone co-branding initiative.
Ferrari is teaming up with Motorola for another branded mobile phone, this time based on the MOTO Z8 slider phone, which comes with the usual features expected of a co-branding initiative. The MOTO Z8 Ferrari Limited Edition phone comes with inserts, trimmings and button digits in Ferrari 'red' as well as the Scuderia's famous logo.

The MOTO Z8 Ferrari Limited Edition will feature pre-registration to the official Ferrari website (www.ferrariworld.com), specially designed Ferrari ringtones and wallpapers and links to on-line magazines including Top Gear, Auto Express and Autosport. It will also include a bundled version of the Hollywood movie 'The Bourne Indentity'.
MOTOROLA MOTO Z8
Kick start your day with the new MOTO Z8. Reinventing the slider phone, the MOTO Z8 brings multimedia, speed, pleasure and mobile broadband1 to your fingertips. Providing you with the ultimate in entertainment, the MOTO Z8 allows you to watch crystal clear video at 30 frames per second through a large QVGA 16m TFT display. The device also supports optional expandable memory up to 4GB using microSD, which is enough space for full length movies or hours of music. Music can be enjoyed wirelessly utilising Bluetooth® wireless technology that when combined with an optional Bluetooth® enabled stereo headset such as the Motorola Bluetooth® Active Headphones S9, providing complete wireless control and freedom.

Feature packed, at 15.3 millimetres, the MOTO Z8 is not much larger than the classic MOTORAZR™ waist band. Providing an innovative and exciting mobile experience the MOTORIZR Z8 allows you to enjoy your multimedia content while on the go with crystal clear video and high fidelity sound. Whether you're watching or streaming video2, to having a lengthy conversation, the MOTORIZR Z8 is much more than your typical slider – it's a revolution in mobile multimedia. Goodbye image. Hello reality.
LIGHTNING FAST SPEED

For instant gratification when you need the right content, the MOTO Z8 is HSDPA with Symbian software and 3.5G enablers will come through for you. The MOTO Z8 not only delivers quick access to content, it delivers smooth services and experiences directly to your phone. Staying entertained has never been easier – watch pin sharp videos on the 2.2 inch screen or access on-demand content directly on your handset.2 Harnessing the power of mobile broadband, download content over-the-air (OTA) - getting your music, video files, games or even accessing the Internet has never been easier.2 From sharing photos to rocking out to your own personal soundtrack, saying you'll be satisfied is an understatement.
INSTANT ACCESS

From fashion gurus to multimedia junkies, the new MOTO Z8 has something to offer all consumers. Bursting with multimedia capabilities, this do-it-all handset includes a powerful 2.0 megapixel camera with dedicated shutter button for one-click photo and video capture, integrated lumi LED light and even red-eye reduction. With a hot swappable microSD card with up to 4GB of optional memory, you can quickly access files. Equipped with an integrated music player, the MOTO Z8 allows you to create playlists, add creativity to your music with on-screen visualizations and easily skip to the next groove with shuffle capability. The MOTO Z8 phone's redesigned user interface allows simple one-click access to all this and more.
EXPAND YOUR HORIZONS

Enabling you to expand your music experience wirelessly, the MOTO lets you set your music collection free from wires. The MOTO Z8 effortlessly syncs with your compatible Bluetooth® enabled music center using compatible Bluetooth® enabled stereo accessories. With Bluetooth® stereo profile support you can enjoy your favourite tunes without ever missing a call – at home, on the move, while on the go.
SUMMARY OF FEATURES
Unique ergonomic slider design; Up to approximately five hours 3G talk time, up to approximately 16 days standby time; 3.6Mbps HSDPA providing mobile broadband; 2 megapixel camera with 8x zoom and lumi LED light, video record and playback capabilities; Approximately 90 MB free internal user memory, optional expandable to 4GB with microSD; Messaging: SMS, EMS, MMS 1.2; Integrated media player; Redesigned user interface with one-click access to phone functions; A2DP AVRCP Bluetooth® stereo profiles