The new Fiat 500 won quickly the hearts of most of the people. The small car with its beautiful retro-style is already sold out in Italy and Fiat can satisfy the other markets only through extra production due to the great demand. KW automotive now makes the cute 'Cinquecento' become a go-kart in terms of driving characteristics through its coilover suspension Variant 1. The vehicle's level can be lowered between 30 and 60 mm at the front axle and from 10 to 40 mm at the rear axle. The coilover suspension V1 for the Fiat 500 is available with immediate effect.

KW coilover suspensions – 3 damping variants for every type of driver

Coilover suspension V1 with preset damper setting permits customised lowering of the suspension and creates an optimised balance of sportiness, comfort and safety. Damping variant V2 is the ideal system for sporty drivers, who also wish to make modifications in the set-up to achieve a more customised lowering of the suspension. Thanks to the adjustable rebound damping, it is possible to adapt the driving comfort to suit the driver's personal taste. With its separately adjustable pressure and rebound damping functions, coilover suspension V3 permits an even higher degree of customisation to the suspension and provides the perfect solution for those truly technically demanding drivers.

All KW coilover suspensions are produced in the unique stainless steel "inox line" technology. This assures the extremely high quality and durability of the suspensions plus a long-lasting perfect finish to match.

KW Automotive

In 10 years, a three-man operation has grown into an international power-house. A small workshop measuring just 150sqm has grown into an international operation specialized in performance suspension manufacturing. Today, KW is recognised as a European market leader for high class coilover systems. In one of the worlds´ toughest markets for performance products, KW is setting new benchmarks with its innovations and commitment to quality. Operating internationally, KW employs over 200 people at 4 locations. The German headquarter measures around 23,000 sqm. The employees work within this unique and ultra modern facility to produce and ship more than 60.000 kits annually to customers all around the world. The steadily growing product range covers several thousands of applications.

10th anniversary

KW automotive GmbH in 2006 also celebrates 10 successful years of the production of its famous coilover suspensions, which had their premiere 1996 at the Essen Motor Show. During the anniversary celebrities at Fichtenberg, Germany, KW put its new servo-hydraulic driving dynamics test station into operation. It is one of only 15 worldwide, 9 of them are used by Formula 1 teams.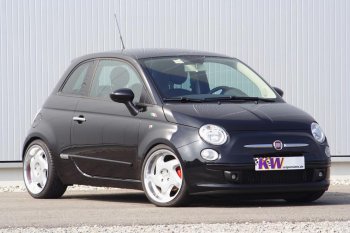 German suspension specialists KW automotive aims to make the Fiat 500 become a 'go-kart' in terms of driving characteristics through its coilover suspension which also lowers the ride height.

With the servo-hydraulic dynamics test station KW offers motorsports teams and industry partners the possibility to simulate many different road conditions with a car. This method saves a lot of time and money, which normally would have to be spent during a real test at a race track.

KW today offers a big range of products: Springs, dampers, suspensions and coilovers, which are characterized by high-tech innovations. Top products are the 'Inox-line' coilovers with their corrosion resistant struts, which proved their qualities in salt spray tests. The know-how of KW is also highly demanded in the motorsports scene. In many different championships various teams rely on KW suspensions. Customers directly profit by the race technology transferred to the road.

In-house development and manufacturing puts KW on the leading edge of the industry. Outfit with the latest CNC-controlled machining devices, CAD 3D modelling systems and computer guides production lines, KW's "all in one hand" configuration sets the industry's standards in both quality control and manufacturing flexibility.

Global trendsetter in product innovations and outstanding technical know-how fuels the rapid growth at KW automotive GmbH's. Continuously building on its products quality and functionality, innovations, such as KW's revolutionary 'Inox-line' stainless steel technology and composite stainless steel impregnated adjustable spring seats set world benchmarks in coilover suspension manufacturing.