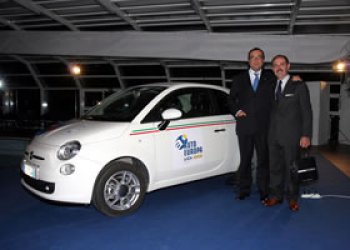 The Fiat 500 has been voted Auto Europa 2008 by the Italian Union of Automotive Journalists (Uiga); this is the most important accolade awarded by the Italian specialised automotive press.
The Fiat 500 has been voted "Auto Europa 2008" by the Italian Union of Automotive Journalists (Uiga). This is the most important accolade awarded by the Italian specialised press.
Established in 1987, the prize is awarded to the car built and sold in Europe that offers the best combination of technology, pricing and style for the final consumer. The vote, which took place last weekend in Riccione, attributed 640 points to the new super-compact from Fiat, placing it ahead of the Kia Cečd (408) and the Peugeot 308 (325).
The official prize-giving ceremony will be held next Spring during the annual Uiga meeting. This is the tenth car from Fiat Group Automobiles to receive the title of "Auto Europa". Previous winners have been the Alfa 164 (1988), Fiat Tipo (1989), Fiat Cinquecento (1993), Fiat Punto (1995), Fiat Bravo/Brava (1996), Alfa Romeo 156 (1998), Alfa Romeo 166 (1999), Fiat Panda (2004) and the Fiat Grande Punto (2007).
This award adds to the already impressive array of prizes under the Fiat 500's belt, namely: "Car of the Year 2008", "EuroCarBody 2007" and "World's Most Beautiful Car". The COTY award was secured with a total of 385 points attributed by a panel of 58 specialist journalists representing 22 European countries. This is only the second time that an A-segment model has won this award – the first being the Fiat Panda in 2004. The title of "EuroCarBody 2007", the most important prize worldwide for car bodies, is attributed by a total of approximately 600 specialists from 15 international carmakers, all of them experts in bodywork engineering, materials, processes and production. Lastly, the "World's most Beautiful Car" award was given to the Fiat 500 by an international panel of design and visual arts experts. With the maximum score possible of 18 points, the Fiat 500 won the "City cars and small cars" category for expressing "a return to the sculptural values of the golden age of car design". The same prize was also awarded to the Fiat Bravo, in the "medium saloon" category.
These prestigious accolades for the Fiat 500 join two other important prizes recently awarded by the international press to the Fiat Grande Punto and Scudo. Just a few months after its Latin American launch, the Grande Punto was voted "Auto Interamericana 2008" by the Interamerican Federation of Automotive Periodicals (FIPA), consisting of 63 journalists from 19 American nations, including Brazil and the US. Similarly, the Scudo has also been enjoying an extraordinary success, and has been voted "International Van of the Year 2008" – with 108 out of a possible 140 points – by a panel of journalists from 20 European nations specialised in light commercial vehicles.
Auto Europa 2008 - final points scores:
FIAT 500 640
KIA CEE'D 408
PEUGEOT 308 325
CITROEN C4 PICASSO 5P 207
AUDI A5 199
SMART FORTWO COUPE' / CABRIO 198
NISSAN QASHQAI 197
BMW M3 150
SUV TRIS (Citroen-Mitsubishi-Peugeot) 135
FORD MONDEO 109
FIAT BRAVO 97
RENAULT TWINGO 89
MERCEDES CLASSE C 85
TOYOTA AURIS 82
DACIA LOGAN MCV 74
VOLVO V70 72
ALFA ROMEO SPIDER 71
JAGUAR XKR 69
VOLVO XC-70 40
OPEL GT 30
AUDI R8 27
SEAT ALTEA FREETRACK 25
RENAULT NUOVA LAGUNA 20
VOLKSWAGEN GOLF VARIANT 15
SAAB 9-3 11
NUOVA LANCIA MUSA 10