Fiat is involved in talks with German luxury carmaker Mercedes-Benz that could see the two firms sharing several platforms over the next few years. The media reports, which emanated from Auto Motor und Sport yesterday cited 'industry sources', and suggested that Fiat CEO Sergio Marchionne has been discussing at least two platforms with his counterpart at Mercedes-Benz and that the talks are at an advanced stage with a positive outcome expected within months.
The Reuters news agency quoted a Mercedes-Benz spokesman as saying: "We don't exclude (collaboration accords) categorically and we are in cooperation with others. We will entertain them if they make sense in certain fields and certain areas." However Reuters said the spokesman declined to discuss Fiat. Later in the day some flesh was put to the swirling rumours. "There are contacts with Mercedes, as with other automakers," Fiat Group President Luca di Montezemolo was reported as saying by Italian news agencies. "I discussed them today with Sergio Marchionne. Obviously, it is premature to talk about alliance," Montezemolo added.
Mr Marchionne has made technology- and resource-sharing a central plank of Fiat's highly successful revival, signing up to a string of deals with carmakers including Suzuki, Tata, Severstal, PSA Peugeot-Citroën and Chinese car-maker Chery. Recently, it created an alliance with Ford which has seen the new Fiat 500 and next-generation Ford Ka developed together on the Fiat Panda's architecture.

In addition, Fiat Group already has a tie-up with Daimler AG: in June, Fiat Powertrain Technologies (FPT) signed an agreement with the German firm which initially will see FPT supplying diesel engines to the Mitsubishi Fuso Truck and Bus truck unit, an 85% owned subsidiary of Daimler Trucks. The first step of this agreement concerns the long-term supply of light-duty diesel engines (FPT F1C) to the Mitsubishi Fuso Bus & Truck Corporation, to be used in the Canter light commercial vehicle which will be marketed in major markets, including Europe and Japan. FPT will supply around 80,000 F1C engines per year to Mitsubishi Fuso starting in 2009. The supply volumes will increase over the following years. The deal and the prospect of a much wider arrangement was held out by FPT's CEO, Alfredo Altavilla, who said: "This agreement is the first step in a long lasting and mutually satisfactory cooperation in further selected projects."
For its part, Daimler AG recently unpicked its decade-old merger with American carmaker Chrysler, and is in urgent need of fresh partners to assist with its future platform requirements. Top of Daimler AG's attentions include its plans for the next-generation A- and B-Class. Introduced in 1997, the A-Class was the first Mercedes with front-wheel drive. The 'Baby Benz' was updated in 2004, while the B-Class MPV, based on a stretched version of the 'sandwich' platform, followed a year later in 2005.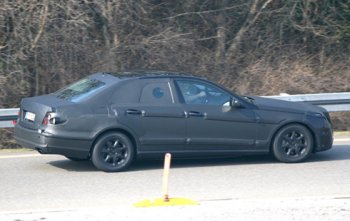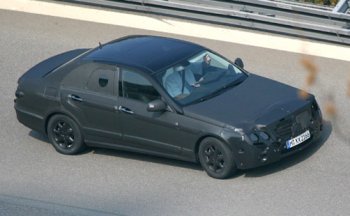 In return for any deal with Mercedes-Benz, Fiat would most likely gain access to the new E-Class platform (seen here during recent testing) possibly for use by Alfa Romeo.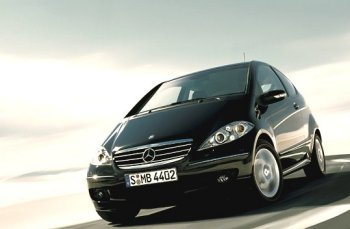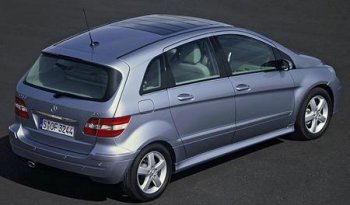 Top of Mercedes-Benz's attentions are its plans for the next-generation A- (top) and B-Class (above). Speculations suggests that these two key models may well use Fiat architecture.

Year-end 2006 figures show that Mercedes has sold almost 1.5 million A-Class cars since 1997. The B-Class has also enjoyed reasonable success in most of the markets it is sold in, selling over 120,000 units in its first year alone. With these positive results Mercedes-Benz are willing to broaden their horizon in the small car segment, with plans in 2011 to sell the second generation B-Class in America for the first time. To increase sales, there is speculation that Mercedes are planning to expand the range by adding two new variants in addition to the regular B-Class MPV. This could see the A-Class being replaced with a different type of entry-level model in 2011. For this model Mercedes are reputedly considering a new sporty hatchback design to rival BMW's 1-Series range, as well as a new compact coupe-cabriolet.
Now that Daimler AG is free from its Chrysler commitments, a firm push to help the firm compete with forthcoming opposition is in operation. Daimler AG are also believed to be impressed by the initial general reception of plans outlined for the forthcoming Audi A1, which was recently confirmed as a production go-ahead, and which will arrive on the market in 2009. Still undecided as to what type of body the car will receive, the Audi A1 will be marketed at young and dynamic individuals. To keeps costs down, the future A1 platform will be based on the underpinnings of the next-generation Volkswagen Polo, Seat Ibiza and Škoda Fabia. Direct competitors for the Audi A1 will include the Alfa Romeo 'Junior', which is due for a launch early next year at the Geneva Motor Show.
As well as the reports suggesting their talks with Fiat, Daimler AG is known to have been discussing using BMW's MINI architecture, which would at a stroke give it a platform capable of fulfilling its sporting pretensions. As part of the deal, Daimler AG has reportedly been offering its German rival BMW its Smart division's technology, thus allowing BMW to build a proposed new city car on the proven rear-engined platform.
In return for any deal with Daimler AG, Fiat would most likely gain access to the new E-Class platform. The next generation E-Class, currently under development, is expected on the market in 2009 and is regarded as being a segment leader and benchmark, leveraging all Mercedes-Benz's experience in this category where it has historically been at its strongest. A mid-range platform would give Fiat technology on which to base its replacement for the Alfa 166 and possibly the Lancia Thesis, if this latter car is given a successor.