Reports emanating from China this week suggest that ambitious new domestic carmaker, Zotye Auto, is in the process of purchasing the production lines for the now-discontinued Lancia Lybra model and plans to restart production.
Zotye Auto is a recently-formed division of the Zotye Holding Group, which already marketed a number of transportation vehicles such as motor cycles, automotive spare parts and other relevant accessories, as well castings, forgings, and sector-related mechanical and electrical products. It sold 11,000 autos is 2005, increasing that figure in 2006, and has penetrated into several international markets including Middle East, North Africa and the Caribbean. It launched its first self-built SUV, based on the Daihatsu Terios, in January last year.
However its big step forward in car manufacturing came earlier this year when Zoyte took the shareholding over Jiangnan Auto which at a stroke gave the ambitious company wide manufacturing ability and a capacity to assemble around 50,000 units per year, as well inheriting a range of models. Jiangnan (which means "South of the River") was founded in 1952 to construct machinery and has since then been heavily involved in the military sector. It built its first car, a minicar called the JHN 710 (later renamed the JNJ7050) in 1988. In the early 1990s it began to build the small Suzuki Alto under licence. Two years ago it introduced its own version of Jilin Tongtian's 'City Spirit' small car (Jiangnan later absorbed Jilin Tongtian in 2006) while in August 2005 it brought to the market its first fully self-developed car, the Fengguang ("Scenery") which became know as the Fengstar. However last year Jiangian hit difficulties and car production ceased until the takeover by Zotye earlier this year, which has seen the Alto model return to production and ambitious plans for eight further new models to be added to the range over the next three years, one of which is expected to be the Lybra, in both 4-door sedan and estate format.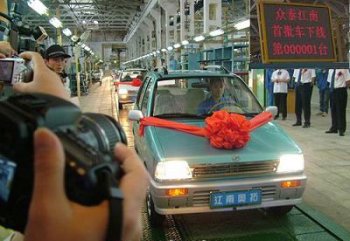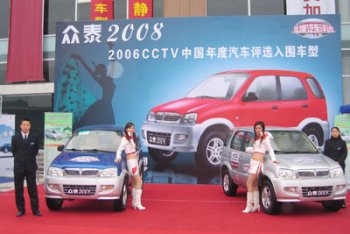 After taking over Jiangnan earlier this year Zotye Auto restarted production of the built-under-licence Suzuki Alto in April (top) and presented its revised model range at the Shanghai Auto Show the same month.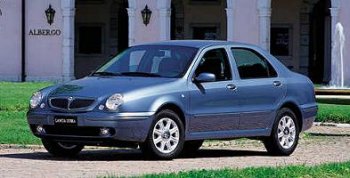 The pretty 'compact executive' segment Lancia Lybra was launched in September 1999 in sedan (top) and estate (above) formats to replace the incumbent Dedra model.

The pretty 'compact executive' segment Lancia Lybra was launched in September 1999 to replace the incumbent Dedra model. It used a heavily modified Alfa 156 floorpan, with a similar-style front suspension, but incorporated an all-new rear design which allowed a small amount of passive rear steer. The body was designed in house at the Centro Stile Lancia in Turin and was available in two shapes, a four door saloon or a five door estate (the 'Station Wagon', and called the SW).

The Lybra was built at Rivalta. Its visual appearance was regarded as being quite impressive for its day, and made use of soon-to-be-popular 'retro' cues. It was powered by either a 1910cc JTD turbo diesel (105bhp), a 2387cc JTD five cylinder turbo diesel (134bhp), a 16V 1581cc (103bhp) or a 16V 1747cc (130bhp) with variable valve timing. The standard transmission was a five speed manual unit, whilst a four speed automatic, known as the 'Comfortronic' could also be specified with the 2-litre engine.
Aimed at re-establishing Lancia as the luxury marque of the Fiat group, the Lybra was marketed and equipped with this in mind. Standard equipment at the launch included luxuries such as dual zone climate control, multifunction LCD display and a Bose Hi-Fi sound system (on the LX version). The suspension was designed to be less 'sporty' and more 'comfortable' than the 156, whilst the interior trim was plusher. Safety features included ABS, EBD, four airbags and seatbelt pre-tensioners. During its lifetime ever-more luxurious interiors and higher specifications were introduced, including the addition of the 2.4-litre turbodiesel in 150 bhp format, and the car was popular inside Italy and with Lancia enthusiasts. It ceased production early last year and wasn't replaced within the Lancia range. Still regarded as being reasonably modern and a genuine customer option in its segment, the Lybra's abrupt withdrawal from Lancia's range surprised some onlookers.