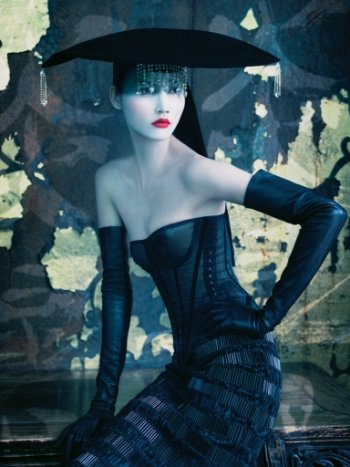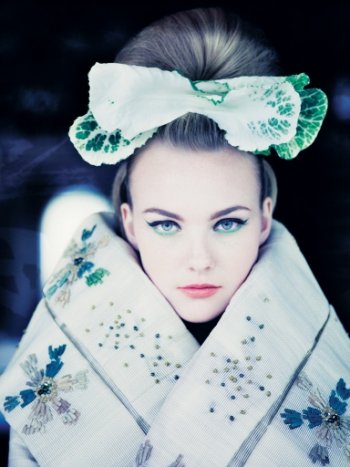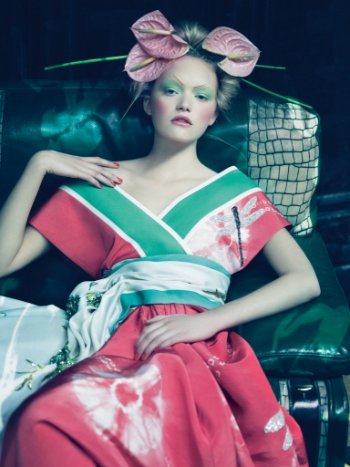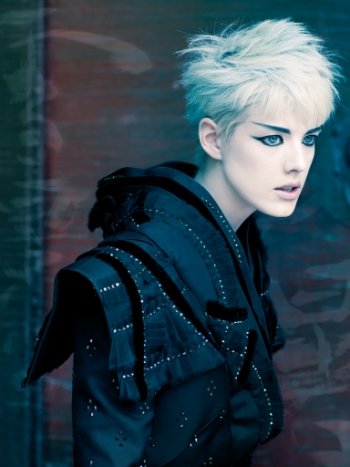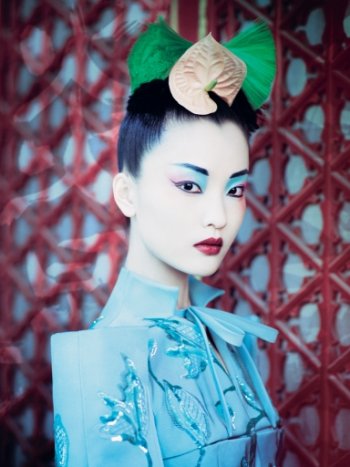 The thirty-fifth edition of "The Cal", the first ever realised in Asia, is an exceptional visiting card to bring the world of Pirelli to the public of the Orient; the 2008 Calendar is set entirely in Shanghai.
The thirty-fifth edition of "The Cal", the first ever realised in Asia, is an exceptional visiting card to bring the world of Pirelli to the public of the Orient.
The 2008 Calendar is set entirely in Shanghai: the picturesque streets of the old French Concession, the splendid gardens of the former British Legation, the mysterious and sensual atmosphere of forbidden China, the convulsive Nanjing Road and the characteristic tea houses constitute the background for the camera shots that will grace the coming months.
The twenty-three intense portraits (two for each month; August has just one) recount the pomp of ancient China, with its splendor and the colours in which the Oriental myth of female beauty – perfection, purity, grace - is searched out. "Very often I find Western people seem to go for the more cliché Chinese faces: long hair, slanted eyes. All that has changed I think. Many Chinese women are graceful; I think we have an inner grace that's more rare than you find in the West," affirmed Maggie Cheung, the well-known Chinese actress.
Patrick Demarchelier, the influential maestro of portrait photography, who for the second time authors the celebrated almanac (his first Pirelli Calendar was shot in 2005 in Rio de Janeiro, Brazil) said: "The casting was a fascinating mix between the West and the Orient: an interesting group of faces." Shooting last April kept eleven models and actresses occupied for ten days of intense work that involved a troupe of more than 40 people.
The leading ladies of this edition are rising stars such as Agyness Deane and Lily Donaldson (UK), Doutzen Kroes (the Netherlands), Catherine Mc Neil and Gemma Ward (Australia), Sasha Pivovarova (Russia), Coco Rocha (Ireland) and Caroline Trentini (Brazil). The Calendar also features Chinese beauties like Mo Wan Dan and Du Juan and one name in particular stands out: Maggie Cheung, the celebrated actress and Asian beauty, known internationally for her acting in Police Story (1985), Super Cop (1992), Actress (1992), Chinese Box (1997), In the Mood for Love (2000) Hero (2003).
The official unveiling of the new Calendar occurs just a few days after the opening of the second Pirelli tyre plant in the Shandong Province. China and the other Asian markets are, in fact, the new frontiers for international expansion of the Group, which is investing and growing in order to take advantage of the extraordinary business opportunities in the area.
"The Cal," which has always been an artistic synthesis bringing together innovation, respect for values, and tradition, also expresses Pirelli's capacity to adapt to and integrate different cultures while at the same time affirming the qualities and the glamour of what being Italian is all about.
In late November, the book "The Complete Works: The Pirelli Calendar 1964-2007," published by Mondadori, will be distributed in bookstores worldwide. The book represents an important international publishing event and involves seven foreign co-publishers (Flammarion for France, Schirmer & Mosel for Germany, Rizzoli USA for the US and Canada, Thames & Hudson for the United Kingdom, South Africa, Australia, and other world markets, Magma for Russia, Rebis for Poland, and Slovart for the Czech Republic). The book is the result of a long, meticulous project of research and recovery of original materials. From the sixties to today, the reader takes a passionate excursion through the evolution of fashion, trends, and customs of the last 40 years, in harmony with the evolution of the language of Pirelli's communication.
Patrick Demarchelier
Patrick Demarchelier's career began on his seventeenth birthday when his step-father gave him a gift that would change his life: a camera. Three years later at the age of twenty Patrick moved from a French Port called Le Havre to Paris. Patrick's photographic style caught the eye of Alexander Liberman, the creative director at Vogue. By 1974 Patrick was working for American Vogue and a year later he moved to New York where he has lived ever since.
Patrick has photographed stories for the world's top fashion publications including American Vogue, French Vogue, British Vogue, Harper's Bazaar, and Vanity Fair. He has covers to his credit that number in the thousands and recently completed a contract with Hearst Publications which lasted just over a decade. He is currently under contract with Conde Nast. When this contract was signed in May 2004, Patrick was very excited to be back at Conde Nast and remarked "It feels like coming home."
While Patrick's career in the fashion sphere of photography is certainly legendary, his fine art photographs have also gained him immense success and prestige. He held his first one-man show in 1996 at the famed SoHo gallery of Tony Shafrazi. He then went on to exhibit in another single-artist show at the Museum of Contemporary Art in Monterey Mexico in 1998, followed by another solo exhibition at the Italian Museum of Modern Art (PAC) in Milan in 2000. In 2001, he again exhibited at the Tony Shafrazi Gallery, and in 2005 held an exhibition at the Young Gallery in Belgium. Plans for future exhibitions are in the works for Moscow, Paris, London, and Brazil.
In 1989 Patrick Demarchelier became, by request, Her Royal Highness Princess Diana's official photographer. This was historic, as Patrick was the first non-Brit to photograph the royal family. This relationship lasted until her untimely death in 1997.
In addition to fashion and fine art, Patrick has shot some of the world's most memorable fashion and beauty campaigns, as well as commercials for clients such as Calvin Klein, Ralph Lauren, Versace, Chanel, Louis Vuitton, Revlon, Maybelline, Ann Taylor, Armani, Carolina Herrera, Elizabeth Arden, Lancome, Tommy Hilfiger, BCBG, and Guerlain.
He has additionally been commissioned to shoot publicity campaigns and posters for many of Hollywood's best known titles, "James Bond: Die Another Day," "Coyote Ugly," "Sex and the City," "Bullworth," "Extreme Measures," "A Love Affair," "Serving Sara," "Far & Away," "Mad Dog and Glory," "Bugsy," "Dick Tracy," "Love Field," "She Devil," "Lemon Sisters," "Listen Up Now," "Mystic Pizza," "Baby Boom," "Something Wild," "Ishtar," "Roll-Over," "The Believers," "Reds," "Wet Gold," "Staying Alive," "Blow Out," "Endless Love," "Blue Lagoon," and the classic documentary biography of Quincy Jones.
Several of the world's top musical performers have also trusted Patrick to create the images seen on the covers of their albums. The exclusive list includes Elton John, Celine Dion, Britney Spears, Janet Jackson's "Janet," and Mariah Carey for both "Butterfly" and "Emotions". Billy Joel also sought Patrick to shoot the cover of "River of Dreams" and his "Greatest Hits." He also created the memorable covers for Madonna's "Bedtime Stories" and "I'm Breathless." Patrick also shot, for the legendary Quincy Jones, the cover for "Listen Up Now."
Still residing in New York, with his wife and three sons, Patrick Demarchelier continues to create images that keep him positioned at the very top of his field.
Maggie Cheung
One of the world's most admired and respected actresses, Maggie Cheung's remarkable talent has allowed her to transcend the Hong Kong film industry and become a major figure in international cinema.
Her first recognition as a powerful dramatic actress came when Wong Kar-Wai cast her in the 1988 crime drama, "As Tears Go By." That success led to another acclaimed collaboration with Wong Kar-Wai in 1994's "Ashes of Time." She broke through to an international audience in 1996 in Olivier Assayas' "Irma Vep." A year later, she starred in her first English language film, Wayne Wang's "Chinese Box," and in the romantic comedy, "Comrades, Almost a Love Story," playing one of a pair of lovers kept apart by fate for ten years. In 2000, Cheung was once again Wong Kar-Wai's muse, earning rapturous worldwide reviews in the international hit, "In the Mood for Love." Her next film, Zhang Yimou's "Hero", was a major crowd-pleaser and another worldwide success. The crowning moment of her career to date followed with an extraordinary performance in Assayas' "Clean", for which she was named best actress at the 2004 Cannes Film Festival.
Agyness Deane
Born in Manchester, England and now living in New York City, Agyness entered the fashion business with the grace of a seasoned performer. A fresh British face with a strong personal style and a musical influence, she made a name for herself quickly. She has shot with such famed photographers as Steven Meisel, Mario Testino, Bruce Weber, Dan Jackson, Nick Knight, Patrick Demarchelier, and Mert Alas and Marcus Piggott; for such publications as American, Italian, British, Japanese Vogue and Pop magazine.
Agyness appeared on the November 2006 cover of Italian Vogue with an inside story as well, both shot by Steven Meisel, and on the June 2007 cover of British Vogue shot by Nick Knight. Agyness is one of the ten models on the May 2007 cover of American Vogue, crowning her one of "The World's Next Top Models" shot by Steven Meisel.
Her show roster is just as impressive with Anna Sui, Marc by Marc Jacobs, Michael Kors, Zac Posen, Proenza Schouler, Narcisco Rodriguez, Luella Bartley, DKNY, Miss Sixty, Giles Deacon, Dolce & Gabbana, Versace, Alberta Ferreti, Belstaff, Jean Paul Gaultier, Chanel, Christian Dior, Karl Lagerfeld, John Galliano, Lanvin, and Hermes. She has been the face of Armani, for fashion and accessories, for two seasons, shot by Mert Alas and Marcus Piggott, Mulberry with Steven Meisel, and Galliano shot by Julien D'Ys as well as for the Burberry campaign with Mario Testino. Agyness was the only model highlighted in the 2007 CFDA designer nominee film shot by Nick Knight and whilst shooting it was broadcast live on showstudio.com.
Lily Donaldson
Lily Donaldson hails from London, England. She was spotted by a model scout while shopping with friends in Camden Market at the age of 16. Lily made her British Vogue Debut in 2004, shot by Mario Testino. She has worked with top photographers including Steven Meisel, Michael Thompson, Mario Testino, Patrick Demarchelier, Craig McDean, Terry Richardson, Solve Sundsbo, Inez and Vinoodh, and Steven Klein.
Lily has graced the covers of Numero, I-D, Vogue (Italian, Chinese, and Japanese) and was recently featured on the cover of American Vogue as one of the world's next top models. She has recently walked the runway for designers such as J. Mendel, Zach Posen, Yves Saint Laurent, Louis Vuitton, Givenchy, Calvin Klein, Anna Sui, Derek Lam, Marc Jacobs, Oscar De La Rental, Chanel, Carolina Herrera, Valentino, Donna Karin and Ralph Lauren. Her top advertisement campaigns include Dolce and Gabbana, Dior, Miss Dior Cherie, Mulberry, and Jill Sander. She can currently be seen in the advertisements for Burberry and Max Mara. She was nominated for Model of the Year at the British Fashion Awards in 2005.
Du Juan
Du Juan, whose name has two meanings (the Azalea flower and the Cuckoo bird), was the first Asian model to grace the cover of French Vogue. Du Juan studied dance and traditional opera at the prestigious Shanghai Dance School from the age of eight. When she grew too tall for ballet she entered a national modelling competition where she took the top prize. Soon after she was awarded "Model of the Year" at the 2004 China Fashion Awards and named "China's Top 10 Model" by the China Fashion Federation. Shanghai Tang, the first Chinese global luxury brand and Lane Crawford, Asia's premier luxury retail giant, both signed her on for their advertising campaigns and since 2005 she has been a quality ambassador for Perles de Tahiti.
Du Juan debuted at the Spring 2006 Haute Couture shows in Paris where she walked for top design houses – Chanel, Valentino, Givenchy, Jean Paul Gaultier and Anne Valerie Hash. She has worked with renowned photographers such as Peter Lindbergh, Patrick Demarchelier, Mario Testino, Mert and Marcus, David Sims, Paolo Roversi, Mario Sorrenti, Karl Lagerfeld, Juergen Teller and Craig McDean. She is also featured regularly in such influential magazines as French Vogue, Italian Vogue, W and Allure. Du Juan features frequently in China Vogue, with three covers including the inaugural issue and at least one major fashion editorial in every single issue since the launch of the magazine in September 2005.
In the Fall of 2006 she walked down 43 runways for top brands such as Louis Vuitton, Yves Saint Laurent, Roberto Cavalli, Hermes, Kenzo, Bottega Veneta, Emmanuel Ungaro, Dries Van Noten, Oscar De La Renta and Bagley Miswchka. Style.com named her one of its top ten models of the season. She has appeared in global advertising campaigns for five major international brands – Louis Vuitton, Yves Saint Laurent, Roberto Cavalli, Gap and Swarovski.
Doutzen Kroes
Doutzen grew up in a rural Dutch village of just over 1500 people. The elder of two sisters who would ride their bikes 2 hours to and from school daily, she randomly sent pictures to a modelling agency hoping to make some extra pocket money. The agency immediately signed her on, and she began modelling as a weekend and holiday part-time job.
After completing her studies and moving to New York City to pursue a modelling career full time, Doutzen began appearing on the runways in New York, London, Paris and Milan. She has been featured on the covers of Italian, German and Japanese Vogue, Numero, Dazed and Confused, while working consistently with the industry's top photographers including Steven Meisel, Inez Van Lamsweerde and Vinoodh Matadin, Patrick Demarchelier, Craig McDean, Glen Luchford, Daniel Jackson, Solve Sundsbo and Terry Tsiolis. Doutzen has shot campaigns for Valentino, Calvin Klein, Dolce & Gabbana, Calvin Klein's fragrance Eternity and is under contract with L'Oreal. She is also involved with non-profit work, most notably with the World Wildlife Fund, and hopes to work with humanitarian causes in the future.
Catherine McNeil
Brisbane-born Catherine McNeil won the Australian Girlfriend/CoverGirl model search in 2003 at age 14 and then worked for three years in Australia before being sent by a Paris agency to meet photographer Mario Testino. Testino signed her on to an exclusive six-month contract and photographed her for British and French Vogue. Then in 2007 she appeared on the summer cover of V magazine, which voted her the next supermodel to watch. She appeared in the Dolce & Gabbana pre-fall campaign and was the face of the fall Hugo Boss and Donna Karan campaigns. She appeared in the fall Versace campaign alongside Kate Moss, and then opened the fall Alexander McQueen, Alessandro Dell'Acqua, Givenchy, and Missoni shows in Paris and Milan.
In March 2007 the New York Times published an article about her: "Fashion's Latest Crush". In June she appeared on the cover of French Vogue, and in September she was named one of British Vogue's Head Girls, the models to watch for in the upcoming season. She opened the Carolina Herrera, Zac Posen, Thakoon and Preen spring shows in New York, and closed the Christian Dior show in Paris.
Mo Wandan
Mo Wandan was born in Guangdong Province, China. She trained at an athletic school in track and field, encouraged due to her height, but had to quit after injuring her leg. She participated in the China Model Star Contest in 2004, won, and was quickly signed on by a top agency. Within a year she was appearing in Elle, Marie-Claire, Moderne, Harper's Bazaar, and Vogue. In 2006 Mo won the Leika prize, making her the leading Chinese model, and was invited to participate in Milan and Paris fashion shows. Mo has walked the runway for Dior, Armani, and Krizia and opened the Roccobarocco show in Milan. She posed for fashion magazine French wearing John Galliano. She is considered a rising star in Europe.
Sasha Pivovarova
Sasha Pivovarova was born in Moscow and studied art and art history at the University of Moscow and the St Petersburg New Academy of Fine Art. She began modelling in February 2005 when a photographer friend from New York City introduced her to IMG. Two weeks later she opened for the Prada show in Milan, and within a year had appeared on two Italian Vogue covers. She has appeared in American Vogue, Italian Vogue, French Vogue, British Vogue, Japanese Vogue, Chinese Vogue, W, V Magazine, POP and Numero. She has worked with such renowned photographers as Steven Meisel, Peter Lindbergh, Michael Thompson, Mario Sorrenti, Nathaniel Goldberg, Craig McDean, Glen Lutchford, Greg Kadel, Willy Van Der Peter and Paolo Roversi.
Sasha maintains one of the longest running Prada exclusives, going on 5 seasons, and is also the face of Armani cosmetics. Sasha has walked the runway for top designers, including Prada, Gucci, Chanel, Alexander McQueen, Christian Dior, Calvin Klein, Donna Karan, Louis Vuitton, Marc Jacobs, Ralph Lauren, Chloe, Valentino, Givenchy, Jean Paul Gaultier, Miu Miu, Hermes, Kenzo, Victor and Rolf, Dolce and Gabbana, Balenciaga, Zac Pozen, Fendi and Yohji Yamamoto. Sasha continues to sketch and paint, and her work has been featured in French Vogue among other high calibre editorial magazines.
Coco Rocha
Coco Rocha is a professional Canadian Irish dancer turned supermodel. After years of practising and performing, Coco's world changed when a model scout approached her at a competition. Coco came to New York and met world-renowned photographer Steven Meisel, who booked her for the March 2006 issue of Vogue Italia. Coco landed the March 2006 cover and there began her start into fashion history. Coco has appeared on the runways for Marc Jacobs, Versace, Prada, Miu Miu, Louis Vuitton, Anna Sui, Dolce & Gabbana, Chanel, Balenciaga and countless others. Coco opened the fall 2007 Jean Paul Gaultier show by performing an Irish dance down the runway. She has appeared in top fashion magazines such as Vogue (US, Paris, Italia, Nkppon, British and Korea), Harper's Bazaar, W, Numero, Another, V, ID and Dazed and Confused and has worked with leading photographers such as David Sims, Craig McDean, Greg Kadel, Patrick Demarchelier, Mario Sorrenti, Inez & Vinoodh, Arthur Elgort, Nick Knight and Peter Lindbergh. She also appeared on the cover of the 2006 TIME Style&Design issue with Du Juan. A resident of New York City, Coco spends her free time with her family, volunteering for charities such as the Children's Aid Society and Irish dancing.
Caroline Trentini
Caroline Trentini is a Brazilian model of Italian and German descent. At the tender age of thirteen, the blond-haired, green-eyed beauty was discovered and soon she moved to Sao Paulo, the common destination for young Brazilian models. Her breakthrough came when Marc Jacobs cast her in his "Marc" by Marc Jacobs ad campaign. In 2004 she was photographed topless by Steven Klein (surrounded by meat), for a US Vogue magazine editorial and became a vegetarian thereafter. She has appeared on the covers of Elle, Harper's Bazaar and Vogue, and is the face of Gucci Cruise and Oscar de la Renta. She has walked the runway for Valentino, Versace, Chanel, Christian Dior, Oscar de la Renta, Ralph Lauren, Calvin Klein and Dolce & Gabbana, among others.
Gemma Ward
Gemma Ward was born and raised in Perth, Australia, daughter of a doctor and a nurse. Gemma was first discovered while accompanying a friend to a modelling contest. The judges asked her to enter and shortly after that she was signed on by a local agency in her hometown where she began her stellar modelling career.
Gemma's big break came when she was sent to casting director Russell Marsh, who booked her to appear in Prada's Spring 2002 runway show in Milan. Then came her first two major advertising campaigns, shooting Versus with photographer Steven Meisel and Jill Stuart with Mario Sorrenti. Since them Gemma has appeared in campaigns for Jil Sander,Y-3, Yhoji Yamamoto, Balenciaga, Yves Saint Laurent, Valentino, Calvin Klein, Burberry, Dolce and Gabbana, Karl Lagerfeld and two seasons in a row for Prada. She can currently be seen in campaigns for Dior, Louis Vuitton and Karl Lagerfeld. Gemma was recently the face of Calvin Klein's fragrance Obsession Night and can currently be seen in Kose Cosmetic ads. In addition, Gemma is featured in the most recent Swarovski jewellry campaign.
Top fashion magazines feature Gemma on a regular basis. She has appeared on the covers and inside pages of Vogue (Italian, British, French, Australian and Japanese), W, Time, i-D, Numero, Harper's Bazaar and PoP. Gemma has also worked with the industries' most renowned photographers including Mario Sorrenti, Nick Knight, Craig Mcdean, Annie Leibovitz, Irving Penn, Paolo Roversi, Inez & Vinoodh, Steven Meisel and Patrick Demarchelier. In addition to Gemma's modelling success she was featured in singer John Mayer's music video, "Daughters". More recently Gemma made her feature debut opposite Liv Tyler in the suspense thriller "The Stranger". Gemma just finished shooting "Black Balloon", a heart-warming drama starring Toni Collete.