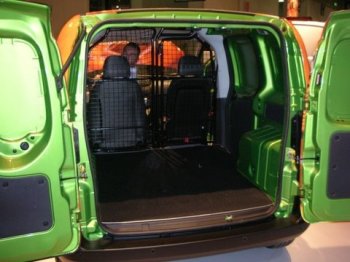 First presented last month at Transpotec in Milan (above), and again last week at the Commercial Vehicle Show in Amsterdam, was the new Fiat Fiorino.
First presented last month at Transpotec in Milan, and again last week at the Commercial Vehicle Show in Amsterdam was the new Fiat Fiorino; and for the first time in Fiat's automotive history, an electric version, developed by Micro-Vett, was launched simultaneously with the endothermic version.
Fiat Research Centre actually asked Micro-Vett to take charge of the electrification process of the Fiorino range. Micro-Vett already realises the electric-powered Fiat DoblÚ, distributed by Newteon. However this new commercial vehicle is more compact than the DoblÚ and offers remarkable performance during urban use. The motor of the Fiorino has a power of 30kW and ensures excellent performance: 0 to 50 km/h within 7 seconds and a top speed of 80 km/h. The lithium batteries guarantee a 100 km range and are rechargeable within three hours. The Fiorino also offers a class-leading payload volume of 2.5 m3.
The Electric Fiorino is the ideal vehicle for public and private fleets, service companies working in areas such as congested city centres or hospitals. The new Fiorino will be distributed in Italy at the end of the year, available in ten different colours and nine configurations. The launch in France is scheduled for February 2008.
Newteon
Thanks to a wide range of "clean" vehicles, Newteon offers dependable solutions for sustainable mobility. Professionalism, innovation, passion for environment and commitment, Newteon is a pioneering company in the ecological vehicle market. Newteon's mission is to encourage the spread of ecological transportation solutions in Europe and worldwide.
Newteon proposes a complete range of eco-friendly - electric and hybrid - vehicles (including Iveco, Piaggio, Fiat and Isuzu) and is the exclusive distributor of. With over 20 years of experience, Micro-Vett is currently the leading electric car manufacturer in Europe and has more than 4,000 vehicles running every day for customers such as Disneyland Paris, DHL, the Italian Post, the Cities of Rome, Oslo and Stockholm. Impressed by Newteon's dynamism and professionalism, Piaggio asked Newteon to distribute their range of electric Light Transportation Vehicles. The high-performance products distributed by Newteon are reliable, competitive and are without equal on today's market.

Newteon is the first European distribution network of eco-friendly vehicles. Its network is made up of professionals from the automotive industry that are convinced by the potential of the EV market and the necessity to promote alternative transportation solutions. Furthermore, in order to provide top level after-sales service, its distributors have technical expertise in automotive electrical systems. Facing increasing demand, Newteon is now looking for distributors throughout Europe.

Newteon range
Leader of its environmentally-friendly range is the Fiat DoblÚ. Thanks to its loading capacity, its ergonomic design and exceptional performances, the Electric Fiat DoblÚ is the ideal vehicle for public administrations, small businesses, service companies and self-employed craftsmen. The Electric Piaggio Porter, reliable and ecologic, with reduced dimensions but excellent loading capacity. It is especially designed for urban areas, tourist towns, in fact anywhere, where silence and zero gas emission are required.
The Electric Iveco Daily is the ideal solution for mobility within urban areas. Silent and clean, it combines traditional versatility and the reliability of its advanced electric traction with lithium-ion batteries. The Electric Iveco Daily has low energy consumption and no emissions. The Hybrid Iveco Daily is a commercial vehicle with parallel power systems: electric for downtown and diesel for motorway or highways. Changing from one power system to the other is done at the push of a button and the batteries are charged while running on diesel. The Electric Isuzu is conceived to guarantee maximum flexibility and affordability in urban context or wherever a particular attention toward environment is necessary. Silent and clean, it offers high performances in payload and range and a high level of quality, comfort and safety.
Electric Ydea is a clean and reliable car with a high equipment level and an outstanding range. Agile and handy, Ydea is the ideal solution for cities and historical areas, anywhere where silence and cleanliness are
required. Thanks to the latest energy management technologies, the Electric Albatros offers an amazing performance package: a range of up to 250 kms (156 miles), up to 40 passengers and gradients of up to 25 percent.