General Motors Corp. announced today it has reached a joint-venture agreement with Penske Corporation to purchase 50-percent equity of VM Motori S.p.A., the designer and manufacturer of diesel engines based in Cento, Italy. This investment builds on GM's existing relationship with VM Motori, GM's expertise in GM Powertrain Europe, headquartered in Turin, Italy, and its strong relationship with Isuzu.
"Diesel engines have a very important role in GM's global advanced propulsion strategy," said Tom Stephens, group vice president, GM Global Powertrain and Quality. "We are leveraging expertise and resources within our company and through technology partners to ensure we develop the world's best powertrains."
GM announced at the Geneva Motor Show that it will joint develop a new 2.9L V6 turbo diesel engine with VM Motori that is scheduled to launch in the Cadillac CTS in Europe in 2009. GM Powertrain Europe will focus on the development of the first industry application of a clean combustion process called closed-loop combustion control, electronic engine control and exhaust-gas aftertreatment, as well as calibration and integration into GM vehicles. VM Motori plans to build the new unit at its plant in Cento, Italy, and is responsible for the mechanical aspects of the engine's design, development and testing.
Penske Corporation, based in Bloomfield, Mich., is a transportation services company that encompasses retail automotive sales and services, truck leasing, supply chain logistics management, transportation components manufacturing, and high-performance racing.
VM Motori was founded in 1947 in Cento (Italy) and specialized in the design and development of diesel engines for agricultural, industrial and marine applications. From the end of the '70s, thanks to the adoption of particularly innovative technical solutions, VM entered the automotive diesel market rapidly becoming a leading company in the sector. In 2007, VM will manufacture some 96,000 engines, 80% of which are for export to automotive customers, giving a sales turnover of 400 million euros. The Company pays particular attention to Research and Development of the most advanced technical solutions investing 7% of its turnover.

GM announced at the Geneva Motor Show that it will joint develop a new 2.9L V6 turbo diesel engine with VM Motori that is scheduled to launch in the Cadillac CTS in Europe in 2009.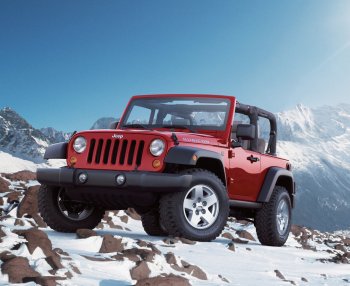 The new Jeep Wrangler, equipped with a powerful 177 CV turbo diesel produced by VM Motori at its plant in Cento, recently passed a very tough and selective challenge with flying colours. The 2.8-litre engine can be combined with a 6-speed automatic or a 5-speed manual transmission.

"VM looks with keen interest at the new company structure," says Vilmo Ferioli, Vice President and CEO, "This joint-venture builds on the important experience that Penske brought to VM in 1995. The entry as a shareholder in our Company structure of an entity such as GM, the global automotive manufacturer leader, with its dimensions and worldwide market presence, will give VM ready access to new methodologies thus further improving technology innovation, product quality and investments. Most of all, this will ensure the Company future growth. The VM and GM relationship," says Mr. Ferioli, "started 10 years ago, with the supply agreement of engines for the Opel Frontera. The collaboration grew with time and a strong partnership was created, including a technology transfer agreement with GM Daewoo, and ultimately had led to the joint development of the new 2.9L V-6 engine with GM.

GM currently offers 17 diesel engine variants in 45 vehicle lines around the world. GM sells more than 1 million diesel engines annually, with products that offer a range of choices form the 1.3L four-cylinder diesel engine sold in the Opel Agila and Corsa, up to the 6.6L V-8 Duramax diesel sold in full-size vans, heavy duty pick-ups and medium duty tracks in the
General Motors, the world's largest automaker, has been the annual global industry sales leader for 76 years. Founded in 1908, GM employs about 280,000 people around the world. With global headquarters in Detroit, GM manufactures its cars and trucks in 33 countries. In 2006, nearly 9.1 million GM cars and trucks were sold globally under the following brands: Buick, Cadillac, Chevrolet, GMC, GM Daewoo, Holden, HUMMER, Opel, Pontiac, Saab, Saturn and Vauxhall. GM's OnStar subsidiary is the industry leader in vehicle safety, security and information services.