25.10.2008 ALFA ROMEO'S UNITED STATES RELAUNCH PUT ON ICE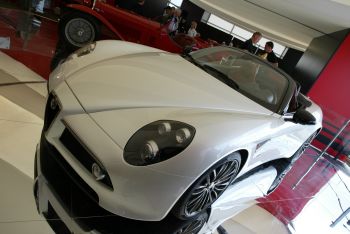 Alfa Romeo's ambitious plans to re-launch in the United States have been put on ice while the executives of regions bidding to host the proposed new manufacturing facility have been told that the selection process has been postponed.
Alfa Romeo's ambitious plans to re-launch itself in the United States have been put on ice according to reports emanating stateside this week. And according to several media sources, executives in regions bidding to host the proposed new car factory have also been told that the selection process has been frozen until next summer.

Re-launching the Alfa Romeo brand in North America was always going to be a huge project and building cars in the region was judged the only possible way of achieving profits per unit due to the unfavourable exchange rate between the dollar and euro. The delayed re-launch was scheduled for next year, with local manufactured cars coming on stream in 2011 or 2012.

A number of options were examined as Fiat Group looked towards obtaining a North American production facility. Fiat CEO Sergio Marchionne discussed acquiring a disused factory or entering into a contract manufacturing agreement with the Detroit 'Big Three': General Motors, Chrysler and Ford. Talks evolved with Chrysler in particular as its majority shareholder Cerebus cast around for ways to stem collapsing production and its mounting cash burn. Most recently Cerebus has been locked in rescue talks with GM and Renault-Nissan. Another option at one point considered by Marchionne was to use a facility belonging to the Groups CNH Global, agricultural and construction equipment, division.

The Canadian province of Ontario was initially regarded as one of the favourite locations to land the proposed factory with state Premier Dalton McGuinty visiting Turin as the region pushed hard to replace the automotive industry manufacturing jobs lost in the state recent years. He is believed to have offered around 300 million euros in incentives; the project envisions investment of 1 billion euros and will result in the creation of 2,000 direct jobs. Fiat has also examined several other potential locations in the United States and Mexico and come up with a final shortlist of three, although Ontario is believed to have now slipped out of the picture.

The financial crisis that has engulfed the United States since the summer has sharply changed the overall economic picture and manufacturing in North America has become less feasible. Fiat Group has this week warned of tough times ahead for its own core operations. In its third quarter financial report issued on Thursday it warned that in a worst case scenario sales next year could slump by 10 to 20 percent.

Alfa Romeo has already taken tentative steps to get the re-launch of the brand in the United States underway. A number of units of the limited edition Alfa 8C Competizione sports car have been sold through the Maserati dealer network this year, and an agreement has been signed with BMW allowing it to sell the new Alfa MiTo through selected mini showrooms.

© 2008 Interfuture Media/Italiaspeed