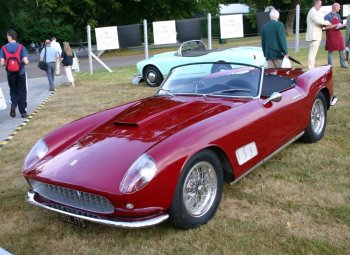 This 1959 Ferrari GT Spyder California was entered by David Callaghan at the Goodwood Festival of Speed in 2006; two examples of the very rare model will headline the RM Auction at Maranello on 18th May.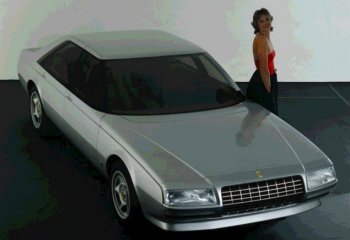 The unique Ferrari 'Pinin' prototype was unveiled by Sergio Pininfarina at the Turin Motor Show in 1980 and celebrated the firm's 50th anniversary. The first four door Ferrari concept and also the first Prancing Horse badged car to feature a front mounted 5.0-litre Flat-12 engine, it was designed by Leonardo Fioravanti and dubbed the 'Pinin' in honour of Sergio's father, the company founder, Battista 'Pinin' Farina.
RM Auctions, in association with Sotheby's, announces its next sale of historic Ferraris and Maseratis in Maranello, Italy. Following two hugely successful European sales in 2007, the auction to be held on May 18, 2008, promises an exciting inventory of motor cars, headlined by a pair of ultra-rare Ferrari 250 California Spyders, and a selection of important memorabilia from Jacques Swaters' private Ferrari Francorchamps collection, including a 1980 Ferrari "Pinin" prototype, the only four-door Ferrari ever built.

The focus of the collector car world will return to Maranello, Italy in May 2008 as RM Auctions, in association with Sotheby's, host their second annual "Leggenda e Passione" auction event.

The much-anticipated sale, scheduled for May 18, marks the auction house's third European event, following a record-breaking start in Maranello last year, and more recently, a high-profile sale in London, England where some 50 automobiles from the esteemed Bernie Ecclestone Collection, along with two other highly important European Collections went under the hammer.

"RM has established a name for itself as the world's premier seller of high quality automobiles," says Rob Myers, founder of RM Auctions. "RM has an unrivalled position in North America, and with the London auction selling an astounding £18.5 million GBP worth of motor cars, and our last Maranello sale achieving €34 million, we have firmly placed our stamp on the European market.

"Over the last three decades, RM has built a reputation for unparalleled quality, and global buyers and sellers alike are increasingly turning to us as their auction house of choice."

The stars of the forthcoming May sale are two rare and ultra-desirable Ferrari 250 California Spyders. Regarded as one of the most valuable of all the road-going Ferrari models, less than 100 California Spyders were produced between 1957 and 1962 in a variety of specifications. The examples on offer – a 1958 LWB covered headlamp version (s/n 0923GT) finished in classic Rosso red, and a 1961 SWB version (s/n 2377GT) with coachwork finished in original Nero black – are estimated to achieve values in the region of $4,000,000 - $6,000,000 USD.
One of the earliest of only 50 long wheelbase California Spyders built, 0923GT was third off the line at the Maranello factory in July 1958 and delivered new to Johnny Von Neumann's dealership in Hollywood, California. For more than 40 years it resided on the West Coast, changing hands several times before eventually ending up with a prominent British collector in 1999. The 1961 SWB version was once owned by Academy Award winning actor, James Coburn, whose passion for high-performance sports cars was shared by fellow Hollywood actors and Ferrari owners, Steve McQueen and James Garner. The car has been meticulously maintained over its known ownership and includes extensive documentation relating to its restoration and maintenance.

The sale will also cater for enthusiasts of Ferrari's more recent cars, with at least one iconic Ferrari Enzo to be featured in the auction line up. The 2003 example is one of only 399 examples produced of the 660bhp V12-engined supercars.

Also confirmed for the May 2008 auction is one of the world's most important Ferrari memorabilia collections - the Ferrari Francorchamps Collection, to be offered directly, without reserve, from Jacques Swaters, the renowned ex Ferrari team manager and importer. The May sale marks the first time the collection has been offered, presenting Ferrari aficionados a unique opportunity to purchase a part of automotive history. One of the highlights of the collection is the only four-door Ferrari ever produced – the prototype 1980 Ferrari Pinin, which made its debut at the 1980 Turin Motor Show. A unique car, not only in its conception but also in Ferrari history, its sale is certain to attract the interest of discerning collectors worldwide.

RM Auctions, Inc.

Celebrating nearly 30 years in the collector car industry, North American-based RM Auctions Inc. and its associated companies are responsible for acquisitions, restorations and sales of the world's rarest and most valuable vintage automobiles, including record-breaking sales in Maranello, Italy and London, England. RM's restoration division achieved unprecedented accolades in 2006, when they earned "Best of Show" honours at the world's top three collector car events in a single year.

Sotheby's

Sotheby's is the parent company of Sotheby's worldwide auction, private sales and art-related financing activities. The Company operates in 34 countries, with principal salerooms located in New York and London. The Company also regularly conducts auctions in 14 other salerooms around the world, including Australia, Hong Kong, France, Italy, the Netherlands, Switzerland and Singapore. Sotheby's Holdings, Inc. is listed on the New York Stock Exchange under the symbol BID.