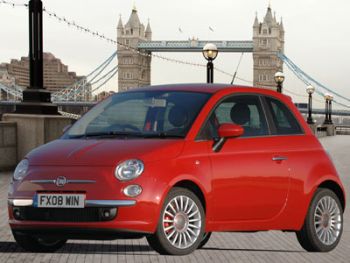 Fiat is celebrating again, having scooped yet another industry award for its supermini as the has just been crowned Best City Car in the 2008 Auto Express New Car Honours, ending a four year winning run in this category for the Panda.
Fiat is celebrating again, having scooped yet another highly important industry award for its iconic 500 supermini.
The Fiat 500 which was launched earlier this year, has just been crowned Best City Car in the 2008 Auto Express New Car Honours. In doing so, the 500 brings to an end an incredible run for the Fiat Panda, which took the magazine's City Car title for four consecutive years. The award-winning Fiat 500 is currently Car of the Year 2008 and has won a host of other accolades including CAR Magazine Car of the Year, Fifth Gear SmallCar of the Year, EuroCarBody 2007 and Auto Europa 2008.
Commenting on this latest honour, Auto Express says: "Reinventing a legend is never easy – but that is exactly what Fiat has achieved with its new 500. In a class that's now bigger than ever, the Italian star has proved itself a real winner. We define a city car as any model that has the compact dimensions and tempting price to make it perfect for urban living. Cars that have been designed with tight high street parking spaces and city centres in mind were in with a shout, so the 500 had to beat everything from smart's fortwo to Renault's Twingo.
"So what makes the Fiat so special? In a similar vein to the MINI, the 500 manages to capture the spirit of a legend without coming across as forced or tacky. Its low prices go hand in hand with the great looking exterior and interior styling to create an irresistible package.
"And the worst news for rivals is that this is only the beginning for the 500. There are technical innovations such as an ultra-efficient two-cylinder engine waiting in the wings, while the Abarth sporting brand will bring hot hatch performance to the Fiat at the end of the year. Looking further ahead, the Italian firm will also launch an estate version to rival the MINI Clubman as well as a 500 convertible. By keeping the style and spirit of the original, but adding refinement, versatility and luxury, Fiat has built a car that we will be talking about for decades to come… just like its predecessor!"
Elena Bernardelli, marketing director, Fiat UK adds: "This is yet another example of the fans the Fiat 500 is winning among the UK's leading commentators and journalists, and I am delighted to say that that same confidence in the product is being shown by customers too.
"To date we have sold or taken orders for more than 11,000 Fiat 500s in the UK and there are a lot more to come yet. We are delighted with Auto Express's choice of Best City Car for 2008 and look forward to many more important awards like this one for the 500."
Available with a choice of three frugal, ultra-low emissions, Euro 5-ready engines: 69 bhp 1.2-litre and 100 bhp 1.4-litre petrol, or 75 bhp 1.3-litre MultiJet turbodiesel, the new Fiat 500 can be ordered in three different trim levels – Pop, Sport and Lounge.
With a starting price of just £8,100, the new Fiat 500 represents outstanding value for money and positions the car well below its benchmark rivals. At the top end of the range, a highly specified version with a larger engine costs only £10,900 – a price that includes air conditioning and alloy wheels as standard.