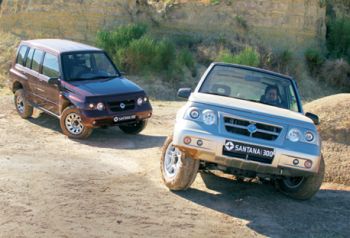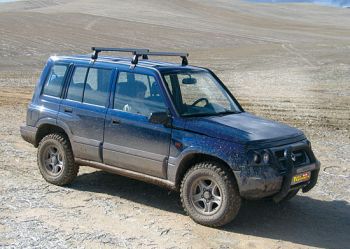 Santana Motor currently builds three models, its long-running Anibal P-10 (middle), based on the Land Rover Defender, and the Suzuki Vitara, based 300/350 (top and bottom).
Iveco has signed an option to buy Santana Motor, the struggling Spanish manufacturer of SUVs that builds the Massif and Campagnola on behalf of the Fiat Group's trucks division. "We have a call option to buy Santana and, if the Massif and the Campagnola live up to our expectations, we could exercise it," Iveco CEO Paolo Monferino revealed to Automotive News Europe during the launch of the new Iveco Campagnola.
Iveco chose Santana Motor when it was looking to plug a glaring gap in its commercial range and signed a letter of intent with the Spanish company in May 2006. The Iveco Massif, which is based on Santana's long-running Anibal (PS-10) model was the result of the collaboration, and Iveco also provides engines and technology for the company's own versions from a previous agreement.
The venerable Anibal PS-10 was originally based on the Land Rover Defender, and Iveco was also swayed by the range of specialist versions available on the tough Spanish SUV's base (including vehicles ambulance, military, firefighting, open jeep and forestry use) that will slot neatly into the truck maker's large portfolio of niche vehicles. The Massif has now spawned the short-wheel-base Campagnola. Both vehicles have been given a makeover by Giorgetto Giugiaro.
Santana Motor is owned by the Spanish government, which is reportedly keen to sell the firm that is based in the city of Linares, in the Anadlusian region of Jaen, providing jobs are safeguarded. The company, which started life in 1955 manufacturing agricultural equipment and gearboxes under the name Metalurgica de Santa Ana, S.A., has struggled for many years and today builds just three models, the Anibal PS-10, its self-developed version of the Land Rover Defender which went back into production in 1999, (Santana built more than 300,000 examples of the Defender on-and-off from 1958 to 1985 although the licensing ran out in 1983), as well as Suzuki's Vitara and Jimny jeeps under licence; the former which is branded as the Santana 300 (3-dr) and 350 (5-dr). It's agreement with Suzuki stretches back to the mid-1980s and the Japanese firm bought a 49 pct stake in 1991.
The Spanish firm's relationship with Iveco goes back to 1999 when it secured the Italian firm's 2.8-litre diesel engine to power the Anibal PS-10, and its recent deal to build the Massif and Campagnola is born out of that arrangement. The attraction of acquiring Santana Motor is that Fiat has no factory equipped to build heavy-duty SUVs, and the call option gives Fiat the right to purchase the Spanish company for a specific price up to 2010. Monferino didn't reveal the agreed price.