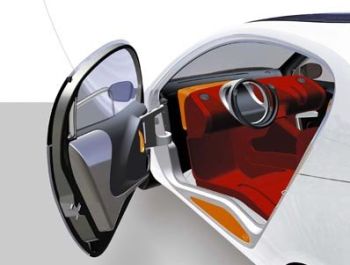 Pininfarina will launch its new electric car in India by 2014, company CEO Andrea Pininfarina told reporters on a visit to the country last week; Pininfarina has a growing involvement in India including a new business venture with Tata Motors. Image: Pininfarina Nido concept city car.
Italian design house Pininfarina, known for designing Ferrari, has said it will introduce an electric car in the Indian market by 2014. The company would launch an electric car, exclusively for the European market, by 2010. The designing of the car is currently being carried out in its Italian facility.
"After the launch of the electric car in the European market, it will be marketed in the US. Then we will evaluate the demand for the car from other markets too, including India, and will launch accordingly," Pininfarina SpA Chairman and Managing Director Andrea Pininfarina told reporters in India.
Asked when the car would hit the Indian roads, he said the company would introduce it in other countries, including India, after achieving a sales target of 15,000 units by 2014 in the European and US markets. "It (the launch) can be before 2014 also. As soon as we achieve our target of selling 15,000 units of the electric car, we will evaluate other potential markets, including India," Pininfarina said.
The car would be fully battery operated and would run 250 km in one charge, he added. "The concept model of the electric car would be showcased in Paris Auto Show in September this year," Pininfarina said. The Italian firm has also tied up with Tata Motors to set up an engineering development centre in Pune, which would be operational by 2009.

Article courtesy of The Hindu