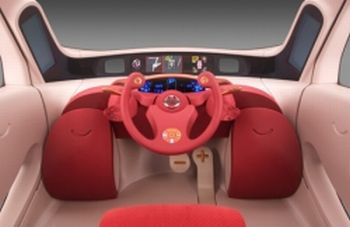 H2Roma and Bologna Motor Show are introducing Auto Innovation between Italy and Japan; the seminar on advanced technologies for the car of the future in Tokyo will be attended by representative of industry, research and institutions.
A conference is being held today (12 June) at the Italian Institute of Culture in Tokyo on Auto Innovation Design – Japan and Italy towards a cleaner, smarter car. It will be a seminar where the auto industry, the independent research and institutions will debate advanced technologies and their applications to the car sector.

During the event, organized by the Italian Embassy in Tokyo, the Italian Institute of Culture in Tokyo and the CIRPS, the Interuniversity Research Centre for Sustainable Development at Rome Sapienza University, Fabio Orecchini and Giada Michetti, on behalf of H2Roma and Bologna Motor Show will introduce 'Innovation Cube', the new format on innovation, environment, safety and design, which, born out of an agreement between the organisers of the two events , will have its debut in December at the Bologna International Motor Show.

"It is a great opportunity for Italy to get people to know, in an original and innovative way, the most advanced technologies developed by the car industry" – said Fabio Orecchini, H2Roma Scientific Coordinator and Professor of Energy Systems at Sapienza University in Rome. "This is the chance to underline the ability of the Italian firms to develop original communication format, as shown by H2Roma" reports Gabriele Bordon, Managing Director of Conceptage Srl, organizer of H2Roma energy&mobility show. "By launching Innovation Cube in Japan, a trend-setting country in the forefront of innovation, the Bologna Motor Show confirms its interest in technological innovation and its commitment in spreading the excellent achievements of automotive industry to the public" –added Ms Giada Michetti, Managing Director of Promotor International, organizer of the most important Italian auto show.

The Tokyo seminar will be attended by Luigi Piero Ippolito, Senior Vice President and Innovating and Managing Director of SDC (Magnetti Marelli) - Jea-Jaques His, GT Powertrain Director of Ferrari Spa - Enrico Pisino, Business Vehicle Architecture Director of FIAT Research Centre - Roberto Sangalli, Head of Tyre Pre-development and Research Departments, Pirelli Spa - Roberto Piatti, CEO at Torino Design Srl - Akira Nakayama, Senior Director General at JAMA (the association of Japanese car makers) Traffic Air Department, alongside Shiro Nakamura, Senior Vice President and Chief Creative Officer of Nissan Motor Co. Ltd - Sachito Fujimoto, Senior Chief Engineer of the Planning Division at Honda Co. - Tohru Hashimoto, Corporate General Manager of Mitsubishi Motors Corporation and MiEV Business Promotion Office Product Strategy & Development Group Headquarters, as well as officers from influential Japanese universities and research centres. The seminar on Auto Innovation Design – Japan and Italy towards a cleaner, smarter car is the first of a wide range of initiatives on auto innovation and design which will be carried out from September through December of 2009 as part of the Autumn in Japan event, whose target is to draw Japanese people's attention to Italy.
The H2Roma event is on 6th, 7th and 8th November 2008 while the Bologna Motor Show will be running from 5th to 14th December 2008 (Wednesday 3rd December will be dedicated to the press, Thursday 4th December to the press and business operators).

Innovation Cube

Innovation Cube is a new exhibition format, developed by Motor Show Bologna, International Auto Show, and by H2Roma and it will be introduced for the first time at the 2008 Motor Show edition. Innovation Cube will be concerned with technological innovation and will focus on four issues: environment, safety, info-mobility and design, all of them key elements strictly linked to the car and its evolution. It is organized in three sections: Exhibition, Experience and In-depth Analysis, which will involve the motor show's visitors in a guided tour whose aim is to get them to experience the innovations that are and will be changing the world of cars, and to discover the present's most advanced technologies as well as the future's possible ones.