Alfa Romeo Centro Stile is now closing down its current location on the site of the former Alfa Romeo factory at Arese. Once it completes the move to Turin it will break a century old link between the carmaker and the city of Milan.
Chief designer when the new Centro Stile Alfa Romeo opened at Arese was Italian Walter Maria de'Silva, who had held this role at Alfa Romeo since 1986, following his tenure at I.DE.A.
Project Alfa Romeo cars lie under covers in the corridors of Centre Stile Alfa Romeo. Now all design work is to stop at the Arese based facility after a period of 30 years.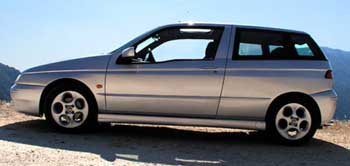 The first design to emerge from the designers at Alfa Romeo Centro Stile following the studio's switch from Portello to Arese was the highly distinctive Alfa 145 hatchback.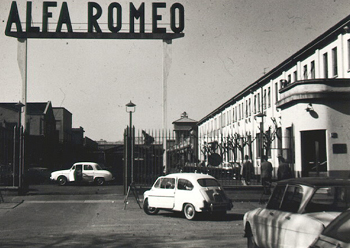 Alfa Romeo's very first cars were produced at a factory in the Portello suburb of Milan in 1910. The Alfa Romeo logo, the Biscione, famously bears the ancient crest of the Viscontis of Milan dating back to the 11th century and the crusades.
Upon his return to Alfa Romeo Centro Stile in 2001, now as design chief, Wolfgang Egger worked on the Alfa 147 GTA (above), the Alfa 156 facelift and the Alfa 166 facelift and also went on to shape the 8C Competizione and Spider as well as the Kamal concept.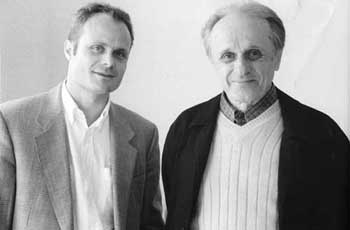 In the early years that Alfa Romeo Centro Stile was based at Portello the designers, including Ernesto Cattoni (seen above with Wolfgang Egger), competed directly with external coachbuilders such as Pininfarina and Bertone.
Alfa Romeo Centro Stile is now closing down its current location on the site of the former Alfa Romeo factory at Arese. Once it completes the move to Turin it will break a century old link between the carmaker and the city of Milan.

Alfa Romeo's very first cars were produced at a factory in the Portello suburb of Milan in 1910. The Alfa Romeo logo, the Biscione, famously bears the ancient crest of the Viscontis of Milan dating back to the 11th century and the crusades.

Today, Alfa Romeo's link with Milan is held by the very slenderest of threads. The historical association with Milan is captured in the brand's latest model, the MiTo, which draws its name from a combination of the cities of Milan and Turin. Only Alfa Romeo Centro Stile, the official museum and the Fiat Powertrain helpdesk remain at the once sprawling Arese factory that saw mass car production ending a decade ago. Despite this, the small-scale assembly of the Alfa Romeo GTV and Spider (916) outlived the mass-produced cars while the classic 'Arese' V6 engine, along with some LPG conversions of Fiat models, continued up to the middle of this decade.

With the Fiat Group's design activities (Fiat, Fiat Professional, Abarth, Lancia and Iveco) being recently refocused on the Mirafiori site in Turin at Officina 83 under the guidance of ex-Pininfarina design chief Lorenzo Ramaciotti who reports directly to Fiat CEO Sergio Marchionne, the days of Alfa Romeo's presence in Arese was always to be short-lived. Bringing Alfa Romeo into the new Officina 83 design complex will cut costs, create synergies and improve efficiencies according to Fiat Group planning.

According to Quattroruote magazine this week the general staff at Alfa Romeo Centro Stile in Arese have now been put onto the government sanctioned redundancy payment scheme for the next seven weeks and will not return to work afterwards. Work on upgrading the official Alfa Romeo museum, which is also based at Arese, has been halted.

Alfa Romeo Centro Stile was established in 1956 at the former Alfa Romeo factory in Portello. In the early years the Alfa Romeo designers, including Ernesto Cattoni, competed directly with external coachbuilders Pininfarina and Bertone. One of the most celebrated designers to work here was Carlo Felice Bianchi (Cici) Anderloni, who worked as an advisor after his time at Carrozzeria Touring. Here Cici dedicated his talents to Alfa Romeo until his retirement.

Located on Via Achille Papa 19, the Centro Stile was one of the last centres of activity at the Portello factory, which was left practically obsolete from the late '60s due to the shift of car production to the Arese factory. Eventually, in July 1989, Alfa Romeo Centro Stile moved to Arese under the direction of General Manager Giovanni Battista Razelli.

Chief designer for the new Centro Stile was Italian Walter Maria de'Silva, who had held this role at Alfa Romeo since 1986, following his tenure at I.DE.A. At Alfa Romeo Centro Stile, de'Silva led a young design team, that included Wolfgang Egger. The team was credited with reinterpreting Alfa Romeo's design language and successfully repositioning the brand during the 1990s with a string of exciting models including the Alfa 145, Alfa 146, GTV, Spider, Alfa 166 and Alfa 156 in both sedan and Sportwagon guises (although final credit was given to Giorgetto Giugiaro for the facelift in 2003).

In a decade during which design was given a free reign, concept cars flourished. These included the innovative 164-based Proteo (1991) which featured four-wheel-steering and four-wheel-drive, the gorgeous, slippery Nuvola (1996), Spider Monoposto (1997) and extreme Centauri roadster (1999). The latter was designed by young designers taking part in the Advanced Design University Stages di Arese (ADUS).

In 1998 de'Silva was poached by Audi to head up design at its SEAT brand and he was succeeded by Andreas Zapatinas. The Greek, who had previously worked for Fiat Centro Stile (where he was responsible for creating the Barchetta) is credited with significant input into the Alfa 145 during a brief spell at Alfa Romeo Centro Stile in the early 1990s before joining BMW.

Before Zapatinas left the Alfa Romeo top design job in 2002 another significant model was born, the Alfa 147, and the Athens-born designer is highly regarded in particular for the rear end which was believed to be advanced for its day.

The German-born Egger, who had joined Alfa Romeo for an internship in 1989 and had jumped ship to SEAT with his mentor de' Silva, returned to the Fiat Group fold in 2001 as Lancia design boss. Shortly afterwards he returned to head up Alfa Romeo Centro Stile when Zapatinas departed. Upon his return, Egger worked on the Alfa 147 GTA, the Alfa 156 facelift and the Alfa 166 facelift. Key models to be designed by the German before he left to succeed de'Silva as Head of Audi Design include the stunning limited-production 8C Competizione and 8C Spider sports car series, as well as the Kamal SUV concept.

In 2007 Frank Stephenson replaced Egger, the MINI designer having first travelled right through the Fiat Group, firstly as Ferrari/Maserati design chief and then onto responsibility for Fiat/Lancia/Fiat Professional design. The Moroccan-born designer was however gone in a year and now works as Design Director at McLaren.

With this move by Stephenson, current design boss, Austrian Christopher Reitz, switched from Fiat Centro Stile in April of last year to take charge. The most recent production hit for Alfa Romeo Centro Stile has been the MiTo and plans for a replacement for the ageing C-segment 147 are now at a very advanced stage. This model reportedly may carry the 'Milano' name

Alfa Romeo Centro Stile Chief Designers 1956-2009

1946-1950: Orazio Satta Puliga
1950-1954: Ferruccio Palamidessi: (1951 1900 Berlina, 1954 Giulietta Berlina)
1956: Ernesto Cattoni
1957-1975: Giuseppe Scarnati: (1961 Giulia, 1971 Alfetta)
1976-1986; Ermanno Cressoni: (1981 Alfa 33, 1982 Alfa 75, 1984 Alfa 164 [Pininfarina], 1986 Alfa 33 restyling)
1987-1998: Walter de'Silva: (1988 Alfa 33 FL, 1990 Proteo, 1992 Alfa 155 [I.DE.A], 1994 Alfa 145, 1994 Alfa 146, 1995 Spider/GTV (Pininfarina), 1996 Nuvola, 1997 Alfa 156, 1998 Alfa 166)
1999-2001: Andreas Zapatinas: (2000 Alfa 147)
2002-2007: Wolfgang Egger: (2002 Alfa 147 GTA, 2003 Alfa 156 FL, 2003 Alfa 166 FL, 2005 Alfa 147 FL, Kamal SUV, 8C Competizione)
2007-2008: Frank Stephenson
2008-: Christopher Reitz: (2008 Alfa Romeo MiTo)