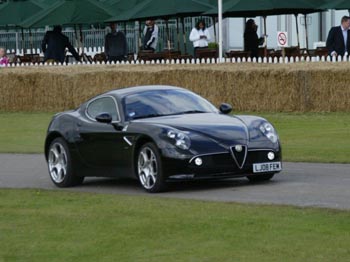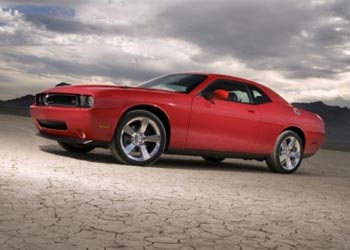 Fiat CEO Sergio Marchionne say he sees Dodge and Alfa Romeo as "muscle" brands. Alfa Romeo's most recent "halo" model is the Alfa 8C Competizione (top) sports car while Dodge's current premium offering is the Challenger (bottom).
In an interview Fiat CEO Sergio Marchionne raises the idea that the Alfa Romeo and Dodge brands could join forces in the future, with Alfa Romeos being branded as Dodges in the U.S. and vice-versa for the European market. Marchionne, who is now also the CEO of the new Chrysler Group entity in its new post-Chapter 11 bankruptcy status, sees a major overlap between Chrysler's Dodge brand and Fiat Group Automobiles' Alfa Romeo division.
"The level of competition between these two brands is tremendous because they are both going after the same customer," Marchionne commented during an interview yesterday. "Dodge is the American muscle car, while Alfa Romeo is the European muscle car. How we dovetail these two brands is very important." He believes that one solution would be to brand Alfa Romeo models under the Dodge name for the U.S. and for Dodge models to carry the Alfa Romeo name in the European markets.
Already it has been confirmed that the forthcoming C-segment replacement for the Alfa 147 (dubbed the "Milano") to be launched at the Geneva Motor Show next spring and built on a new evolution platform, called C-Evo, will be used by both Alfa Romeo and the Chrysler Group. Marchionne is also evaluating building Alfa Romeo's new large executive flagship saloon (Alfa 169) on Chrysler's 300 C model platform. Marchionne said yesterday that he foresees deciding on a future strategy for Alfa Romeo and Dodge by the end of this month.

Marchionne also said in the interview that Chrysler has slowed down the rate at which it was burning through cash, since the failed carmaker emerged from the bankruptcy process. "We are still burning cash, but it's slowed down by far," he commented, adding: "The question is how quickly we can stop the bleeding, that is priority number one." Although he didn't reveal figures, and as the Chrysler Group is a private company it doesn't have to disclose information, Marchionne said: "It would be very useful for the public, and the people who have funded us, including the taxpayers, to know how we're doing."