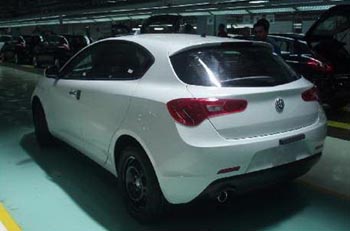 Alfa Romeo has this week detailed the launch specifications, including engines, body colours and equipment, for the five-door Milano hatchback which will replace the Alfa 147 after almost a decade carrying the in C-segment.

Alfa Romeo has this week detailed the launch specifications for the five-door Milano hatchback, the replacement for the ageing 147.
The new car, styled in-house by Centro Stile Alfa Romeo, will feature six engines, three petrol and three MultiJet turbodiesels, driving through manual and dual-dry-clutch transmissions. The petrol engine range will kick off with a 120bhp 1.4 Turbo, putting out 147g/km of CO2 emissions. Currently found in the Alfa MiTo, this unit will be offered alongside the new 170bhp 1.4 MultiAir Turbo (137g/km CO2), which made its production debut at last month's Frankfurt IAA, also under the bonnet of the MiTo. Arriving sometime later, the range-topping petrol unit will be the new '1750' direct-injection turbo which arrived earlier this year on the Alfa 159, 159 Sportwagon, Brera and Spider in 200bhp form. In the Milano, it will be tuned to offer up 235bhp and 179g/km of CO2. All three versions will come as standard with manual gearboxes, while the 1.4 MultiAir Turbo will also see the brand-new C635 DDCT (dual-dry-clutch transmission) offered as an option.
These petrol engines will be complimented by three turbodiesels, opening with a 105bhp 1.6-litre MultiJet, which will put out only 114 g/km of CO2. Also available at launch will be the 2.0 MultiJet, developing 170bhp and 128g/km of CO2. A lower-powered version of this engine, developing 140bhp and 124g/km of CO2, will be available after launch. As with the petrol engines, all will come as standard with manual gearboxes, while the 170bhp 2.0 will also be available with the dual-dry-clutch transmission.
There will be two basic trim specification levels, 'Progression' and 'Distinctive'. The former, entry-level version, will offer as standard Alfa's switchable-mode 'DNA' chassis control (incorporating VDC and electronic Q2), air conditioning, Start&Stop, radio with CD/MP3 player, tailgate spoiler and 16-inch steel wheels, while the latter level will add climate control, 16-inch 5-split-spoke alloy wheels, upgraded interior trims, leather steering wheel, aluminium interior inserts, exterior chrome pack, front fog lights and rear electric windows.
On top of the two specification levels there will be three 'packs' which buyers can add to customise cars to their own preferences. The first, 'Junior', will only be optional on the Progression version and will offer a leather steering wheel, climate control and the 16-inch alloy wheels from the Distinctive version. The other two packs, 'Sport' and 'Sprint', will be offered as add-ons to the Distinctive version. The former will offer 17-inch alloy wheels, sports suspension, alloy pedals, sports interior trim, aluminium dash inserts and side skirts. The Sprint pack, meanwhile, will consist of a standard leather interior, as well as Fiat's Blue&Me infotelematic system developed in conjunction with Microsoft, the new Tom Tom Nav (from the Punto Evo), My Port and metallic paint.
There will be a total of seven alloy wheels options available, ranging between 16- and 18-inch, and nine body colours (Bianco Ghiacco, Nero, Rosso Alfa, Argento Alfa, Grigio Magnesio, Grigio Antracite, Blu Profondo, Nero Etna and Rosso Competizione).